There could be moments when you are translating your WordPress site with WPML and you need some help. Fortunately, as a WPML license owner, you always have the possibility to come to our forum and open a ticket. However, there are some simple steps which will help us solve your issue faster and easier.
Everything is up to date
One of the advantages of WordPress is its modularity. It means the possibility to enhance your WordPress installation with your choice for a theme and several plugins to accomplish your project.
However, it also requires a lot of maintenance as plugins and themes evolve, provide more functionalities or solve bugs. This implies you need to constantly check that your WordPress core and plugins are up to date.
For checking if your WordPress installation is up to date, please go to the Dashboard -> Updates page.
For checking that your theme and plugins are up to date, please go to the Appearance -> Themes or Plugins page respectively. You shouldn't see any upgrade warning.
If you want to check your WPML package versions, you can also go to your account and compare them with the versions available there.
Does your WordPress installation afford you all the resources needed?
Your server is a crucial part for having a WordPress site running smoothly. One way to make sure your server is providing the needed resources is checking a couple of basic settings: Memory Limit and WP Memory Limit.
In simple words, the Memory Limit is like a highway speed limit, your server won't go faster than that, which will also restrict your WP Memory Limit capacity.
WPML requires at least 128M of WP Memory Limit in order to work correctly using a WordPress default theme like the Twenty Seventeen and no other plugin. As it is an exceptional scenario, we recommend you to request as many resources as your server can provide or you can afford.
WPML provides an easy way to check these values. Please, go to the WPML -> Support page. In the PHP box, you will see your server's Memory Limit: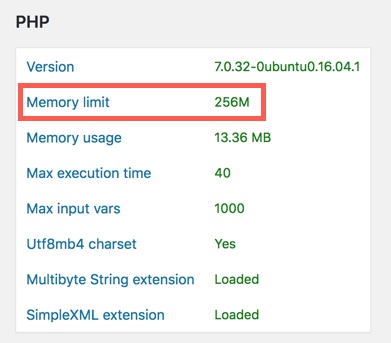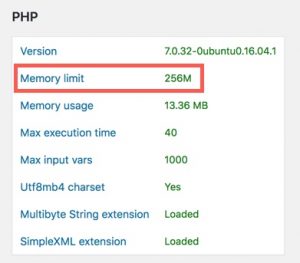 In the WordPress box you will see the server's WP Memory Limit: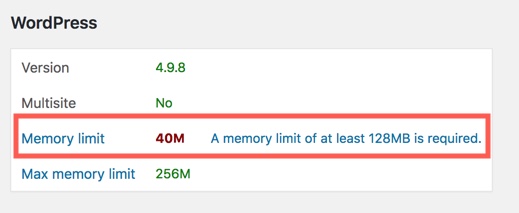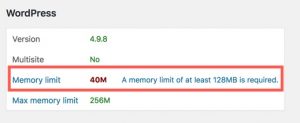 If you have admin control over your server, you will be able to increase your Memory Limit and, thus, your WP Memory Limit. If you don't have this control, you need to contact your server hosting and ask for this.
Modifying your WP Memory Limit is more easy to achieve, once you know which is your Memory Limit. You can add or modify the following example code in your WordPress installation's wp-config.php file.
/* Memory Limit */
define('WP_MEMORY_LIMIT', '256M');
Just before:
/* That's all, stop editing! Happy blogging. */
In this example, our Memory Limit is 256M, so we will increase our WP Memory Limit to that value.
Check WordPress and WPML requirements
If you have not done it before, it is a good moment to check if your hosting environment fulfills WordPress requirements. This way, you can guarantee that your site has all the tools needed to work correctly. It recommends a recent PHP and MySQL version, and an HTTPS support.
On the same line, WPML has its own requirements. Beyond a recent PHP and MySQL version, it is also necessary to install some PHP extensions as eval(), Multibyte String for using WPML String Translation and SimpleXML for WPML Translation Management.
If you have any control over your server settings, you will be able to activate those settings directly from your control panel. However, it may be necessary to contact your hosting service in order to do so.
---
Need help?