After more than 6 months, we are finally ready with a solid new version of WooCommerce Multilingual. This version makes it easy to run multilingual e-commerce sites, with smooth usability and a stable store.
So, what's included in WooCommerce Multilingual 3.0?
Easy and Forgiving Workflow
If you're been using WooCommerce Multilingual before, think about what's the hardest thing about it. For me, it's been knowing what to do.
An e-commerce site in one language is difficult enough to manage. Adding translations doesn't make it any easier. The main focus on this new release is to make the translation workflow as simple and forgiving as possible.
When you go to WPML->WooCommerce Multilingual, you will first see the status summary screen: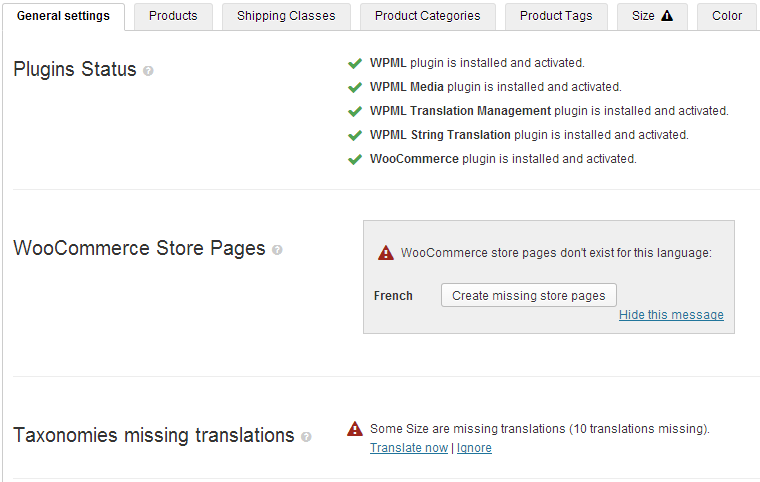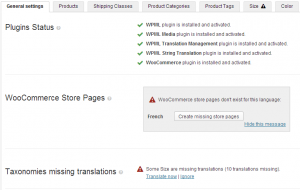 This screen shows you:
Require plugins (there are a few)
Store pages
Missing taxonomy translation
If anything is missing or needs your attention, there's a link to the right place. Whenever things can be automated, the plugin handles for you. Otherwise, it explains what you need to do.
Translating Products
Now that your setup is complete, you probably want to translate products. WooCommerce Multilingual makes this (hopefully) easy.
Click on the Products tab.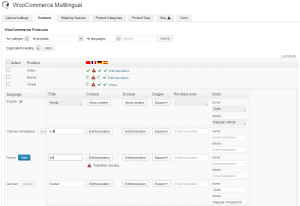 One screen puts all product translations in front of you. You will only need to translate the text fields (title, description, excerpt and any textual custom fields). WooCommerce Multilingual will create the products for you. It will synchronize stock quantity and numeric values, such as price, weight and size.
Translating Product Variations
Multilingual e-commerce sites with variable products have been especially frustrating for us and for many users.
This release puts a big focus on making it feel simple and a non-issue.
To create product variations, you first need to create attributes. Attributes can be either global (taxonomy) or per product (custom fields). WooCommerce Multilingual 3.0 handles both cases with grace.
All global attributes will appear as tabs, like the 'Size' attribute I'm showing here: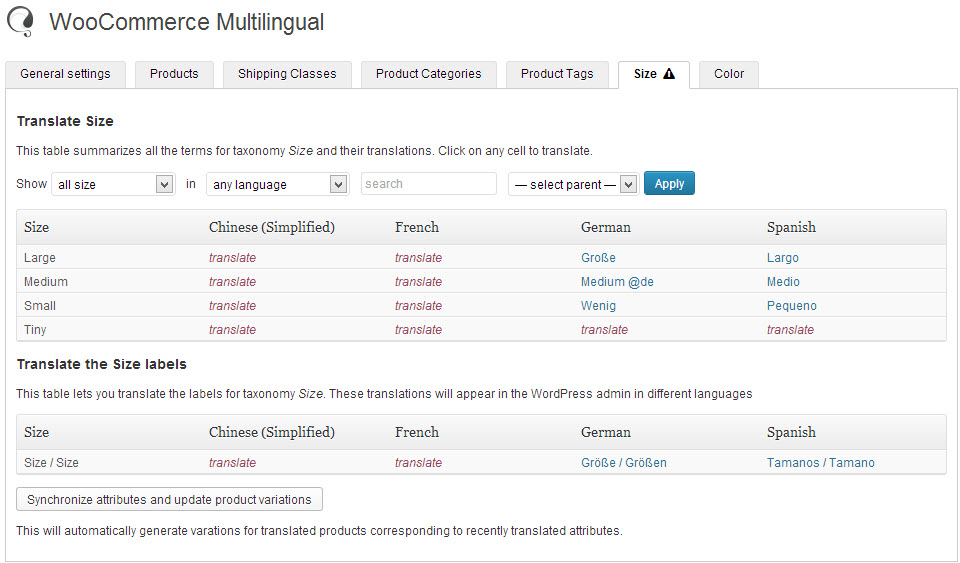 Again, you will notice little alerts that highlight untranslated items. This way, you can immediately see what requires your attention and don't have to rely on memory.
If you are using per-product attributes (custom field attributes), you will see them in the product translation table.
In any case, WooCommerce Multilingual 3 will use your attribute translations and automatically create the product variations for you.
Persistent Language During Checkout
Much of WooCommerce Multilingual's work is in the WordPress admin, but there's a fair bit that happens on your site's front-end too.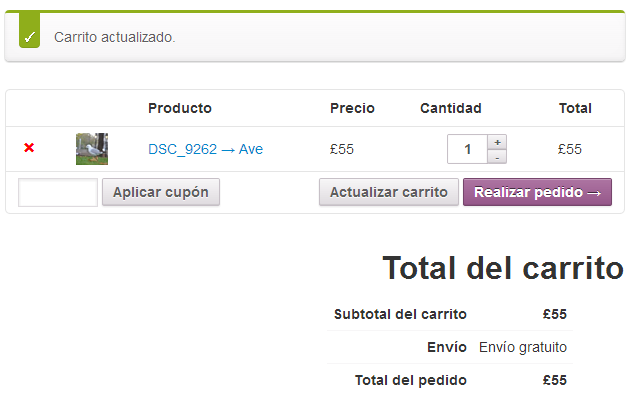 When clients select a product, they will see everything in their language. This includes the cart, checkout, PayPal and thank you pages.
Of course, you need to make sure that translations are available. WPML loads the .mo files that it finds. If the .mo files are missing or incomplete, you can always translate these texts with WPML's String Translation.
Are we There Yet?
We've spent the last 2 weeks on QA and usability issues. During this process, we worked with dozens of clients, resolved problems and received confirmations that things are working. It's working for us too.
Next week, we will be doing a final round of QA, to make sure that nothing was left behind.
Areas that are more sensitive:
If your default language is not English
If you are using plugins that heavily modify the WooCommerce product editor or category structure
If you are using plugins that alter URLs (like remove categories)
All these cases add more complexity and might introduce cases that we haven't covered in our testing. If your site's default language is English, you are using a simple URL structure and haven't heavily customized WooCommerce, this version should work just fine for you.
Download and Install
This release candidate requires beta versions of everything. You will need to use these plugins:
WooCommerce Multilingual Beta
Media Translation Beta
WPML 2.9.3 Beta (from the beta package)
WPML String Translation 1.8.3 Beta (from the beta package)
WPML Translation Management 1.7.3 Beta (from the beta package)
WooCommerce 2.0.12 or above
You can get all of these from your WPML account, under Downloads. Please download the CMS Beta Package and extract WPML components from it. WooCommerce Multilingual Beta and Media Translation Beta plugins are available as separate downloads.
Want a Guarantee for your Multilingual WooCommerce Sites?
We are so confident in WooCommerce Multilingual that we'd like to use it ourselves and build the e-commerce functionality in your site.
As of this release, we are offering development services for multilingual e-commerce. We will work out a spec with you, build it with WPML, WooCommerce and your theme and keep it working as WordPress and WooCommerce update. It's a big commitment, and we're happy to take it.
We will be doing these project 'at cost'. Our purpose is to know for sure that WooCommerce Multilingual works smoothly and conveniently for web developers and site admins. We believe that only if we have to eat our own food, will our products be premium.
So, if you have an upcoming multilingual e-commerce site and you want to offload the work to us, give us a shout. Our contact page is the best way to reach us for this work. Tell us about your project and we'll start a dialog.
Upcoming WooCommerce Multilingual Features
Our major next planned development for WooCommerce Multilingual is around multiple checkout options, per language and location.
WooCommerce Multilingual 3.0 already includes much enhanced per-language pricing management. We know that this is not enough. Our purpose is to offer different pricing and payment processing options, according to the client's address.
This will require a bit of work in WooCommerce and a lot of work in WooCommerce Multilingual.
We also need to complete the support for related products, product bundles and the likes.
Live Demo and a Friendly Chat in WordPress Europe
I'll be in WordPress Europe this weekend. I have a small part in a session on Multilingual WordPress, but I'll be hanging around the place the whole time. I'll try to arrange a room and throw an informal demo and discussion on multilingual e-commerce. If you're planning to come, drop me a comment here.
Feedback? Ideas? Suggestions? Leave your comments here and we'll get back to you.