WPML 4.2 focuses mainly on the workflow of sending content to translation. Now, it's easier to set-up a team of translators or to translate yourself with WPML's Advanced Translation Editor.
Simpler Setup for Translation Management
In some sites, the developer who builds the site does everything, even translate. Other sites run with large teams including developers, admins, translation managers and translators.
WPML 4.2 makes it easy to choose the workflow that works best for you and your site.
When you set up Translation Management, you will choose who is going to translate this site.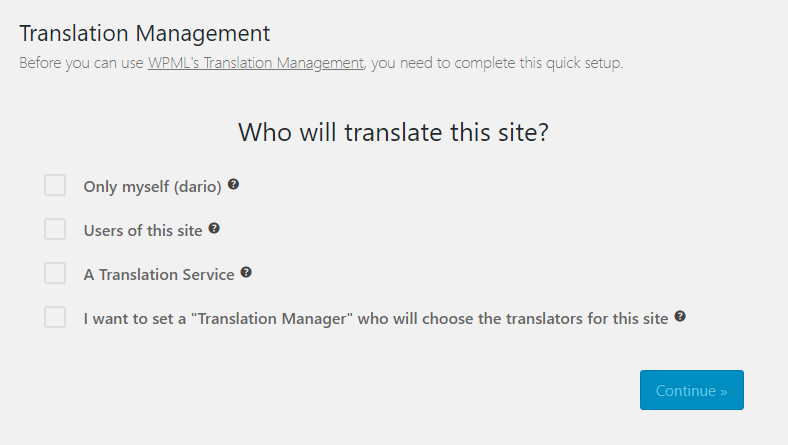 If you choose that you are translating yourself, there are no more questions. You will not need to jump through additional hoops and setup anything more. WPML will allow you to translate in all the site's languages using the translation editor that you prefer.
If you're setting up your own team of translators and/or translation services, WPML will guide you through the next steps.
We made sure that WPML only asks the minimal questions so that you can set up your translation in as little time as possible.
Improved Translation Jobs Pages
Under Translation Management, there's a Translation Jobs tab. This screen includes a log of all the translation jobs that you've sent and their status.
First, in WPML 4.2, we ensured that you don't need to visit that page. Yup, we've upgraded the Translation Dashboard page so that it includes everything that you need "normally".
However, sometimes your translation workflow is not "normal". When you need to deal with any exception, go to the Translation Jobs page. There, you can cancel jobs, check their status and manually pick-up jobs.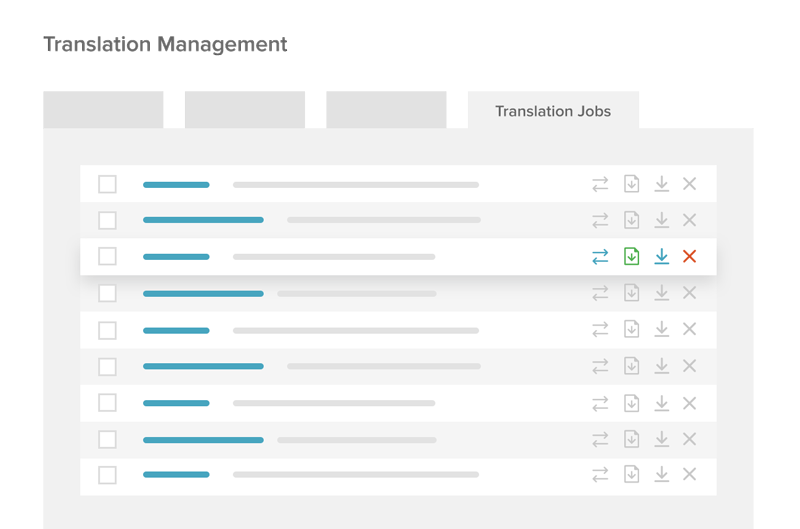 Choose How to Translate Different Pages
In many sites, there's a lot of content that requires "translating the text", but there's some content that requires pixel-accurate translation. For example, when you're working on a landing page for a campaign, you often want to have different text, layout and design for different languages. However, for dozens of documentation pages, you'd normally want to keep the same design an "just translate the text".
WPML 4.2 makes this possible. When you edit any page (or custom types), you'll see a new checkbox to "use WPML's Translation Editor".
If you unselect it, you will translate that page with the WordPress native editor (or your favorite page builder). This way, you can pick selected content and translate it with unique designs. You can apply your selection to individual items, entire post types or the entire site.
Sending Content to Translation Got Much Faster
This feature, we're hoping that you're not going to see, but you'll definitely feel it. We've rewritten the code that sends and receives translations. Now, we send and collect medium-sized batches to translation services. This means that sending a large batch will take a fraction of the time, but it never times out. Same for collecting completed translations. It will happen a lot faster, so that you don't see a long "fetching your translations…" message.
Explain to Translators With Notes
For some translation jobs, you need to give a bit of background to your translators. WPML 4.2 will send the 'notes' field to your translators who use our Advanced Translation Editor and to translation services. This way, you can add explanations to pages that you're sending to translation.
To add a note, go to the Translation Dashboard and click on the notes column. Enter your note and the translator will see it.
How translators see the note
| Adding a note | What the translator sees |
| --- | --- |
| | |
Download WPML 4.2
As always, before updating WordPress, the theme or plugins, we recommend backing up your site. We do that whenever we run any update on our sites. 99% of the time you don't need that backup, but it makes you a lot happier in the unlikely event that something wrong happens.
You will receive automatic updates to all the sites that you registered. Automatic updates appear up to 1 day after we release new versions. You can always download WPML from your account.
Feedback?
We're very interested to hear your feedback about WPML and the changes in this release. Please let us know by leaving your feedback.