WPML's Advanced Translation Editor allows your translators to do their work more quickly and easily while providing better translations. The editor comes with key features like machine translation, a glossary, translation memory, spell checker, HTML-less editing, and more.
The Advanced Translation Editor for WPML is a computer-assisted translation (CAT) tool that replaces the default translation editor. It works directly in a browser and you can activate it for your local translators or yourself during the translation process. If ever needed, you can easily go back to using the Standard Translation Editor.
Watch the following video introduction to the Advanced Translation Editor:
Let us go over its top features and how to use them.
HTML markers
Because you are translating a website, the content usually includes HTML tags. The Advanced Translation Editor allows visual translation without having to edit HTML.
This way, a translator can never break the page structure or produce bad HTML.
The following image shows how formatting markers look like in the editor.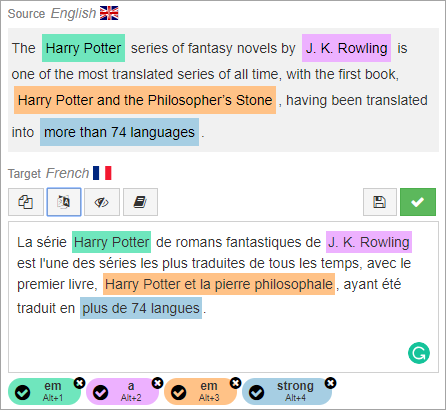 All you have to do is highlight a phrase and click the colored button that matches the marker in the original language. The phrase becomes highlighted with the same color as the original text. Now, the same formatting will be applied to the translation.
Automatic translation
The Advanced Translation Editor allows you to auto-translate the whole page at once, or a specific sentence you are currently editing. It supports most of the world's languages.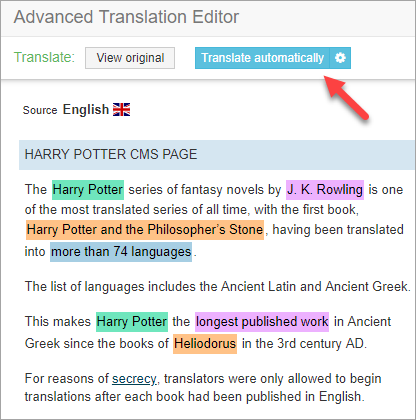 After content is auto-translated we recommend that you review it and make sure everything is translated correctly. If you are not satisfied with some parts of translation you can easily edit it.
New sites that start using WPML's Advanced Translation Editor receive a free quota of 2000 words. This is roughly 5 pages with a medium amount of content. If you want to get more machine translation you can buy additional quota (pricing for automatic translation). When you use all of the words within your quota you will be presented with Buy words button within your Advanced Translation Editor.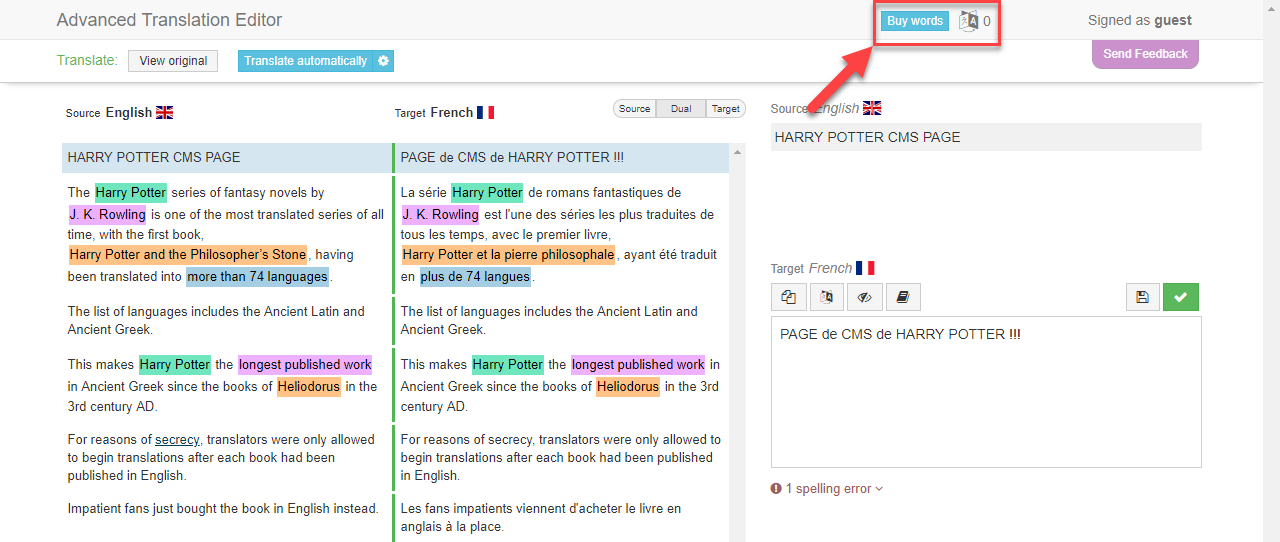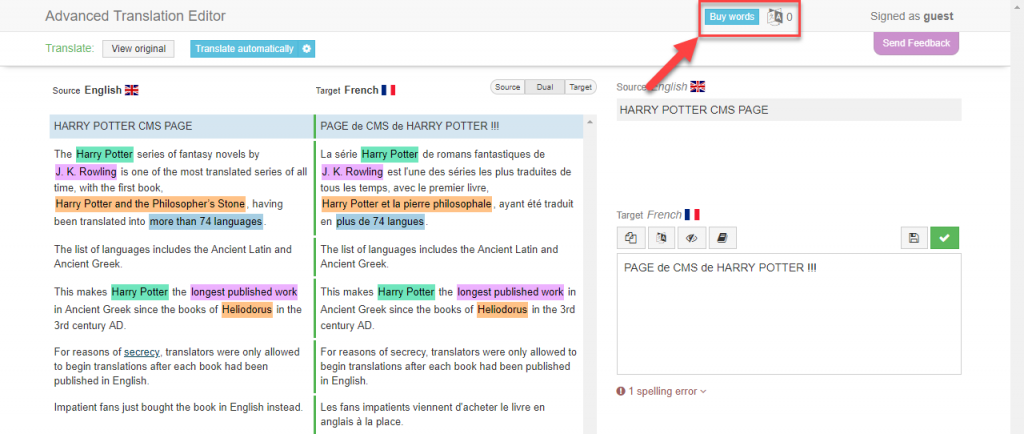 WPML keeps track of your translations
The Advanced Translation Editor breaks the content into sentences. This allows the editor to keep track of all the translated text.
If there are repetitions, the editor will find and auto-complete the same phrases for you. This saves you time and money.
Translation memory works across all pages on your site.
To learn more, visit our page about how WPML keeps track of your translations.
Joining sentences
You can combine sentences within the Advanced Translation Editor to give you more flexibility in how you would like to translate your content. This makes for a translation experience that flows naturally and allows you to translate sentences that do not have a direct one-to-one translation.
To join sentences, click the green link symbol next to the content you would like to combine.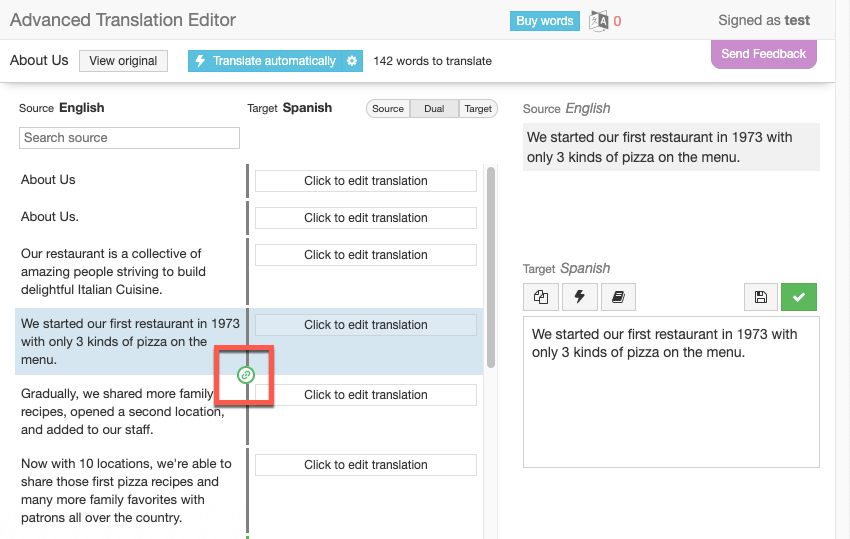 You can also unjoin sentences by clicking Unjoin.
Watch the video for step-by-step instructions on joining sentences in Advanced Translation Editor.
Please note: joining sentences will prevent Translation Memory from being able to reuse translations of individual sentences. If you are translating sentences that will appear in multiple places on your site, we recommend leaving them separate.
Glossary
The Advanced Translation Editor contains Glossary that allows you to inform translators of important keywords and phrases for which you want to suggest translations. They will then know how to translate these phrases throughout the project.
Using a glossary helps produce a more accurate and consistent translation and saves translators' time in researching the related terminology.

Spell checker
The built-in spell checker helps your translators avoid spelling errors and typos.