Slider Revolution is a WordPress plugin that allows you to create responsive sliders with many animation effects, text, image and video layers, and many other features. The textual content of the slides' layers needs to be translated in multilingual sites. In this tutorial, we teach you how to do this with WPML.
Translation of global layers is not yet supported by the Slider Revolution plugin. We are in touch with the plugins' developers and will update here as soon as this gets implemented into the Revolution Slider plugin.
What you will need
Slider Revolution plugin (version 5.2.3.5 or above).
A recent version of WPML (version 3.5.3.1 or above).
WPML Media add-on (version 2.1.23)
Essential resources
WPML's Getting Started Guide will help you in setting up WPML in a few minutes.
Slider Revolution Documentation has an excellent collection of tutorials that can help you get started.
Getting Started
Install and activate the core WPML plugin along with the WPML Media add-on and go through the WPML setup wizard.
Install and activate the Slider Revolution plugin.
Translate Slider Revolution Sliders
On your WordPress dashboard navigate to Slider Revolution.
Choose the slider that you want to translate.
Click on the Slider Setting tab.
Click on the General Settings found on the menu to the right, then click on the Misc. tab.
Set the Use Multilingual Language (WPML) option to On. Don't forget to Save the settings by clicking on the green save icon.
Go back to the Slide Editor tab.
Click on the slide that you want to translate then click on the + icon and choose the language you want to translate the slide into.
Click on the flag of the language you have chosen, then click on Edit Slide.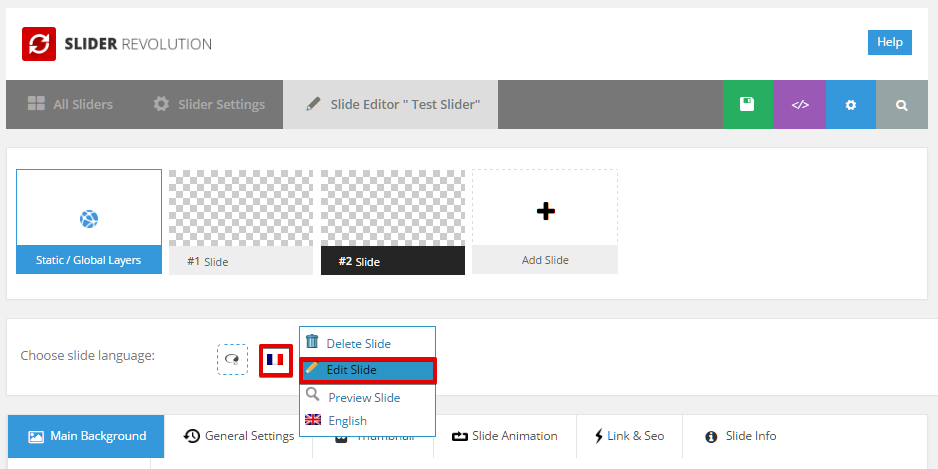 Add your translated text to the slide and then click the Save icon.
To translate all the slides inside the slider choose the slide and repeat steps 7 to 9.