Slider Revolution is a WordPress plugin that allows you to create responsive sliders with many animation effects, text, image and video layers, and many other features. The textual content of the slides' layers needs to be translated in multilingual sites. In this tutorial, we teach you how to do this with WPML.
WPML doesn't support the translation of global layers. We are in touch with the plugin developers and will update here as soon as this gets implemented into the Revolution Slider plugin.
Content
Getting started
If you are a developer, ensure that the latest version of Slider Revolution plugin is activated.
To get started, make sure that the following plugins are activated: WPML Multilingual CMS, WPML String Translation, WPML Translation Management, and WPML Media Translation plugins.
If you own a website and are working with a developer, please ask for the developer's assistance in managing these settings.
Translating Slider Revolution Sliders
To translate a Slider follow the steps below:
Go to the slider (module) editing screen.
Scroll to the bottom and turn on the "Use WPML Settings" option then Save.
Go to the "Slide Options" and click WPML. From the Slide Lang. drop-down menu choose the default slide language and Save.
Hover your mouse over the "Slides" menu item and then click the duplication icon to duplicate the slide you want to translate.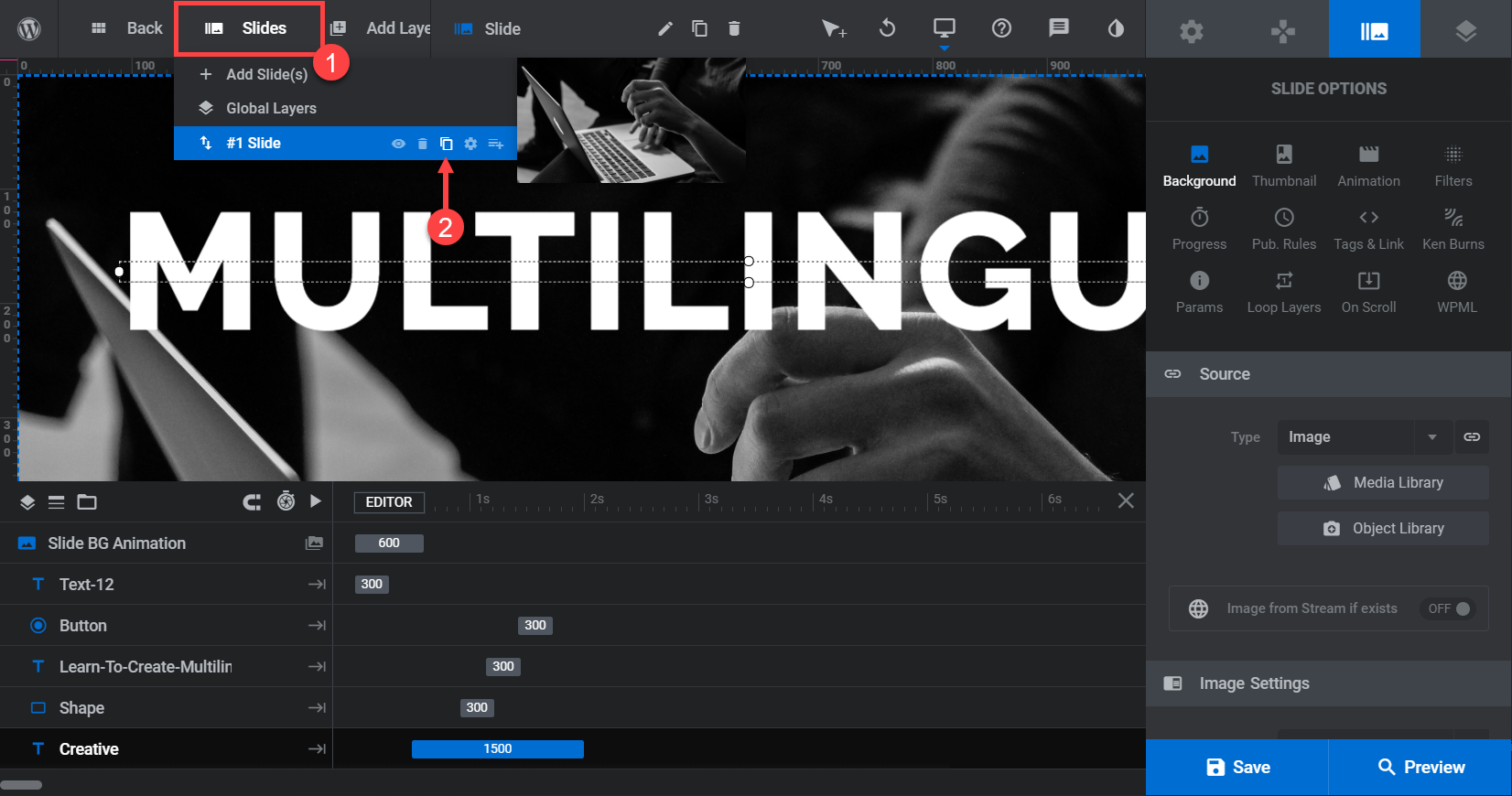 Choose the slide that you duplicated. We recommend that you use a descriptive name that indicates the slide language you will translate it into.
To translate all the slides inside the slider select the slide and repeat steps 5 to 7.
Translating Post-based Sliders
Slider Revolution allows you to create sliders that pull in data from your posts, such as, the post title, excerpt, and featured image. To know more about creating post-based sliders, check out Slider Revolutions guide on creating post-based sliders.
To translate post-based sliders, you only need to translate the posts that you are displaying on your slider. And make sure to have only one slide that is assigned to All Languages. See our Getting Started Guide to learn more about translating posts and different types of content on your website.
Please note that you will not be able to translate the text that you manually type into your post based slider. For example, add a text layer and type in any text such as "Read More". We are aware of this issue and actively working with the Slider Revolution team on fixing it.
Getting help
In case you need help translating your site built using Slider Revolution and WPML, visit WPML's support forum.