When you are trying to grow a website by using affiliate marketing one of the first things you will think about is using SEO to bring in more traffic.

Most people believe that having a website in English is important because English keywords bring in the highest volume of traffic. This is true but it also creates a problem. Everyone knows English is the most popular online language so everyone is targeting those same keywords. This means you will face a lot of competition to reach the top of Google search rankings.

However, website owners might forget that there are also large numbers of readers who are searching in their own language which you can target. In this article, I'll explain to you the importance of international SEO for affiliate marketing and how you can increase your traffic by targeting users in other (non-English) languages.
How too many people are targeting English keywords
In general, English will have the highest search volume for most keywords. But the problem is that the keyword difficulty (how easy it is to rank on the top page for Google) will be far too high.

Let's look at an example. I'll use the SEO software, Ahrefs, to analyze the keywords. It is an excellent tool that I highly recommend for your international SEO research.

If we type in "WordPress" to Ahrefs, we will see that there are 1.1m searches each month in the United States. That is great but the keyword difficulty is a whopping 97/100. You would need one of the most popular websites on the internet to rank on the 3rd page let alone the top 10 for this keyword. To rank for "WordPress" alone you would need backlinks from 2,185 websites.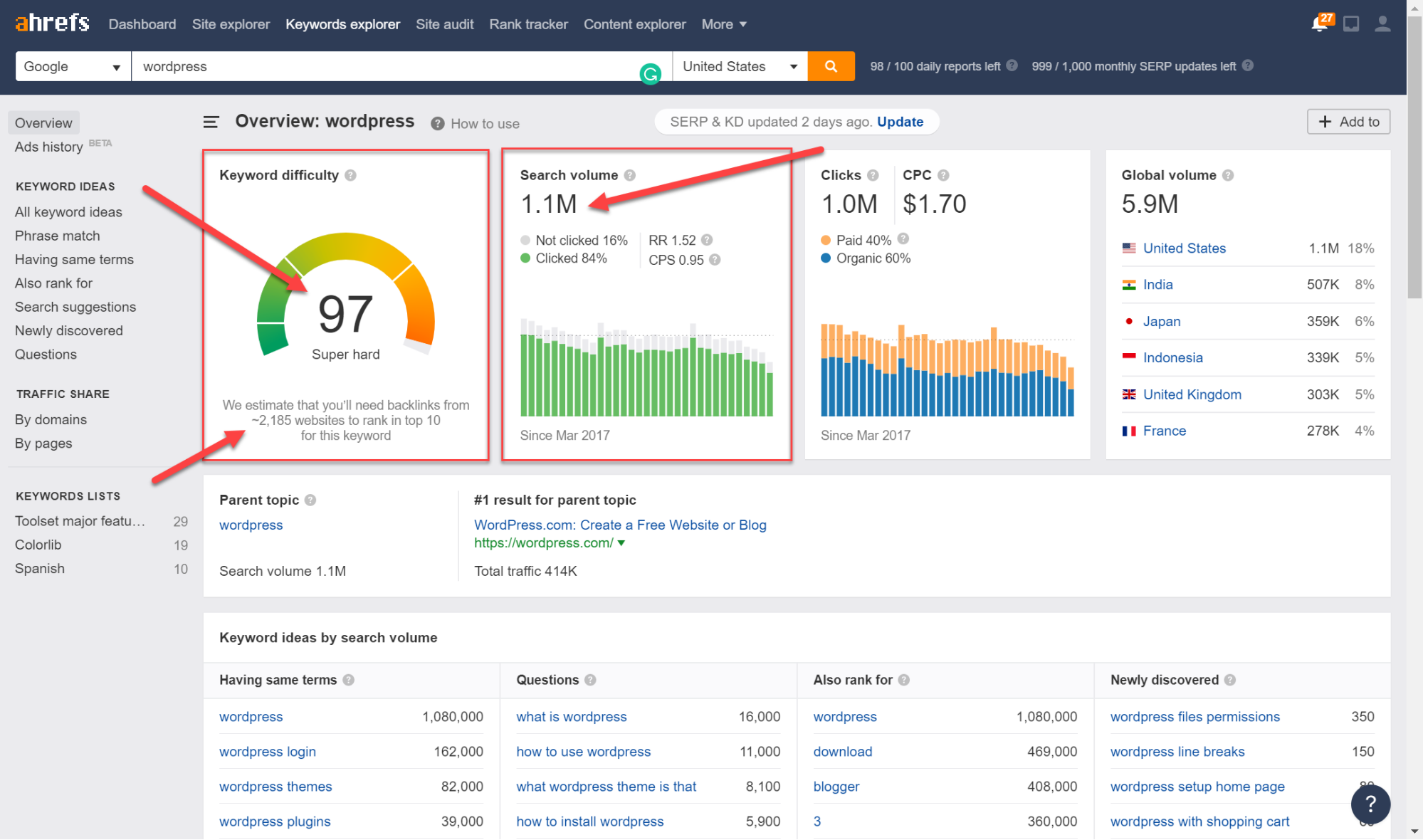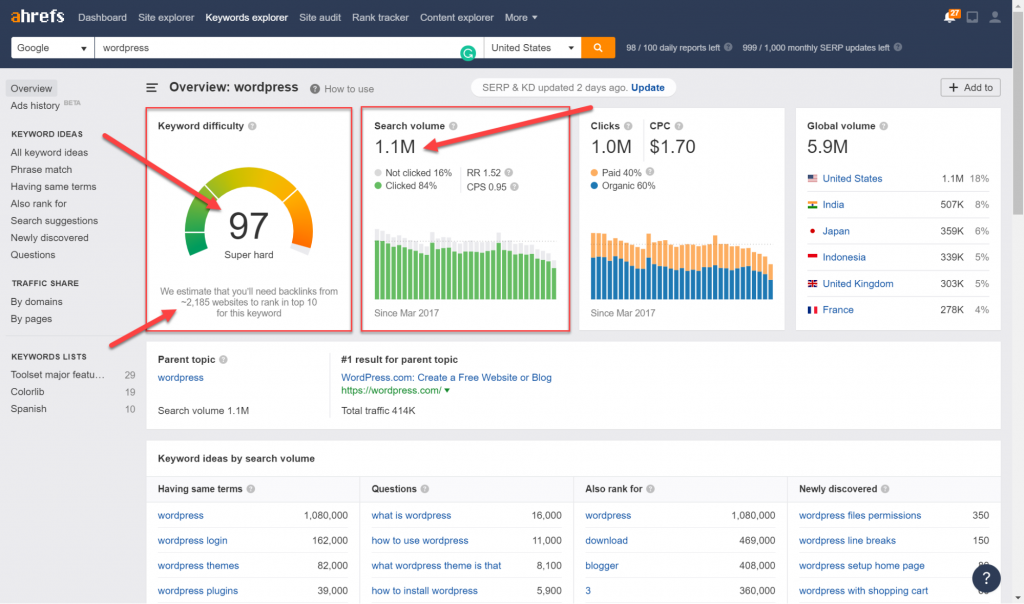 Not only that, but even terms which are rated as "easy" or "medium" by Ahrefs (that is, easy to rank on the top page of Google) are not that simple. For example, the search term "WordPress Gutenberg tutorial" has a keyword rating of just 19. This is great. In theory, it should be much easier to reach the top of Google searches.

However, take a look at the websites which are currently at the top of the first page on Google.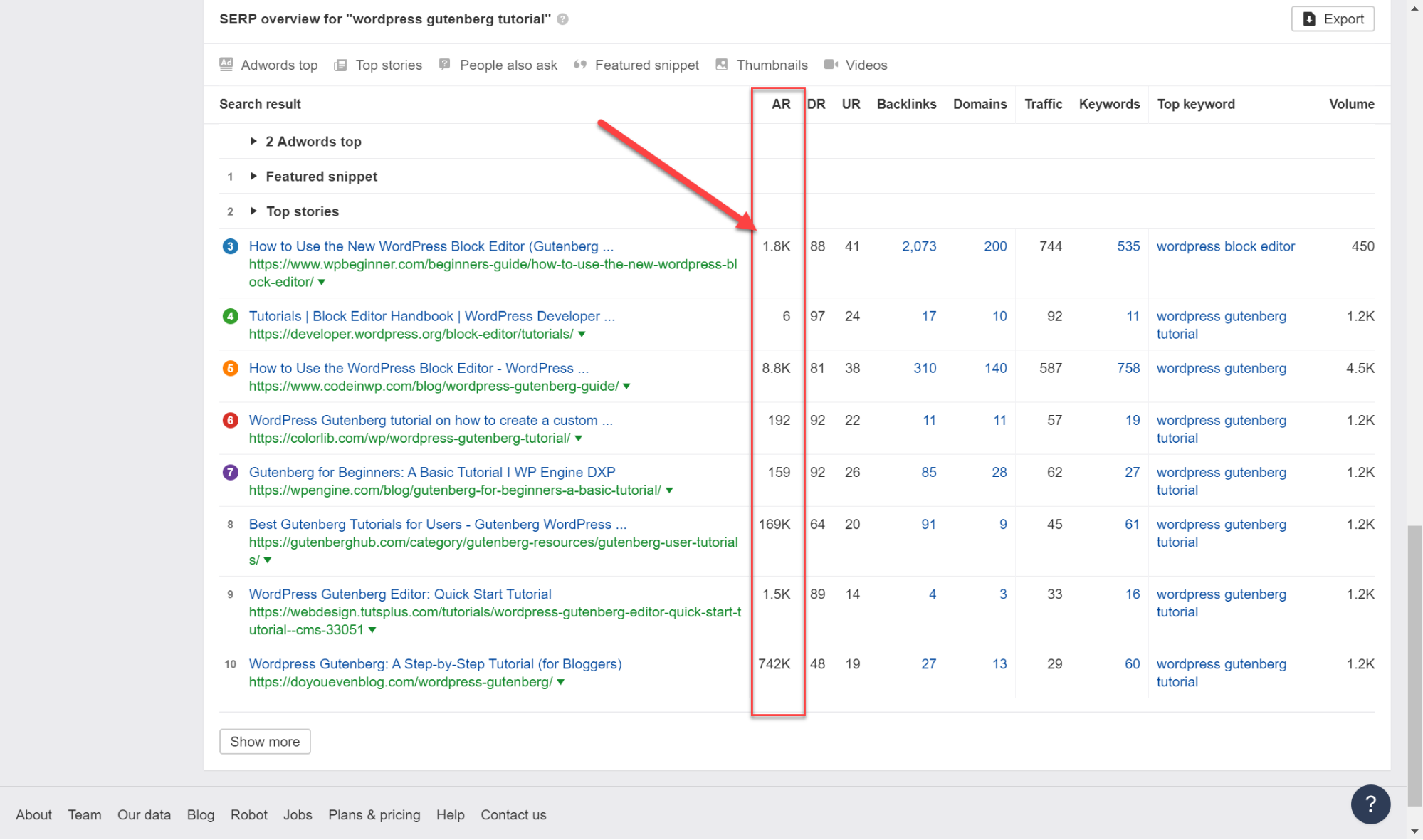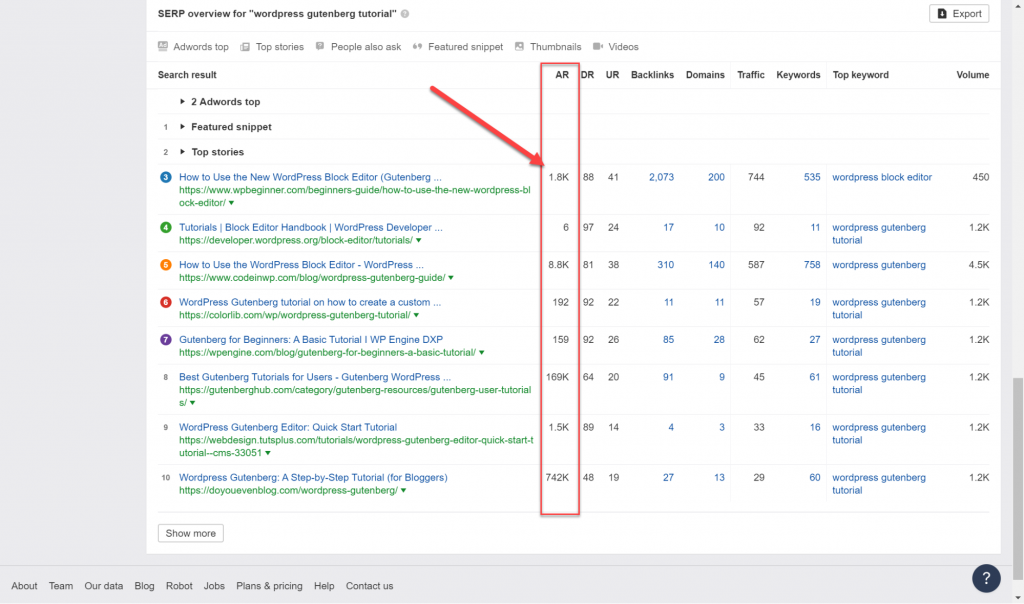 Each of the websites from the 7th ranking onwards has a high Ahrefs Rank (AR). The lower the number the more difficult it will be to beat the website and rank above it. So you might get to 8th on Google without trouble. But given that around 75% of users click on the first three results you will not get a lot of traffic.
Why you should translate English keywords and write about them in your native language for effective affiliate marketing
Many popular keywords in English will have a translation in your language which will be much easier to rank for while still having a significant keyword volume.

For example, "How to create a WordPress website" in the United States has a high keyword difficulty.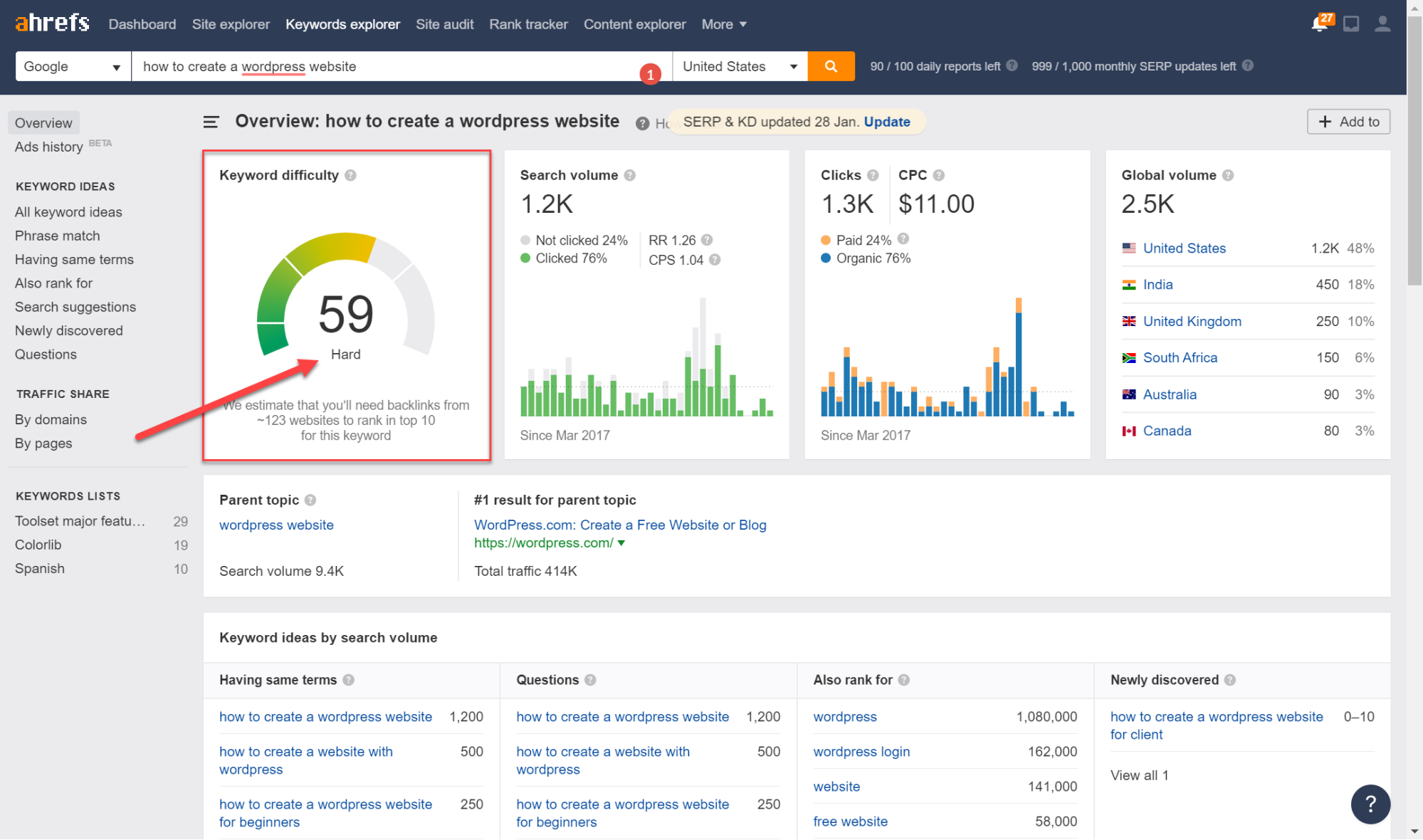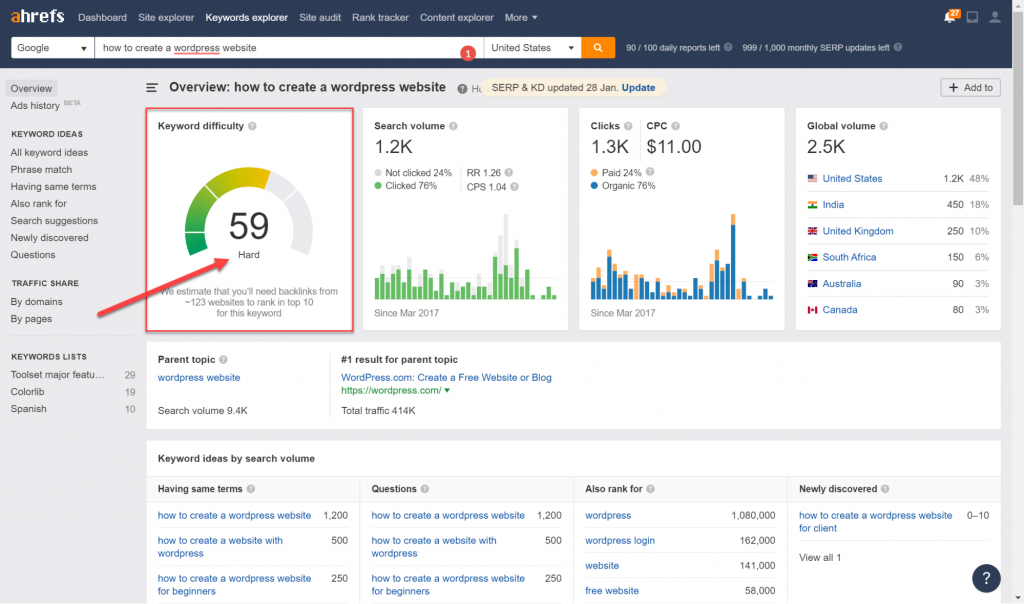 On the other hand, the Spanish translation "Crear pagina web WordPress" has nearly as high a search volume but a much easier keyword difficulty.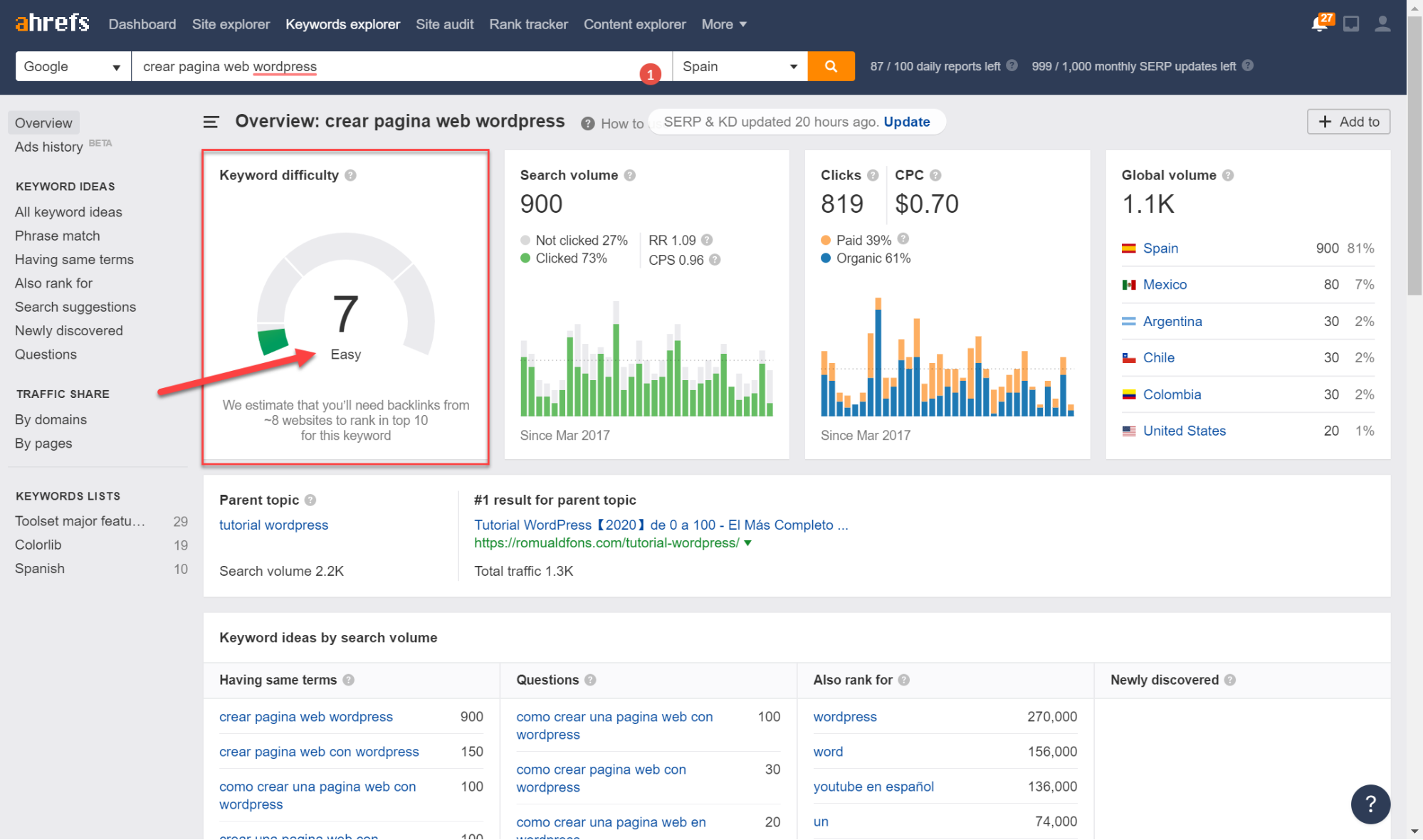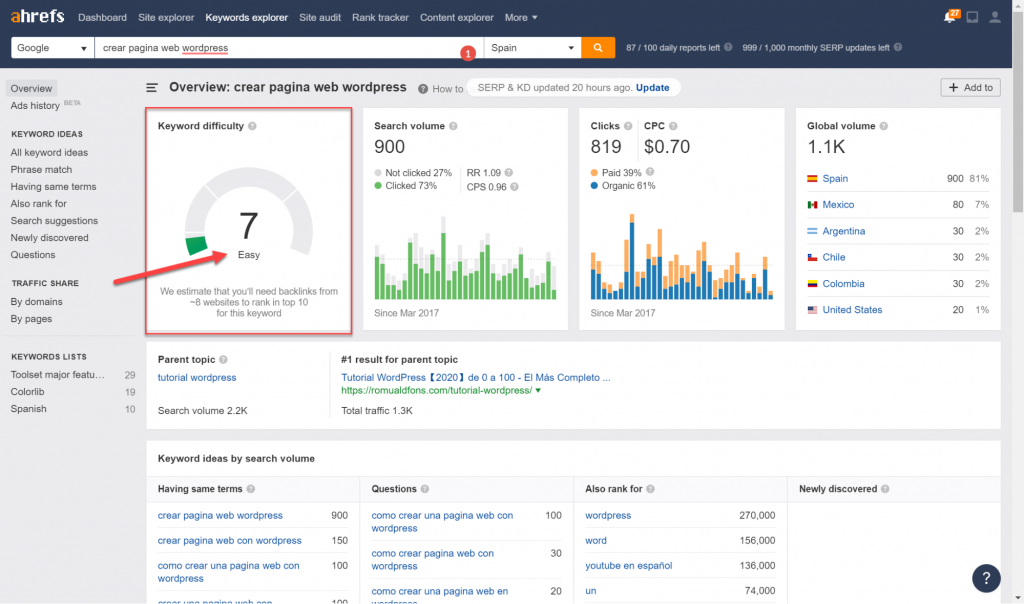 It is a good idea to identify high volume English keywords and see if they are much easier to rank for when translated into your non-English language.

Even proper nouns will be easier to rank for in non-English languages
Let's take a look at another example to compare keywords in different languages. The term "SEO" is incredibly difficult to rank for in the United States. The keyword difficulty is again very high – 93.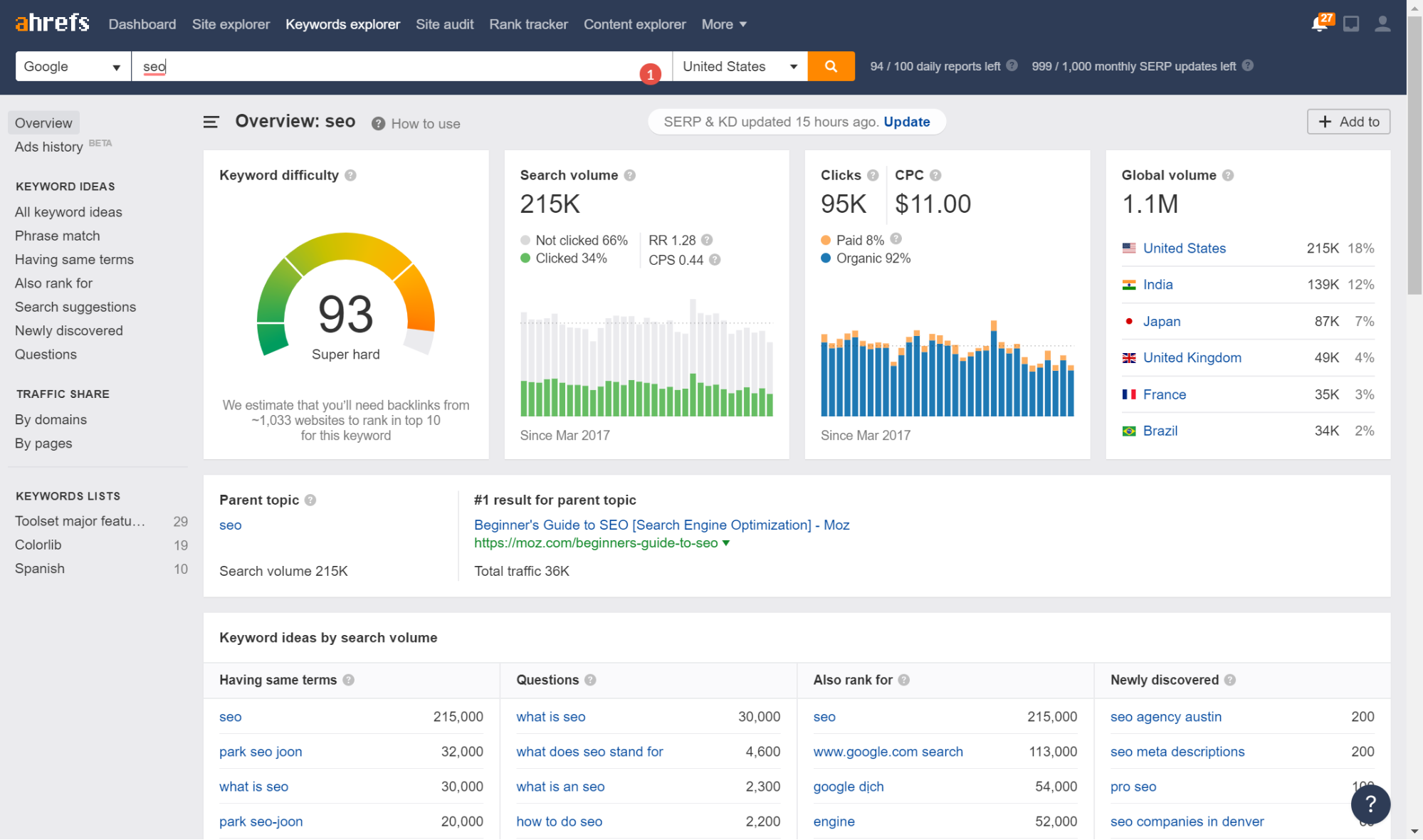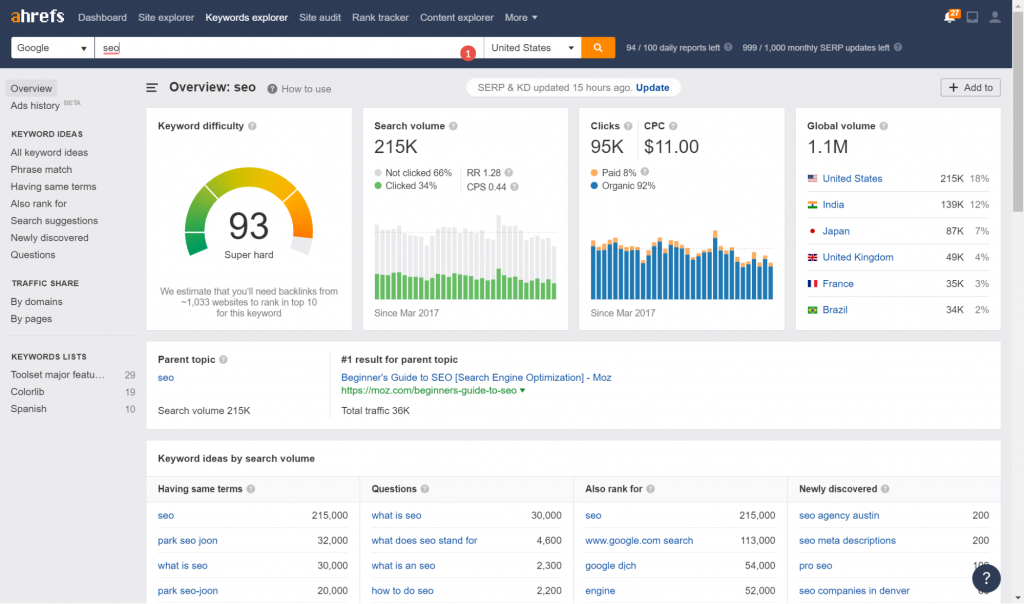 Of course, regardless of your language, you will most likely be searching for "SEO" and not a translation of it. But if we change the country – to "Sweden," for example – we can see that it is much easier – a keyword difficulty of 21. Not only that, but there are still 9,300 people searching "SEO" each month.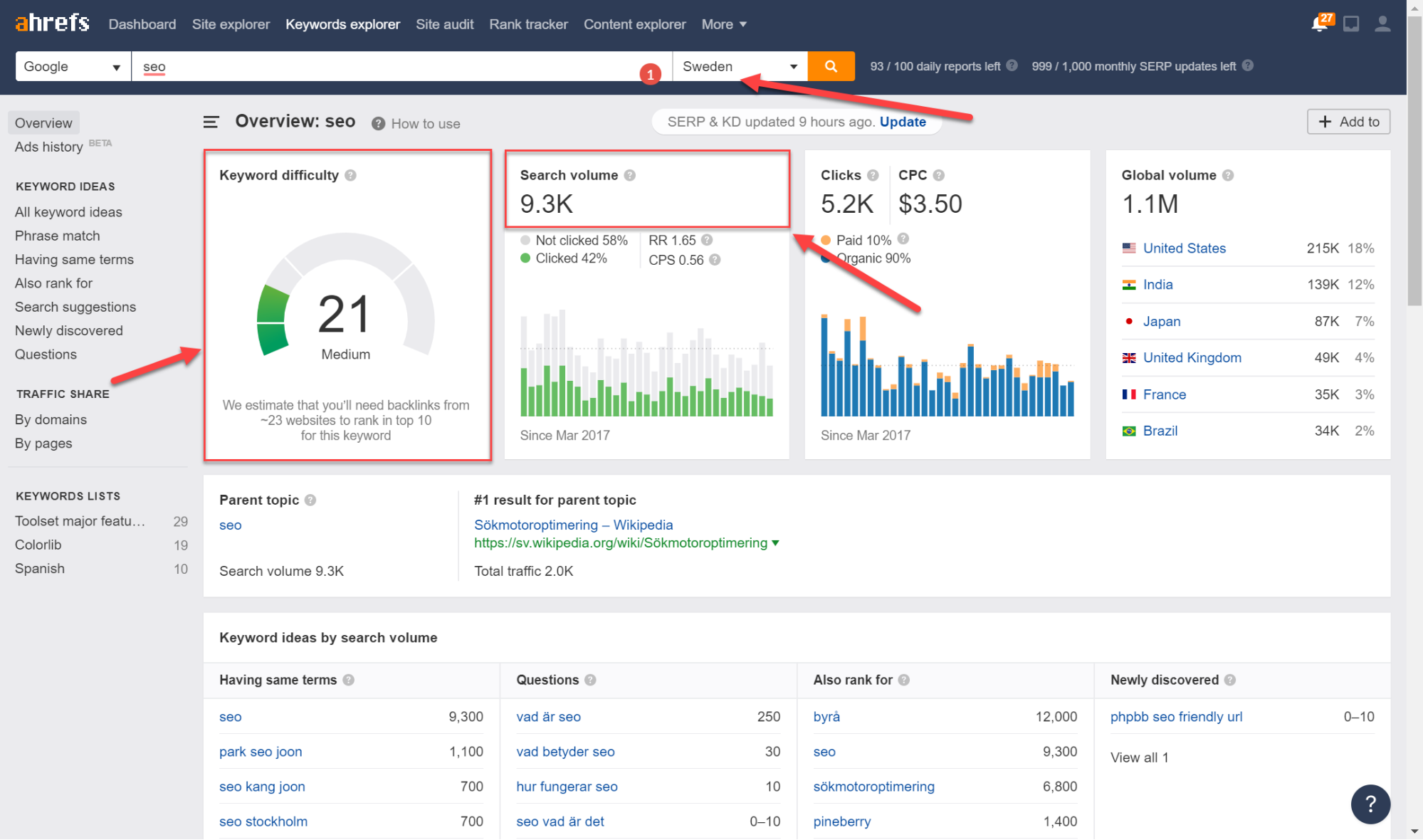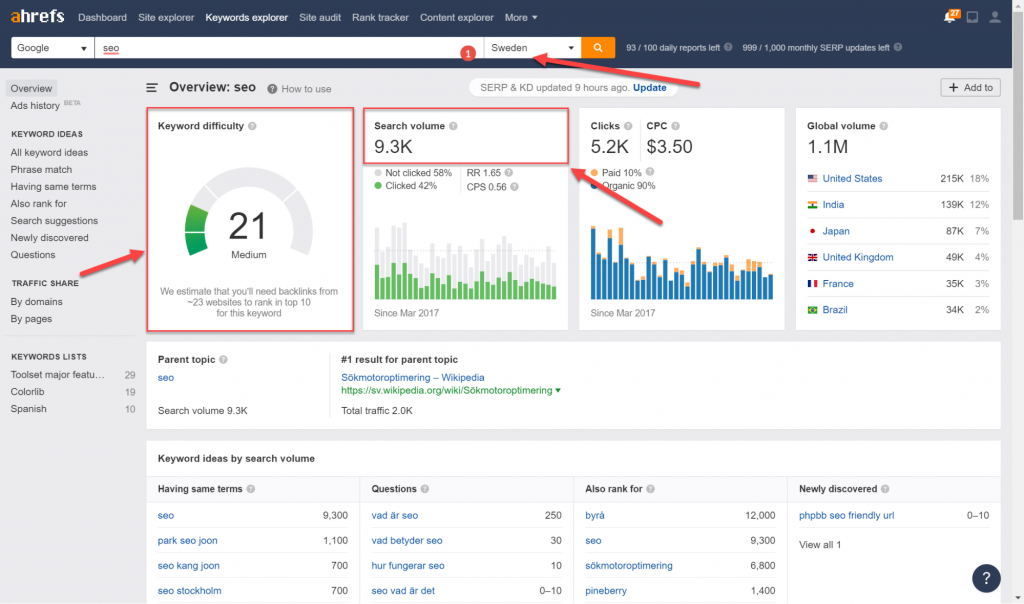 This is the case for Belgium as well which has 5,500 monthly searches and a keyword difficulty of only 20.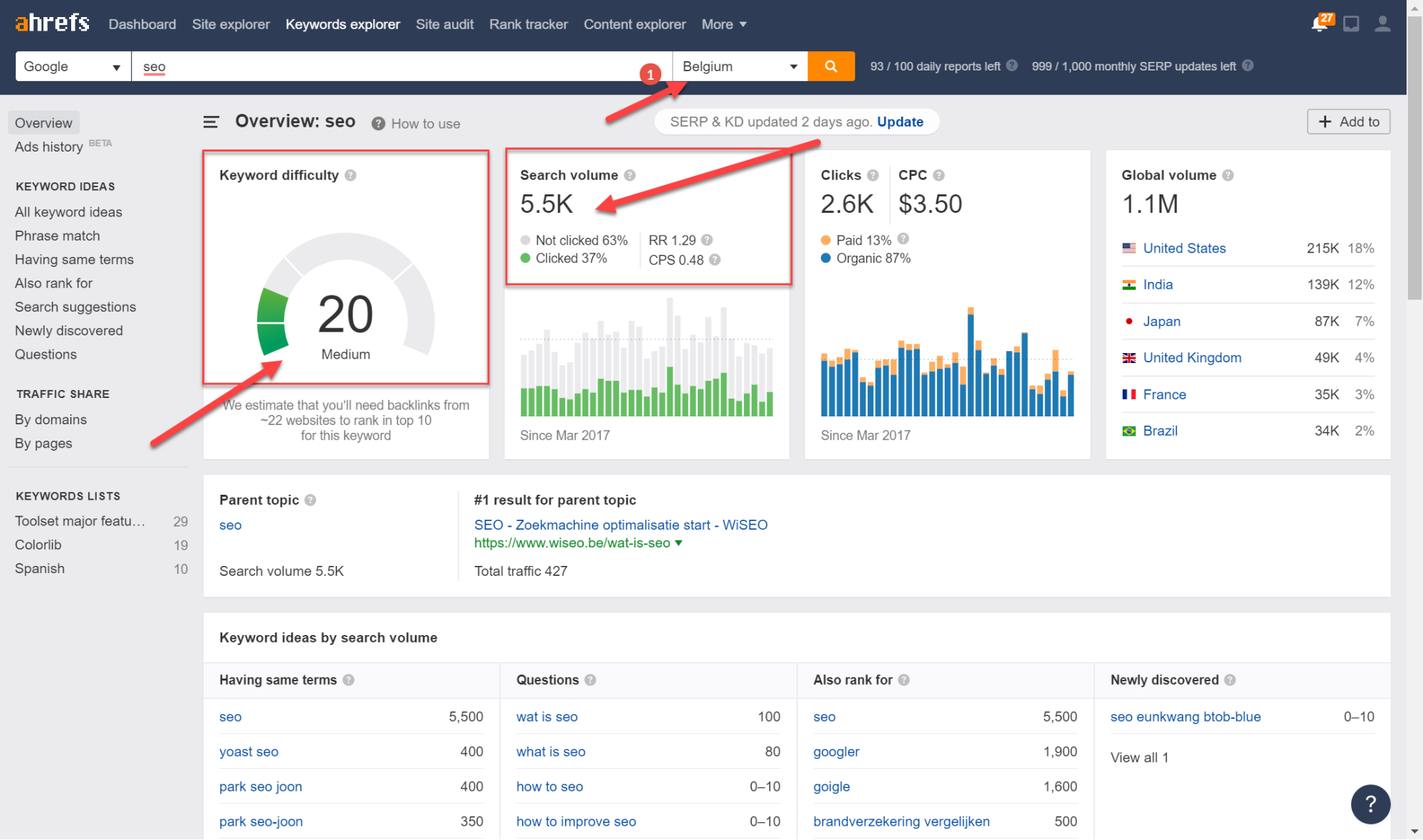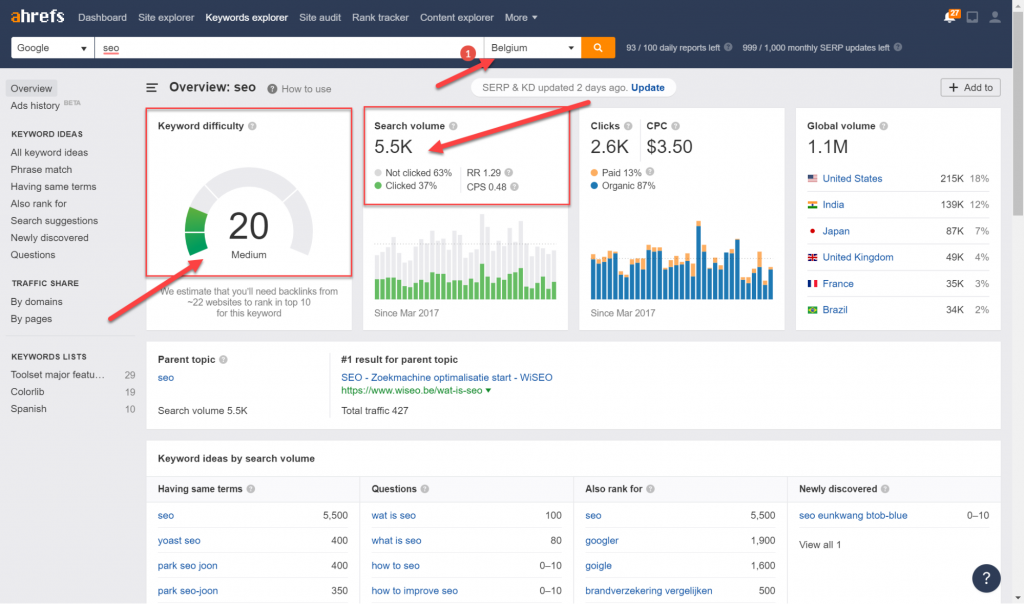 And for Denmark which has 9,500 searches and a keyword difficulty of 22.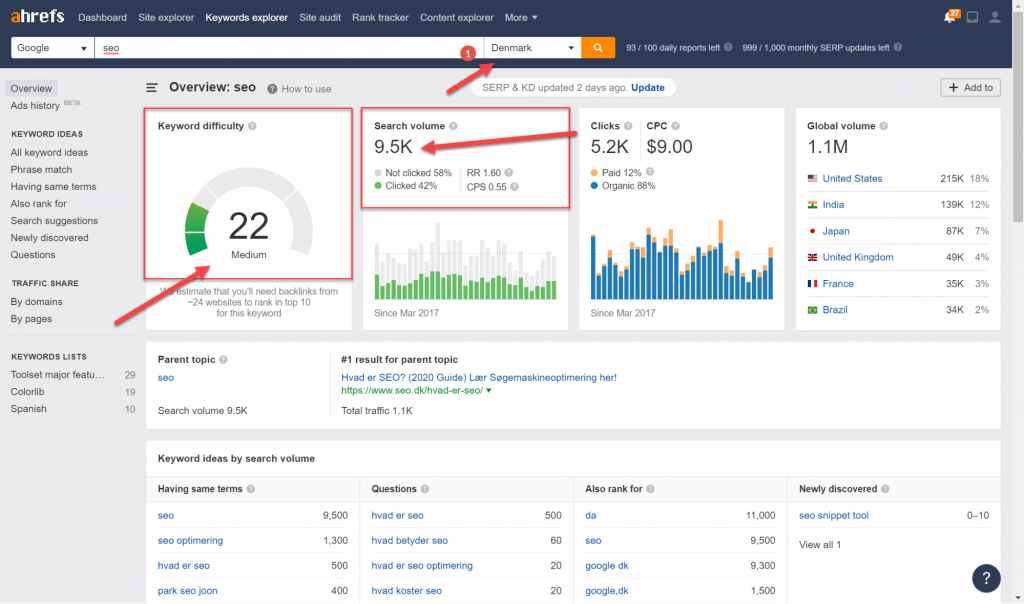 Not only that, but a look at the list of websites shows that none of them have a high AR rating – apart from Wikipedia and Google.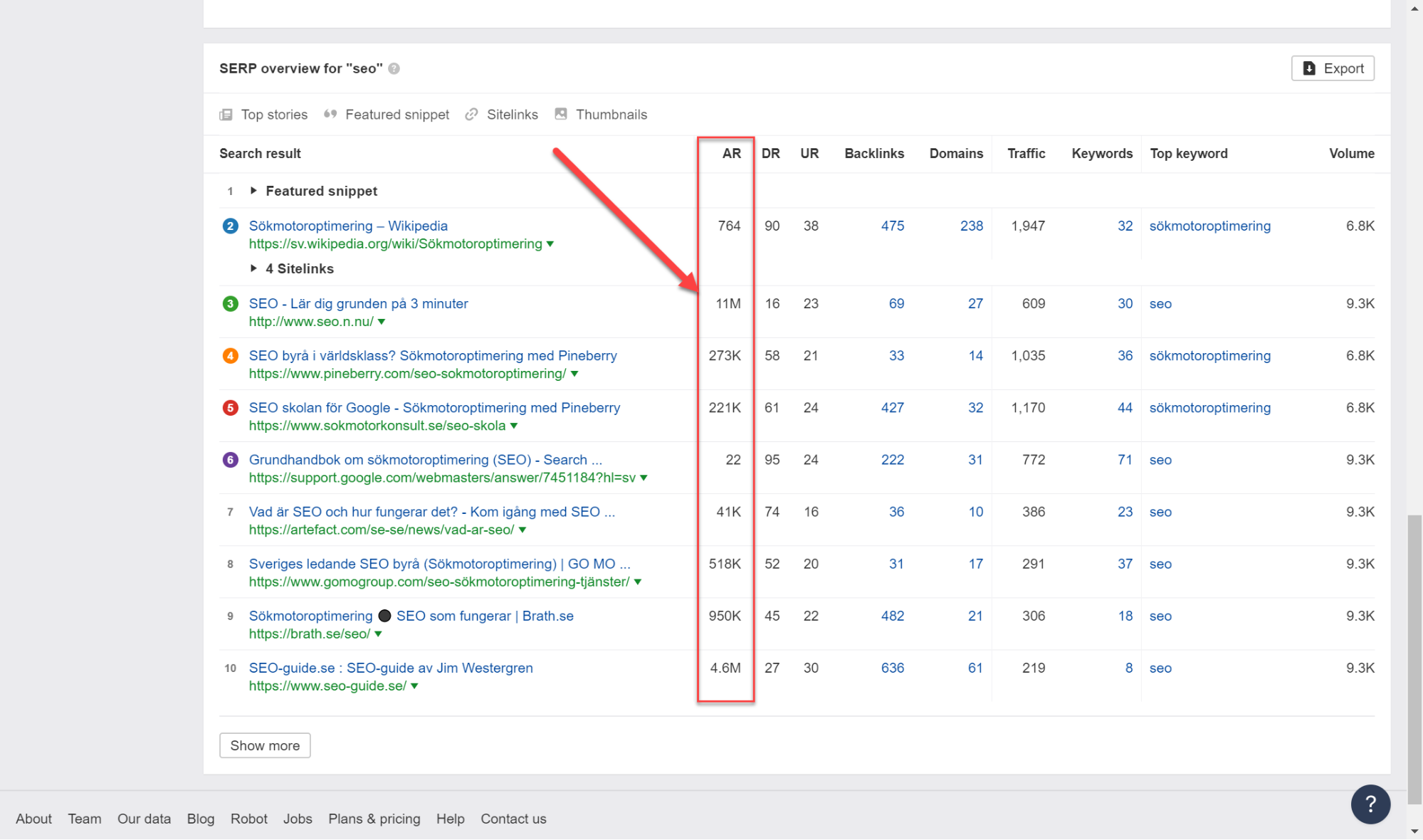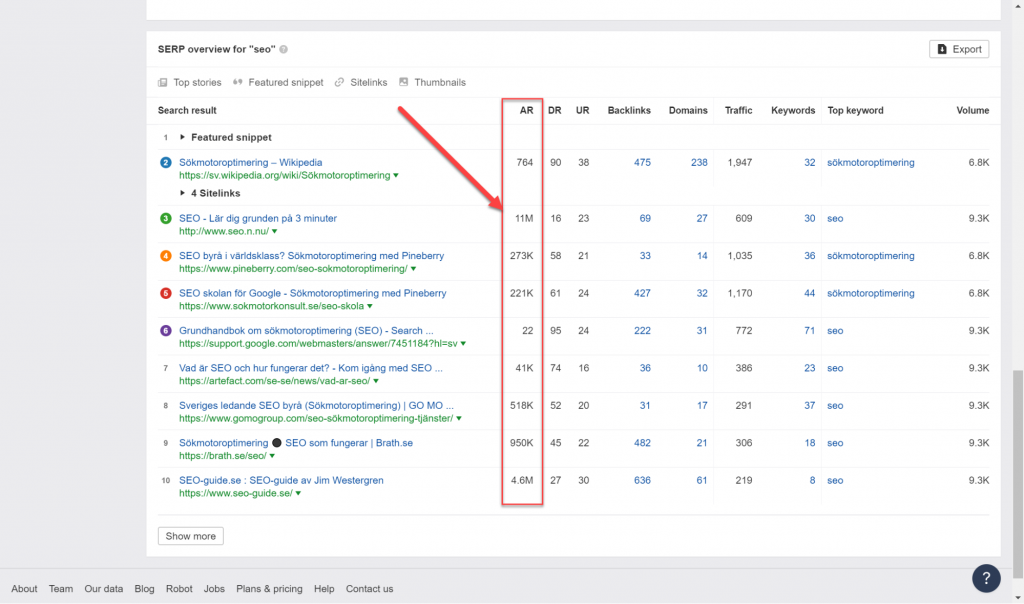 Therefore, if you wrote an article about SEO in Swedish you would have a much higher probability of ranking in Sweden than in English for the American market.
Let's look at another example. 

The term "wp_query" gets 5,200 monthly searches in the US but is fairly hard to rank for with a rating of 25.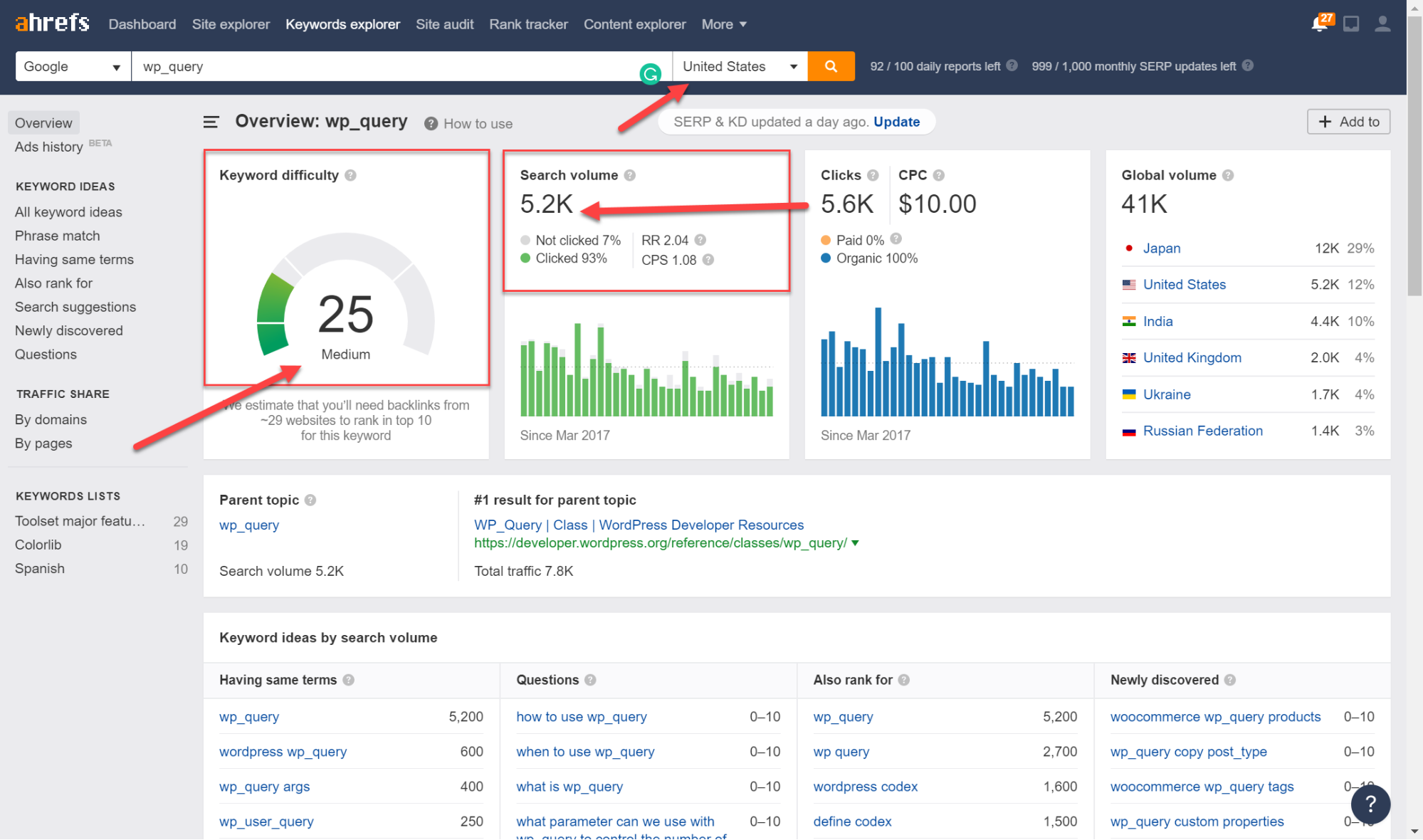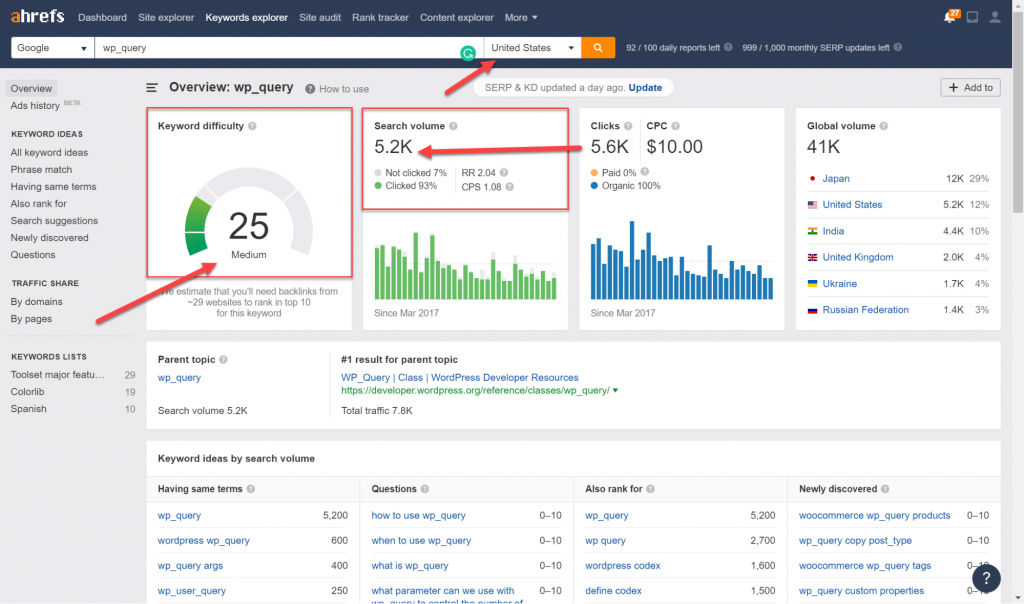 Yet Japanese actually has a higher search volume and is far easier to rank for.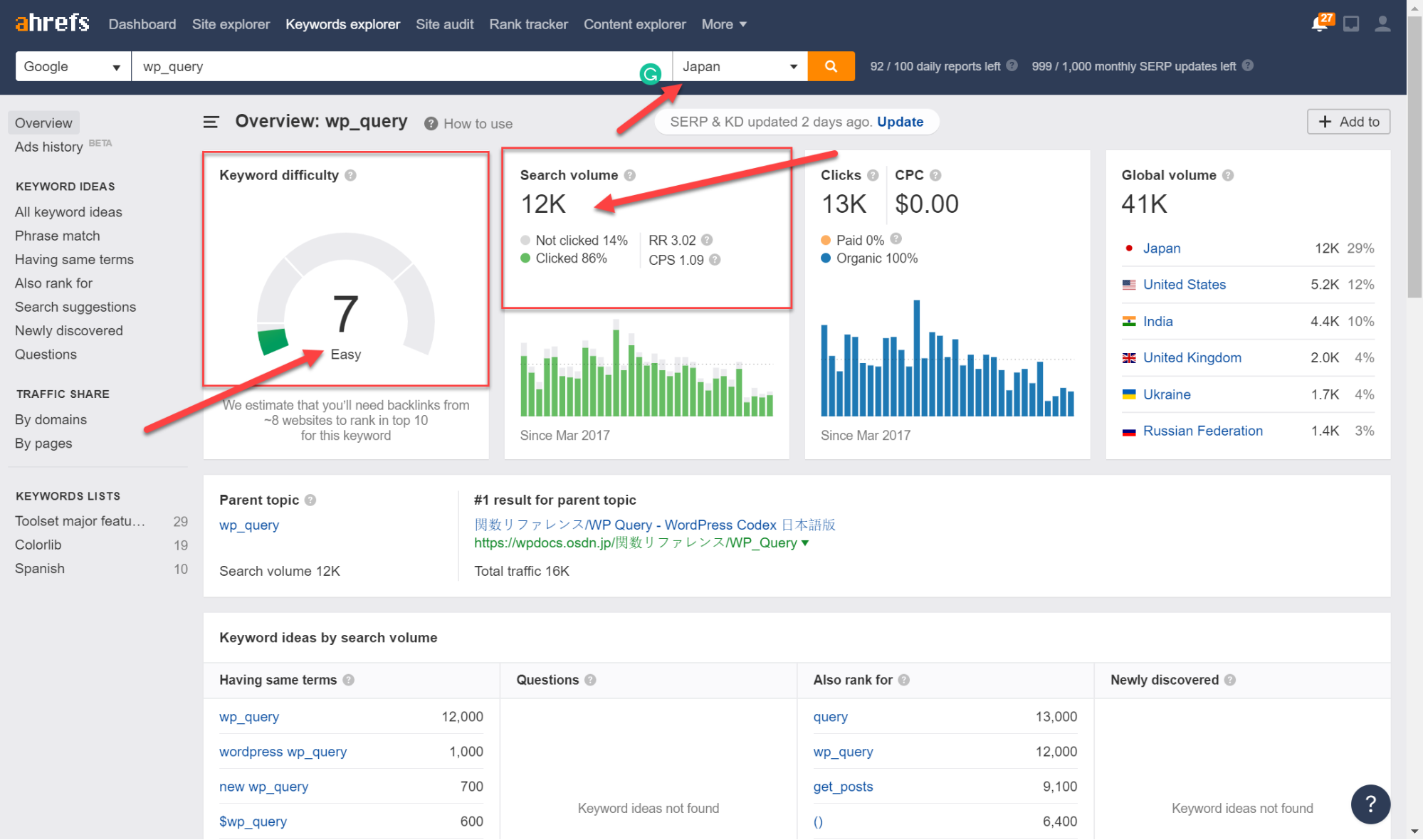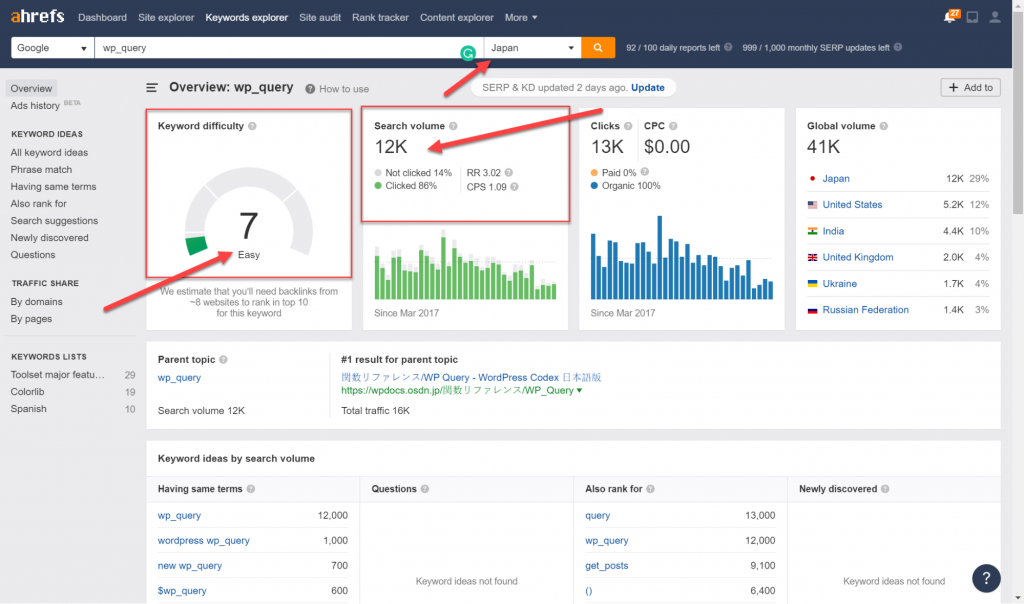 Therefore, if you were a Japanese blogger, then writing about wp_query in Japanese would be a no-brainer.

How to rank highly on search engines for non-English languages
Below are the steps to take to identify the best keywords and create your content:

If you are still choosing which language to translate your website into, use Google Analytics and Google Webmaster Tools to see which countries are already visiting your website, their search volume and the conversion rate of the visitors coming in.
Use Ahrefs to identify the best keywords for your blog which have a high search volume but low keyword difficulty.
Check out our guide on multilingual SEO and follow all the steps to make sure your website is ready to rank.
See which websites are already ranking for your target keyword. See what content they have and what content they are missing which you can write in order to offer a higher quality article.
Start writing your content, making sure it is as relevant to the intent of the keyword as possible. For example, an article on "How to create an e-commerce website" should take you through all the steps to have a website that can sell products online.
Start ranking on search engines today!
Now that you know how to start ranking on search engines for non-English languages you can get started with writing your content to boost your affiliate marketing.

If you are a blogger hoping to earn some easy money then check out our affiliates programs for WPML and Toolset which will give you commissions for every client you refer to each product.