Have you ever asked yourself, "Do I really need a multilingual eCommerce online store!?"
Multilingual eCommerce websites can help you in expanding your eCommerce service to more countries, enhancing your customer reach and bringing you a higher return on investment. There are many advantages of having a multilingual eCommerce website which can be summarized into the following points:
Improving the customer experience: Customers love to be addressed in their native language. Customers are most likely to buy when you speak the customer's language.
2,430 web consumers in eight countries were surveyed to learn about how language affected their purchasing behaviors. The below statistics were found:
72.1% of consumers spend most or all of their time on websites in their own language.
72.4% of consumers said they would be more likely to buy a product for which information in their own language was provided.
56.2% of consumers said that the ability to obtain information in their own language was more important than price.
Increasing your market share: By breaking through language barriers and targeting a larger segment of consumers, you can exert a huge impact on your customer conversion rate.
Increasing brand awareness: By providing valuable content to your audience, you are helping them to make purchasing decisions, and even if they don't buy, you will enhance your reputation and increase traffic to your website, increasing your ranking.
According to one population-based study, you need to target 13 languages to reach 90% of the world's economic opportunity.
1. Chinese
2. Spanish
3. English
4. Arabic
5. Portuguese
6. Russian
7. Japanese
8. German
9. Korean
10. French
11. Italian
12. Dutch
13. Swedish
Market Share of WordPress eCommerce Plugins
WooCommerce dominates the WordPress eCommerce plugins market with 78.4% of market share. WP eCommerce is in second place, with almost 10% of market share.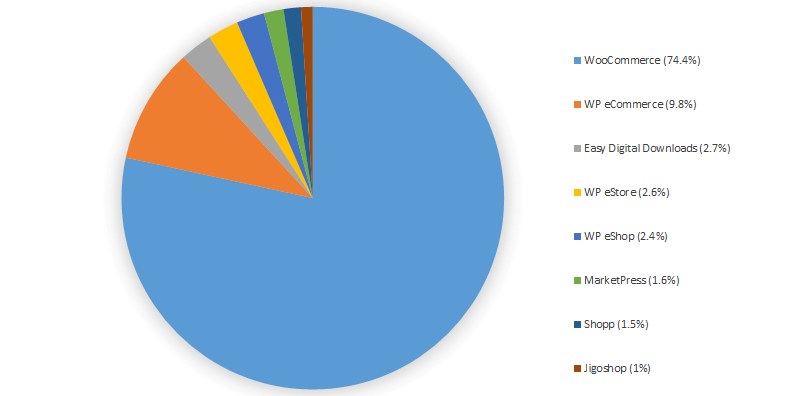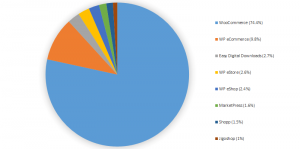 The total number of sites included in these statistics is 493,459. The breakdown of active sites using each plugin is as follows:
| | |
| --- | --- |
| Plugin | Total Sites |
| WooCommerce | 396,260 |
| WP eCommerce | 49,471 |
| Easy Digital Downloads | 13,813 |
| WP eStore | 13,138 |
| WP eShop | 11,962 |
| MarketPress | 8,333 |
| Shopp | 7,445 |
| Jigoshop | 4,987 |
Market Share of WooCommerce Multilingual Plugins
WooCommerce Multilingual leads with 79% of total market share.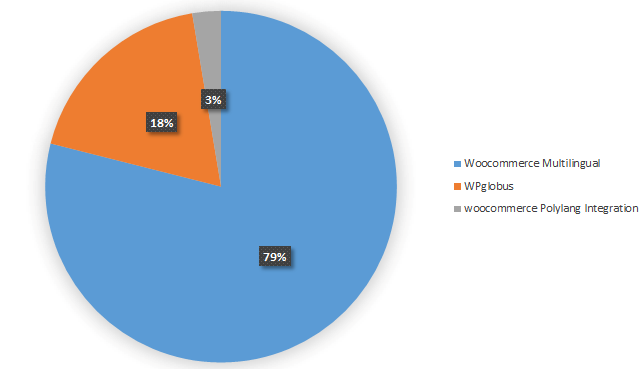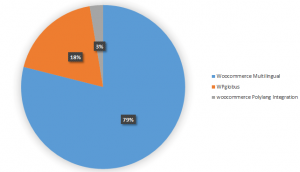 The total number of sites included in these statistics is 38,000+. The breakdown of active sites using each plugin is as follows:
| | |
| --- | --- |
| Plugin | Total Sites |
| WooCommerce Multilingual | 30,000+ |
| WPGlobus | 7,000+ |
| WooCommerce Polylang Integration | 1,000+ |
In today's fast-paced world, having a multilingual eCommerce website is definitely one major tactic to penetrate new markets and expand your business. As demand grows for simple and efficient eCommerce solutions, WordPress, along with its many eCommerce themes and plugins, is the perfect choice for your next eCommerce project. Platforms like the WooCommerce plugin offer you all the features you'll need to run your online store. For the next step—taking your shop and going multilingual—the leading solution is WooCommerce Multilingual plugin.
After you have got all that set up and ready to go, it's time to choose a stable, good WordPress Multilingual eCommerce theme. Below is a list of five that are worth noticing:
Top 5 WPML-Compatible eCommerce Themes
Conclusion
Choosing the right theme and plugins to run your WordPress eCommerce online store might be tricky, as the market has got an enormous number of choices. Choosing an eCommerce theme that is fully compatible with WooCommerce and WooCommerce Multilingual plugins will ensure you an effortless experience in building your eCommerce online store.
---
Resourses
https://www.sellwithwp.com/wordpress-ecommerce-plugin-statistics/
http://solutiondots.com/blog/wordpress-multilingual-plugins.html