Storefront, by WooThemes, is a free eCommerce theme. It is designed to be simple and clean from the ground up. Storefront is built using WooCommerce API and can be used with all WooCommerce extensions. In this tutorial, we demonstrate how to translate every part of the Storefront theme using WPML.
Content
Getting started
Make sure that the Storefront theme is activated, by going to the Appearance -> Themes page.
Make sure that the WPML Multilingual CMS, WPML String Translation, WPML Translation Management, WPML Media Translation, and WooCommerce Multilingual plugins are activated. Follow the steps in the WPML beginner's guide to verify that your setup is correct.
For a better translation experience with contents created using Visual Composer, activate WPML Translation Editor. To do this go to the WPML -> Translation Management page and click the Multilingual Content Setup tab. There, check the Use the translation editor option in the How to translate posts and pages section and click on Save.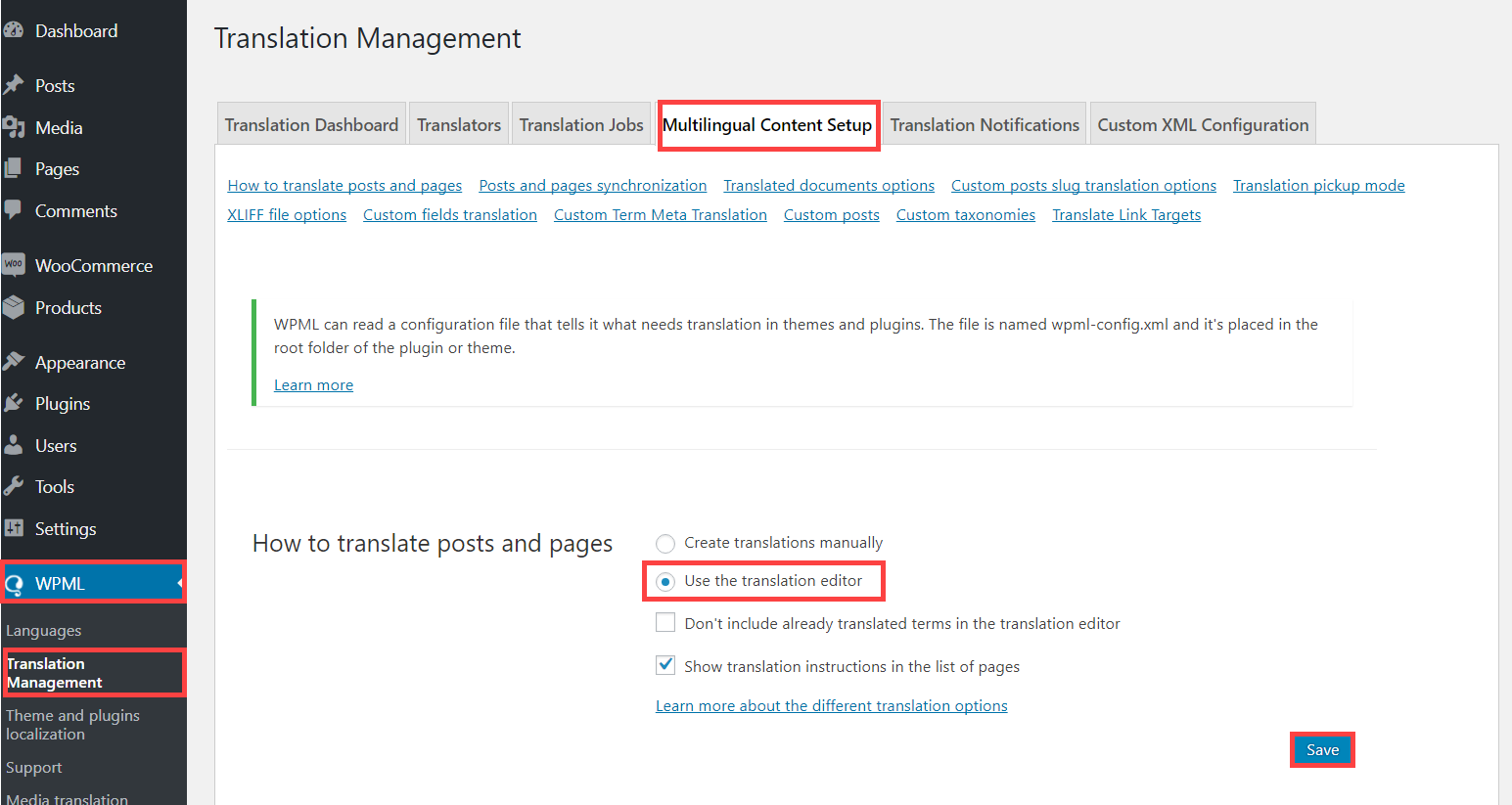 Translating pages
With WPML, you can translate any types of contents in your site, including pages and posts. For an easy start, read our beginners guide to site translation.
Translating categories and tags
See our detailed documentation on translating taxonomies.
Translating texts from the Storefront theme, plugins and other places
Besides contents coming from posts and pages in your site, there are usually some texts coming from other places. The most common examples are themes and plugins. To learn how to translate these texts, read our documentation page about translating these texts manually or sending them to others for translation.
Translating menus
With WPML, you can easily synchronize your language menus. For more information, please check our complete menus translation tutorial.
Translating WooCommerce elements using WCML
To translate everything that WooCommerce offers, download the WooCommerce Multilingual plugin (WCML) from your WPML account. Visit our dedicated WCML documentation to learn how to setup a multilingual store and translate your products, categories, variations, shipping classes and more.
Getting help
We have supporters in our forum who are ready six days a week to help you. They are trained in how to use WPML with Storefront. If you are working with a developer for your site, please use our Translation support forum to get help with translating your site's content.
If you are setting up the site and WPML yourself, please use our Technical support forum.