WP Job Manager is a lightweight plugin for adding job-board functionality to your WordPress site. Follow this tutorial to learn how to translate your Job, Job Types, Job Listings, and Job Submission forms into multiple languages.
Contents
Getting started and what to check
Make sure that the WP Job Manager plugin is activated.
Make sure that the WPML Multilingual CMS, WPML String Translation, WPML Translation Management, and WPML Media Translation plugins are activated.
For a better translation experience, we recommend that you activate WPML Translation Editor. To do this, go to the WPML → Settings page. There, check the Use the translation editor option under the How to translate posts and pages section and click Save.
WPML translation tools
WPML offers two translation editors you can use for translating your site's content:
Besides translating your site content yourself, you can also:
Translating Job Listings
Before starting a translation, there are a few settings to check. So, Create a new job listing and Publish it.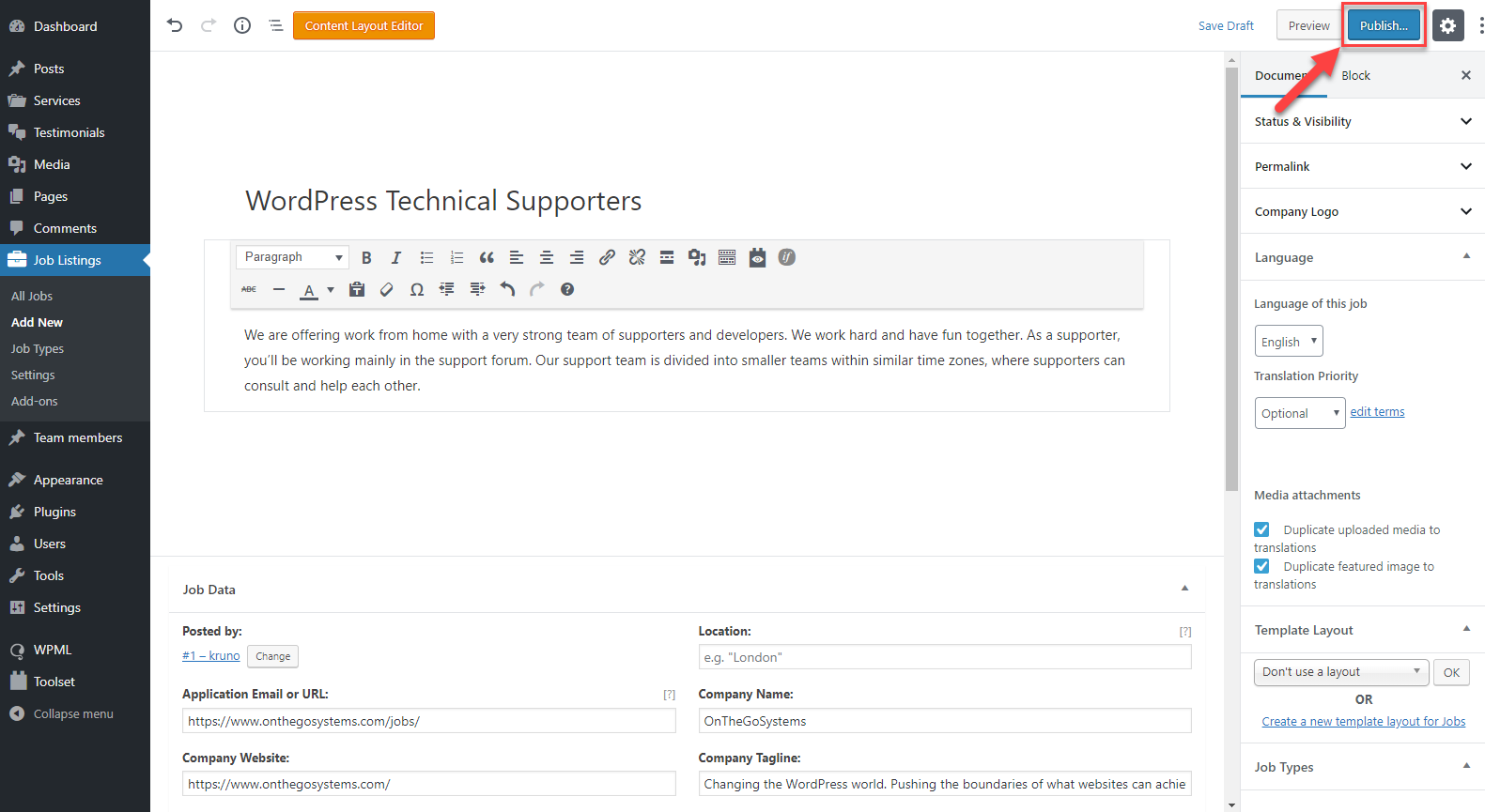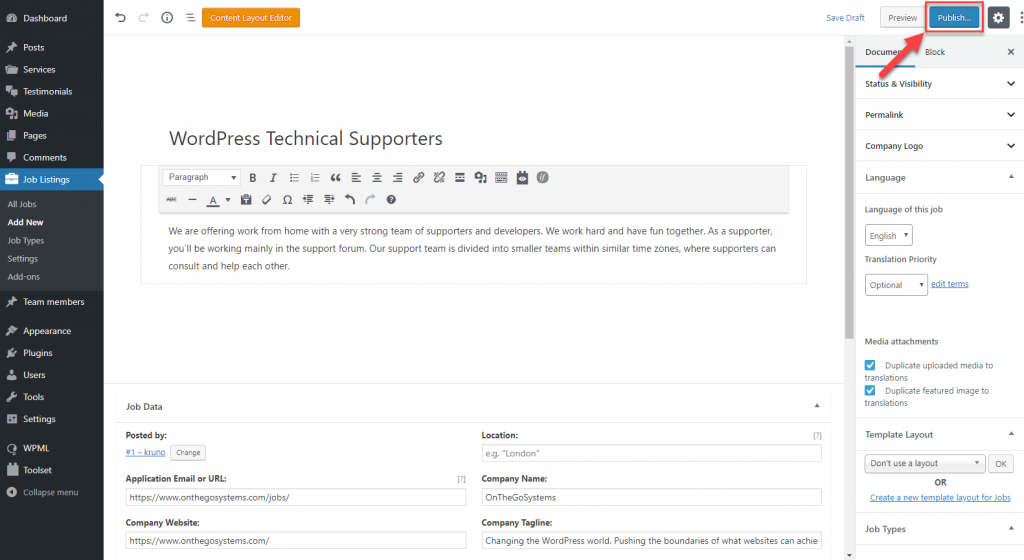 On the same page, scroll down to the Multilingual Content Setup section and tick the box next to Make Jobs translatable and Apply.
The section will extend and you will be able to see Custom Taxonomies. Make sure that Job Types is set as Translate.
There are some Custom Fields displayed such as geolocation_lat or geolocation_long. It is not necessary to tick the box Translate as they are defining the exact location. The location coordinates will remain the same in English or in your secondary language. However, concerning the other system fields such as geolocation_city or _state, we suggest setting them as Translate and then Apply.
Make sure that the box Duplicate featured image to translation is ticked, otherwise, pictures will not be shown on the secondary language. Click on the plus button.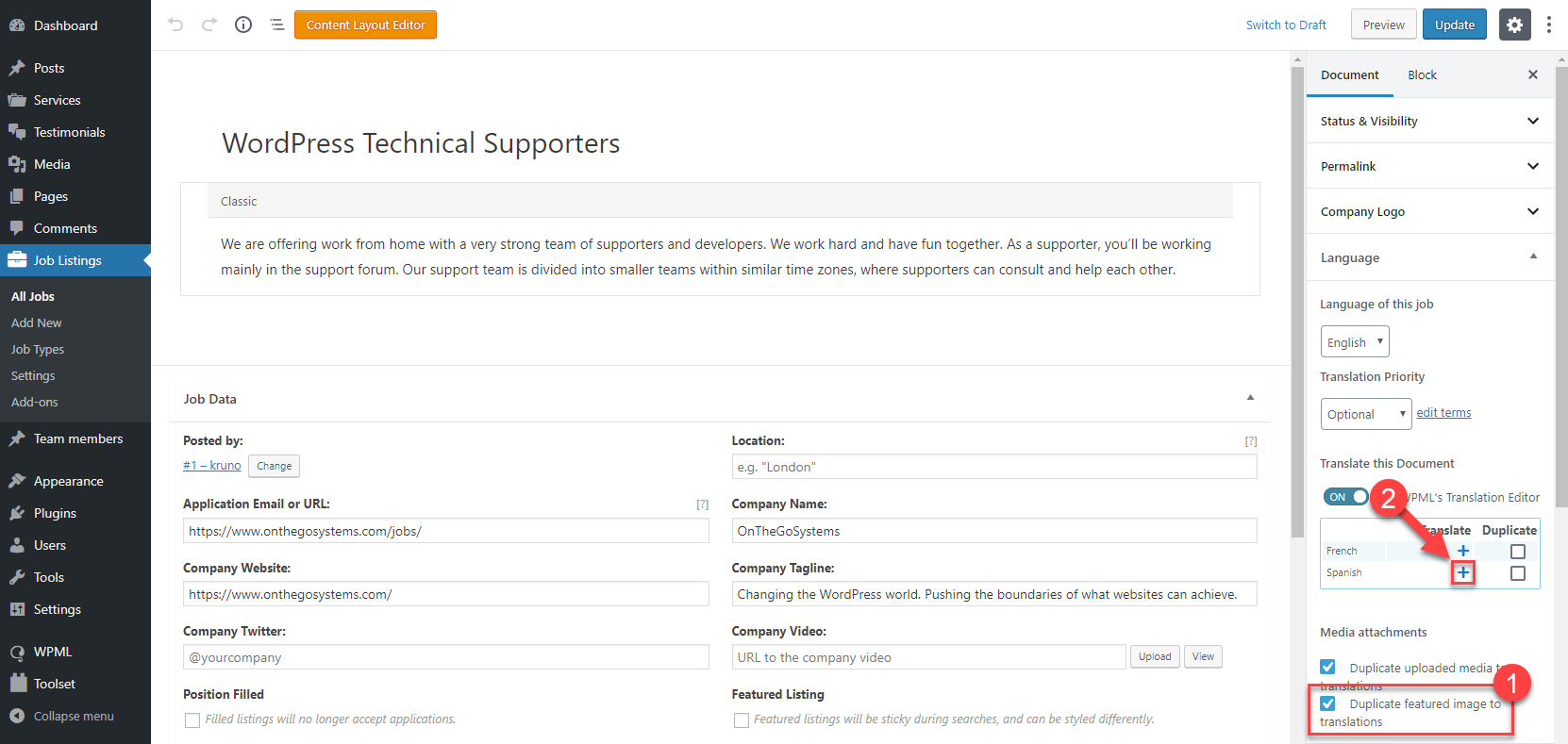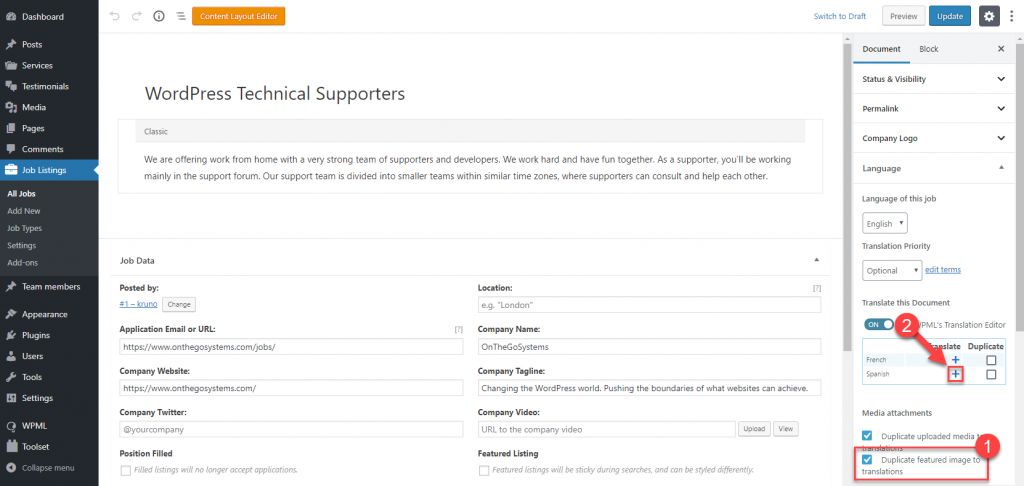 5. The Translation Editor will open. Translate the page and publish the translation.
Make sure that you don't set the job listing expiration in bulk for all languages as this results in not being able to see the job listings that expire in all languages in the dashboard area. Instead, set bulk expiration per language.
Translating other parts of the plugin (Button, Dates, etc.)
Before starting the translation, there are two important options to check:
Make sure that on the WPML → Theme and plugins localization page the option Translate themes and plugins using WPML's String Translation and always load .mo files is checked.
Make sure that your strings are scanned by going to WPML → Themes and plugins localization. Do not forget to click on Scan selected plugins for strings button.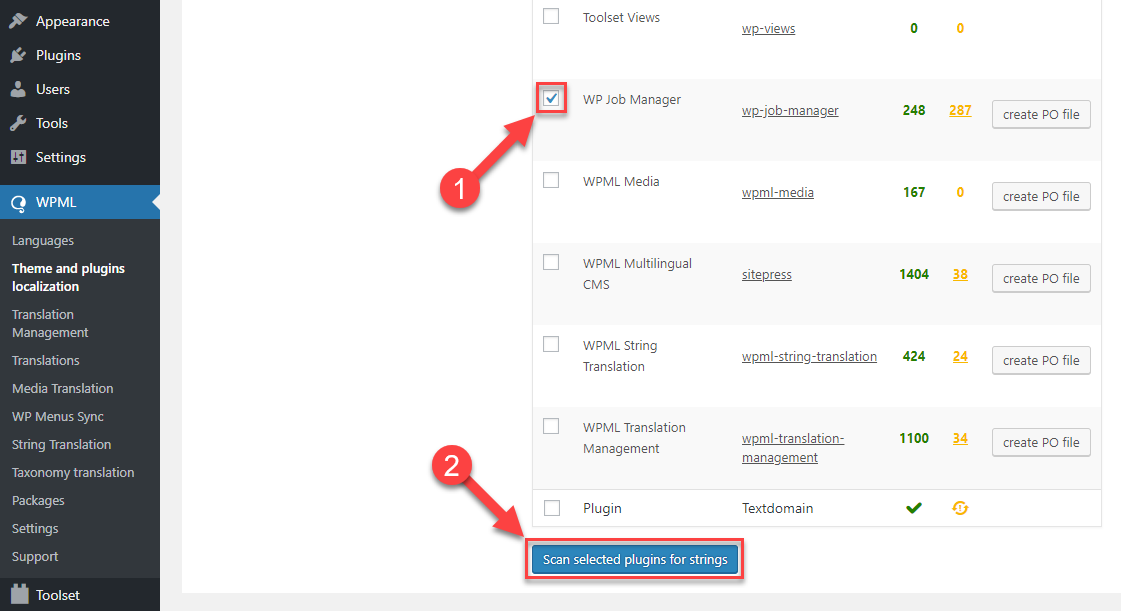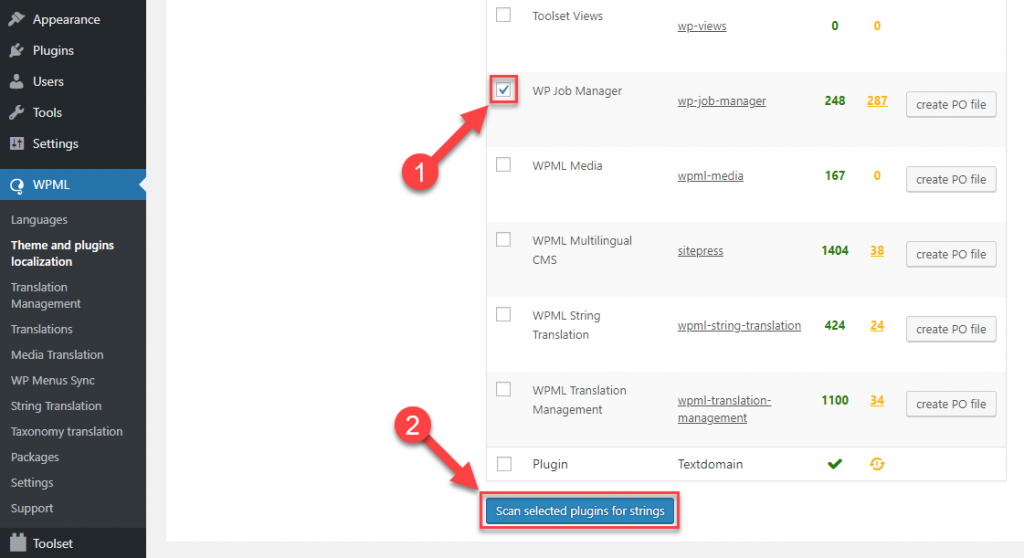 Now that you are ready, go to WPML → String Translation and search for your call-to-action button. In this case, the button is named "Apply for Job." Once you find the button, click on the blue translation link. By clicking on the blue link, you will open the secondary language field. Write down your translation, tick the box next to Translation is complete, and click on Save.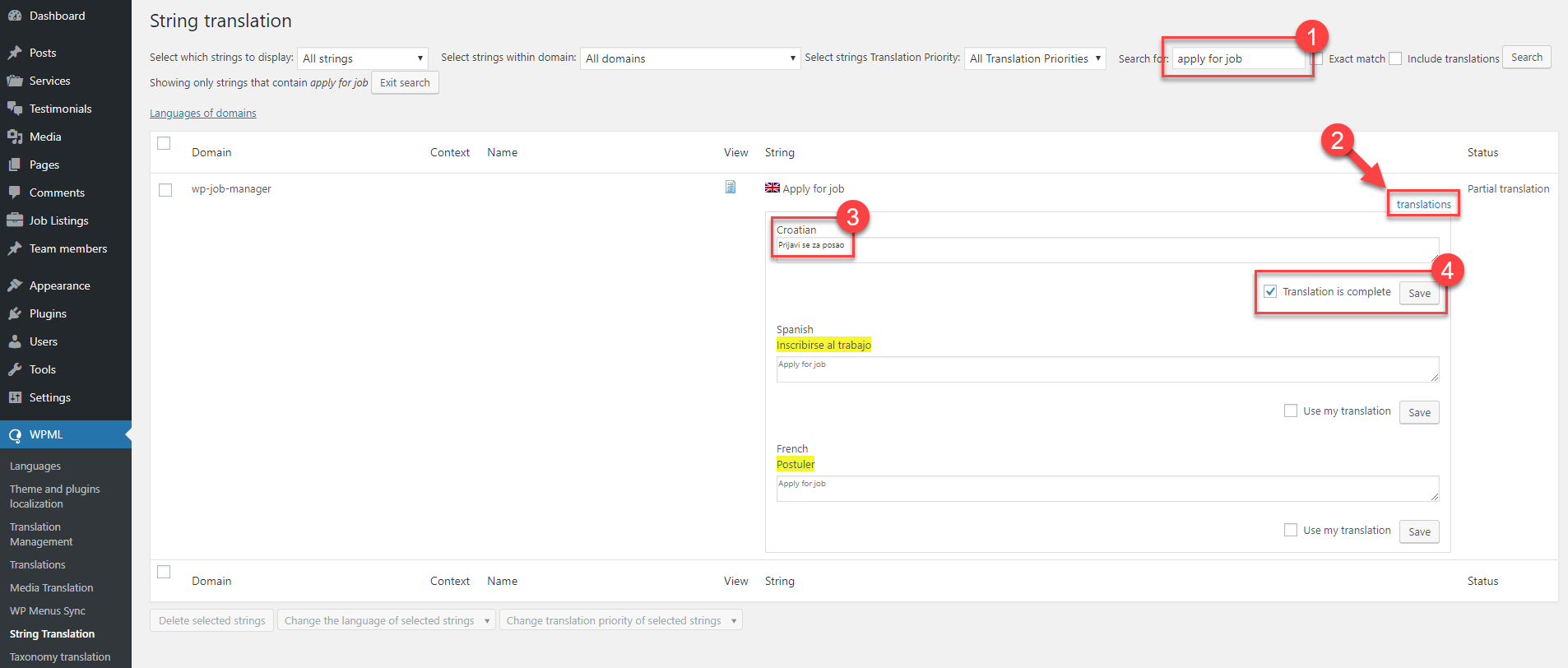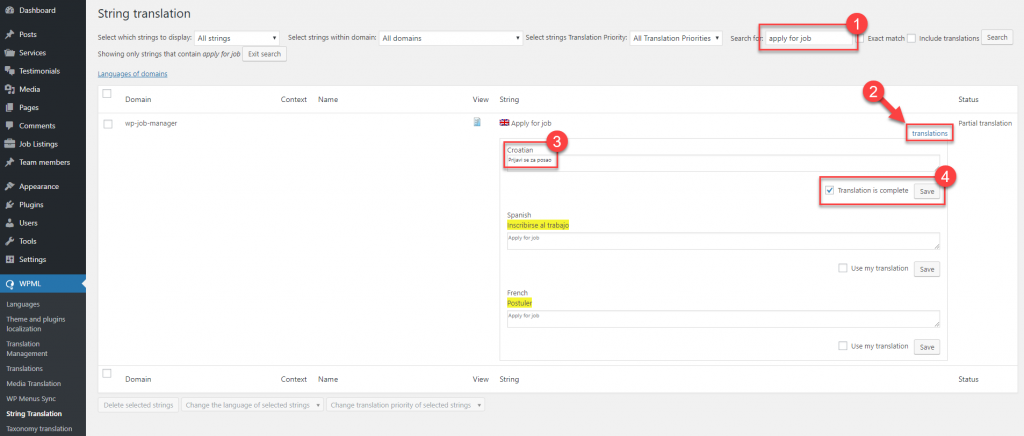 Translating Job Types and Categories
2. In our example, we chose to translate Job Types, but the following steps are also applicable for Tags and Job Categories. We have three job types: FREELANCE, PART-TIME, and REMOTE.
3. To translate them, simply click on the plus button located under the flag of the secondary language.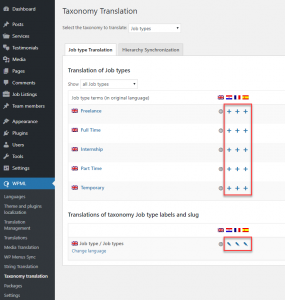 4. Again, the Translation Editor will appear. Translate your Job Type and click on Save.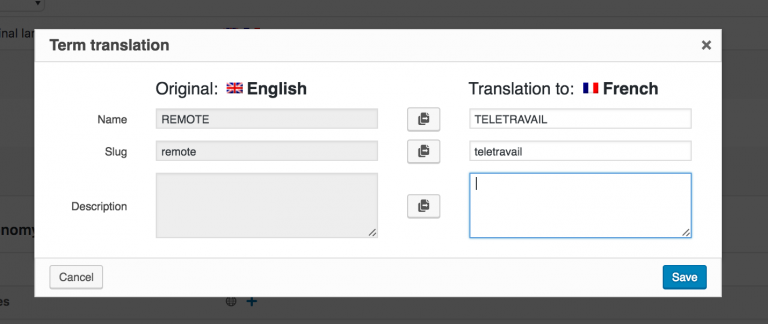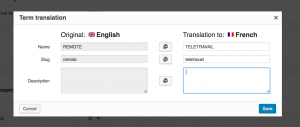 Translating WP Job preloaded pages
The following pages: Jobs, Job Listing, and Job Dashboard are set up in the installation wizard of the plugin. For all these pages, the translation steps are the same.
We recommend that you translate the job listing first as previously shown. Note that WPML will automatically translate everything corresponding to the shortcodes: the fields, the forms, and the dashboard.
1. Go to: Pages → All Pages.
2. Click on the plus button to open the WPML Translation Editor.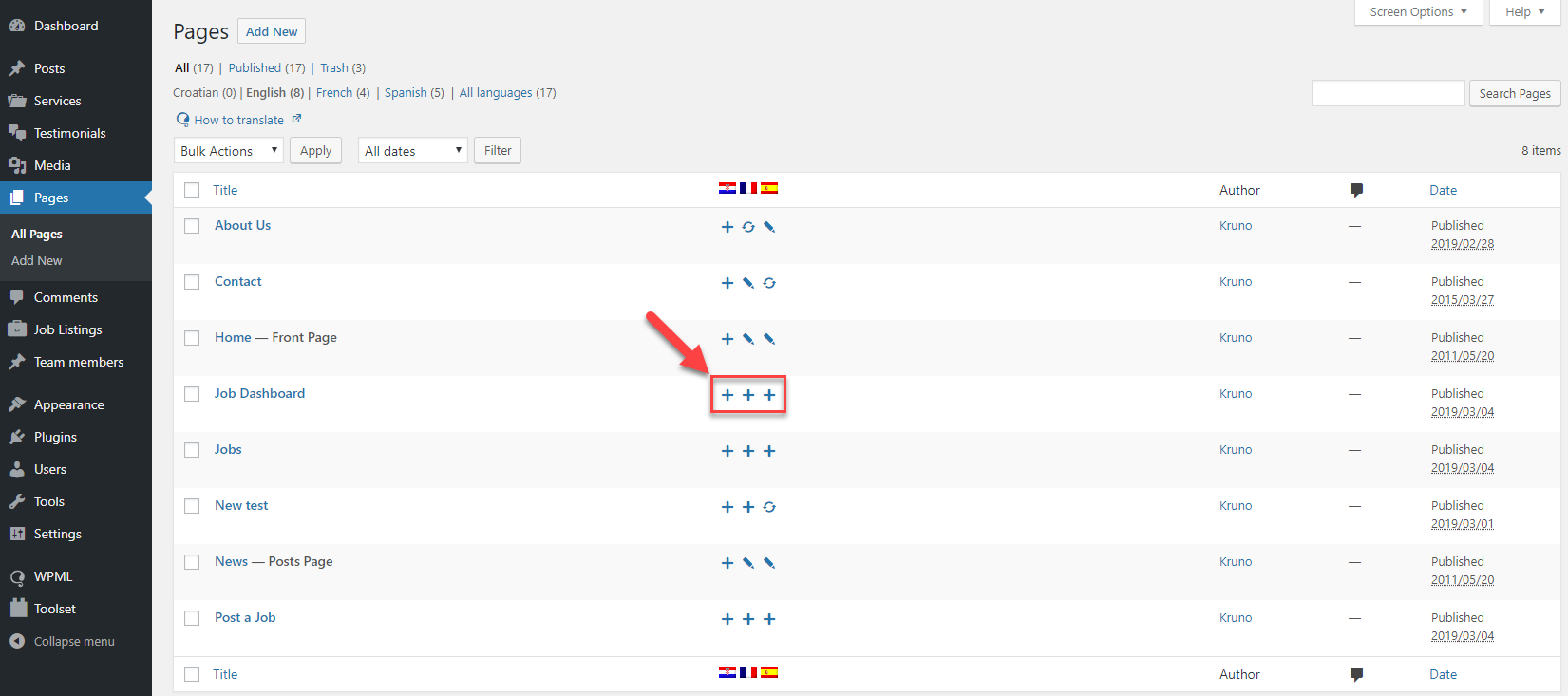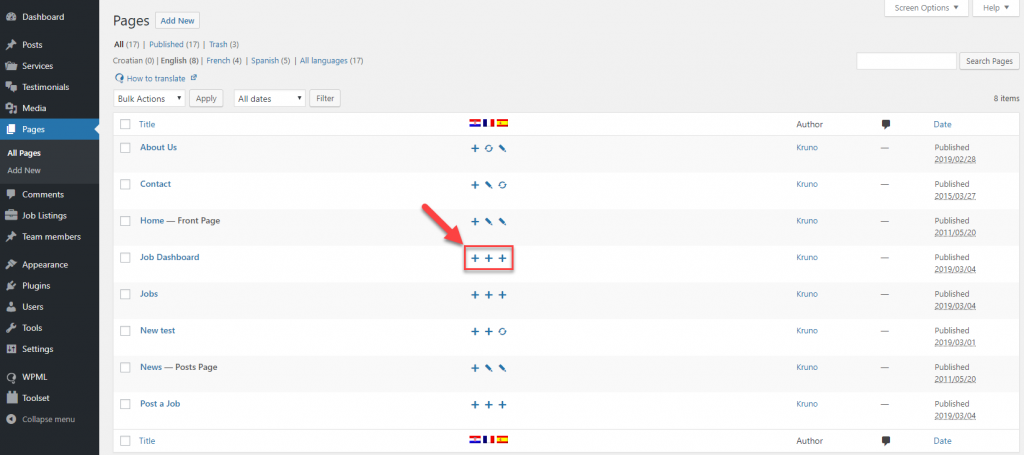 Translating WP Job Email
Generated emails will be localized if you have installed the relevant WordPress language files.
To check this, go to WPML → Theme and plugin localization and tick the box: Translate the theme and plugins using WPML's String Translation and load .mo files as backup and Save.
Getting help from our support
In case you need help translating your site built using WP Job Manager and WPML, visit WPML's support forum.