WPML allows you to translate pages built with Divi. You simply need to create your page with Divi and then use WPML to translate the texts in your design.
| Divi Page in original content | Divi Page translated to French |
| --- | --- |
| | |
Introduction
Divi is a smart and flexible multipurpose theme, it comes with an easy to use page builder and a handful of pre-made layouts that will help you create the website that suits your needs. If you are willing to have a multilingual site, Divi's integration with WPML will allow you to translate all the theme elements effortlessly.
What you will need
The Divi theme (version 3.0 or above).
A recent version of WPML (version 3.6.2 or above), including the String Translation, Translation Management, and Media translation add-ons.
Content
Getting Started and What To Check
Is your site already configured by your developer?
Check with them to make sure that the core WPML plugins (WPML Multilingual CMS, WPML String Translation, WPML Translation Management) are installed. Also, make sure that the Divi theme is installed and activated.
Are you setting up WPML yourself?
Then you need to follow the steps below.
Set up WPML from WPML > Languages. See our WPML Getting Started Guide for a complete reference. The initial, simple three-step setup is self-explanatory, asking you to choose your default language, a set of active languages, and a language selector. (For starters, choose the footer language selector; you can change this later.)
Install and activate the core WPML plugins (WPML Multilingual CMS, WPML String Translation, WPML Translation Management) first, followed by other WPML plugins that may depend on them.
Install the Divi theme and activate it. Divi's documentation will provide you with all the information needed to set it up and using its different features.
Activate the WPML Translation Editor. To do this,
Activate the WPML Translation Editor. Go to the WPML -> Settings page. There, check the Use the translation editor option under the How to translate posts and pages section and click Save.
Translating a page built with the Divi Builder (backend)
WPML presents new features that simplify further the process of translating pages created using Divi Builder. The following new features are added:
Preserving the existing translations when editing the default language page
Automatic Translation for internal links
Copy-once mode for custom fields
WPML allows you translate content in three ways. You can translate yourself, send content to your own translators or send jobs to a translation service.
Watch a short overview of translating and updating pages built with Divi in the following video:
Scenario 1: You do the translation yourself.
Publish the page you just created with Divi. After publishing, the Language box will be displayed.
Click the plus button for the language you wish to translate into.
You can find these plus buttons in the Language box when editing your Divi page (in the back end), or on a listing page:
| The plus located in the Language box when editing my Divi page. | The plus located under the flag in Pages -> All pages |
| --- | --- |
| | |
By clicking on one of these plus, you open WPML's Translation Editor. Use it to translate the contents of your page and tick the box when the translation is complete as shown below: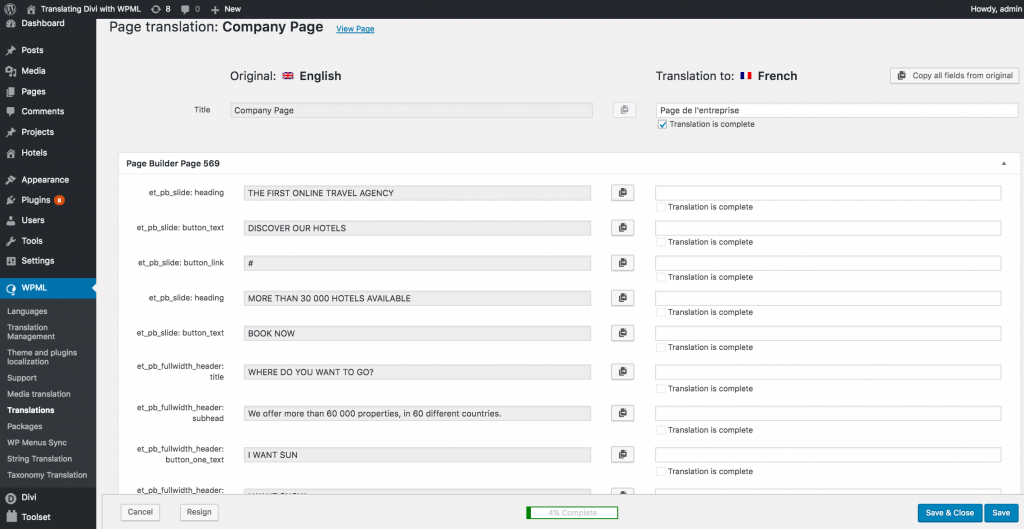 When you've already translated, the plus icon changes to a pencil icon. Click on the pencil if you need to modify your translation.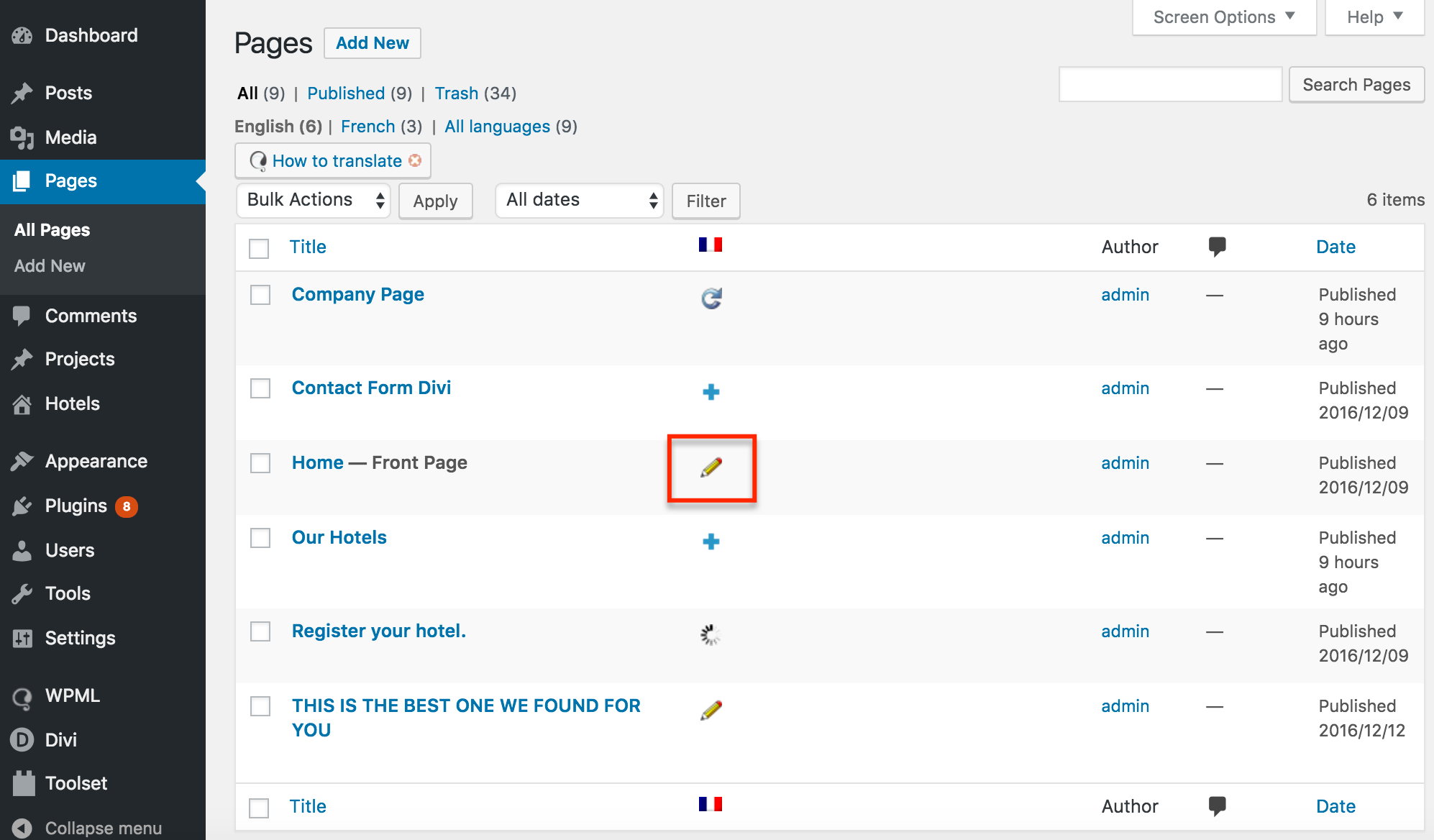 Scenario 2: You want to send the pages to a translator.
WPML allows you to send your content to translators, directly from your WordPress dashboard. But first, you need to add translators to your site or to choose a translation service
You need to go to the WPML -> Translation Management page and select the content to translate (pages or posts).
Then, click to add the selected items to Translation basket.
Finally, on the Translation basket tab, you need to select translators that will translate the content.
The translators will be notified and they will translate on the WPML -> Translations page. The content will appear back in WordPress.
Translating a page built with the Divi Visual Builder (frontend)
In this part we will see how to switch from Divi Visual Builder to WPML Translation Editor.
Click on Edit Page, you will be redirected to your WordPress dashboard to do the translation
Fill in the fields and mark them as complete until you get 100% . Save and Close.

Translation Complete

In the front-end you see your Accordion translated:
| Accordion in English | Accordion in French |
| --- | --- |
| | |
Updating a page and its translation
In this part we will see how to update your translation if you decide to modify the content of your page.
Scenario: I have added a new Module to my page and I need to translate it.
Add a new Divi Module to your page. For this example it will be a Header Module.

New Divi Module

In the Language box you see an arrow, not a plus anymore. The translation needs to be updated as you just added some new content to your English page. Click on the arrow to update the translation in French.

The arrow

You see WPML Translation Editor with new fields to fill in. Also note that the translation is back to 92%
Important: When you leave the Visual Builder to go to WPML Translation Editor, always click on the Update button of the page you just edited. This action will upload the new content for translation in the WPML Translation Editor.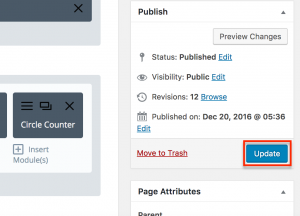 Translating post categories, custom post types and custom taxonomies
In a similar manner, you can translate all other pages and posts, including the custom post types "Projects". For example, here is how to translate a post:
Navigate to "Posts" and click on the plus icon.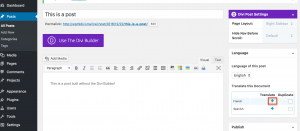 2.The Translation Editor will open again: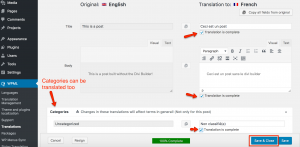 Translating post categories
Navigating to Posts -> Categories, as an example we will create a category and name it "En-Category" and click on the Add New Category button.
Click on the category that we have created.
Click on the add link to add the translation of the category.

4. Fill the Name, Slug and Description fields with the category translation and click on the Add New Category button.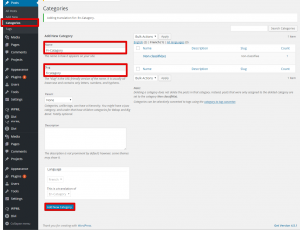 Translating custom post types (Project) and Project categories
The custom post type "Project" can be translated using the same steps followed to translate the regular post. Also, the post project categories can be translated in the same manner as we translated the regular post categories.
Translating custom taxonomies
Go to WPML -> Taxonomy Translation
Select Project Categories from the Select the taxonomy to translate drop-down menu.
Click on the translate button to add the custom taxonomy translation by filling the required fields and then click on the "OK" button, as shown below.
Translating texts from Divi theme, plugins and other places
Besides contents coming from posts and pages in your site, there are usually some texts coming from other places. Most common examples are themes and plugins.
To learn how to translate these texts, read our documentation page about translating strings.
Translating Divi's custom layouts
With Divi you can create your own layouts and save them to be used in different pages or posts. Check Divi's documentation of Saving and Loading Custom Layouts. These layouts can be translated using WPML, you can even have different layouts for your languages. Follow these steps to create, save, translate and load your custom layouts:
On your WordPress dashboard navigate to Divi > Divi Library and click on the add new button. Ensure that the main language switched in your WordPress dashboard is set to be your default language.
Fill in the layout name and choose the Template Type: to be Layout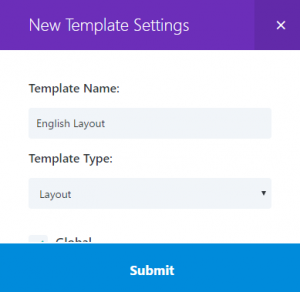 Create the layout structure that you prefer, in our example we will add a text module to the left and an image module to the right, then click on the Publish button: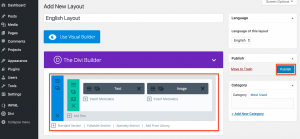 Again, click on plus in the language box: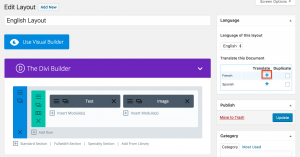 The Translation Editor will open again with the Layout you just created: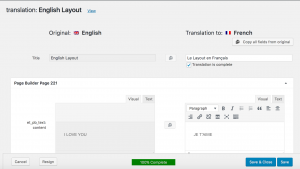 When loading these layout templates to your pages, you can load the English layout to your English pages and the French Layouts to the French pages. This can be done by:
adding a new page > Click on the Use Divi Builder button > Click in Load From Library tab.
Click on the the Add From Library tab and click on the Load button to load the English layout.

The same steps can be followed to add the translated layout to your secondary language(s) page(s).
Translating Divi Global Modules
With WPML, you can translate your Divi Global Modules but the translation itself will not be global.
You need to reuse the exact same translation every time you choose to display a Global Module on a page.
To translate Global Modules, translate them as Regular Divi Modules with each post or page that they are added in and make sure to use WPML Translation Editor, as suggested in this tutorial. For a better understanding, we also have recorded a short video explaining how to translate them.
We know that it's not the most optimized translation process so far but our developers are actively working on making the translation global too.
Translating Divi's menus
With WPML, you can easily synchronize between your languages' menus. For more information, please check our full menus translation tutorial.
List of the Divi Modules currently translatable by WPML
By "Divi Modules", we include the ones located in the Divi Predefined Layouts and in the Full Width Sections.
The following textual elements in the Divi Modules are supported by WPML and will automatically be displayed in the Translator Editor:
Accordion
Audio Player
Bar counterBlog
Blurb
Button
CTA
Circle Counter
Code
Comments
Contact Form
Countdown Timer
Divider
Email Optin
Filterable Portfolio
Gallery
Image
Login
Map
Number Counter
Person
Portfolio
Post Navigation
Post Slider
Post Title
Pricing Table
Search
Shop
Sidebar
Slider
Social Media Follow
Tabs
Testimonial
Text
Toggle
Video
Video Slider
Translating content coming from Divi add-ons
Divi has many useful add-ons and plugins that enhance its usability. While we are constantly working on expanding the support and the compatibility for these add-ons, not all of them are yet integrated with WPML.
In case of you run into a non-translatable add-on, we provide you with a workaround to manually integrate it with WPML. Follow the simple instructions provided on our page about integrating page builders that use shortcodes, with WPML.
Maintaining the Divi Builder Compatibility with WPML
We have prepared a documentation that explains how the Divi Builder works with WPML. Additionally, it explains the process of updating the language configuration file in order to maintain the compatibility between WPML and Divi builder. Feel free to check it here.
Getting help from our support
We have many supporters ready to help you in our WPML forum 6 days a week. They are trained on integrating WPML with Divi page builder.
If you are working with a developer for your site, please use our Translation support forum to get help with translating your site's content.
If you are setting up the site and WPML yourself, please use our Technical support forum.
You don't have WPML yet?
You can test WPML for 30 days and see if you like it.
If you are not happy with our plugin, we refund you without any questions in the 30 days.
Buy and Download