In this tutorial, you will learn how to build multilingual sites using the Beaver Builder theme and WPML.
On This Page:
Getting started
To follow along with this tutorial, make sure to activate the Beaver Builder theme. Of course, you also need to activate WPML core plugins which include WPML Multilingual CMS, WPML String Translation, and WPML Translation Management.
For a seamless translation experience, make sure you enable WPML's Advanced Translation Editor. You can do that by navigating to WPML → Settings. Under the How to translate posts and pages section, check the Use WPML's Advanced Translation Editor option.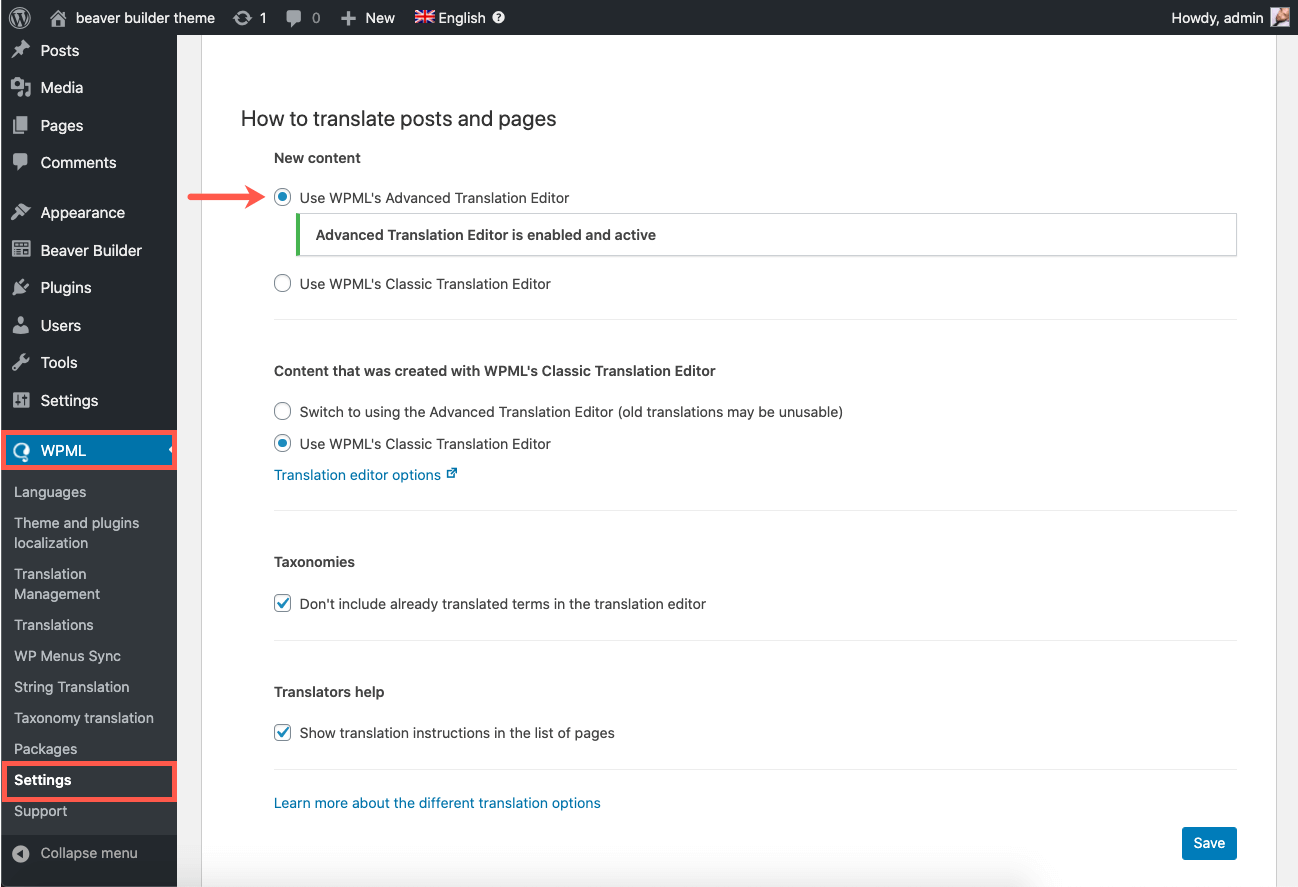 WPML translation tools
We recommend using WPML's Advanced Translation Editor as it offers affordable automatic translation that allows you to translate pages and posts in mere minutes, a glossary, spell-checker, and much more!
Besides translating your site content yourself, you can also:
Translating pages and posts
Fortunately, the Beaver Builder plugin is fully compatible with WPML. This means that you can translate any page that you build with Beaver Builder using WPML easily. Check our detailed guide that explains the process of translating websites built with Beaver Builder using WPML.
To translate any page or post on your website, follow these steps:
Navigate to the page or post editing screen and click on the plus icon corresponding to the language you want to translate your page into. This takes you to WPML's Advanced Translation Editor screen.
Click the Translate automatically button to load the automatic translation. Review the translation to ensure that it is accurate and human-readable then click the green checkmark button to save the translation. Finally, click the Complete button to publish the page.
This is how the translated page looks like on the front-end: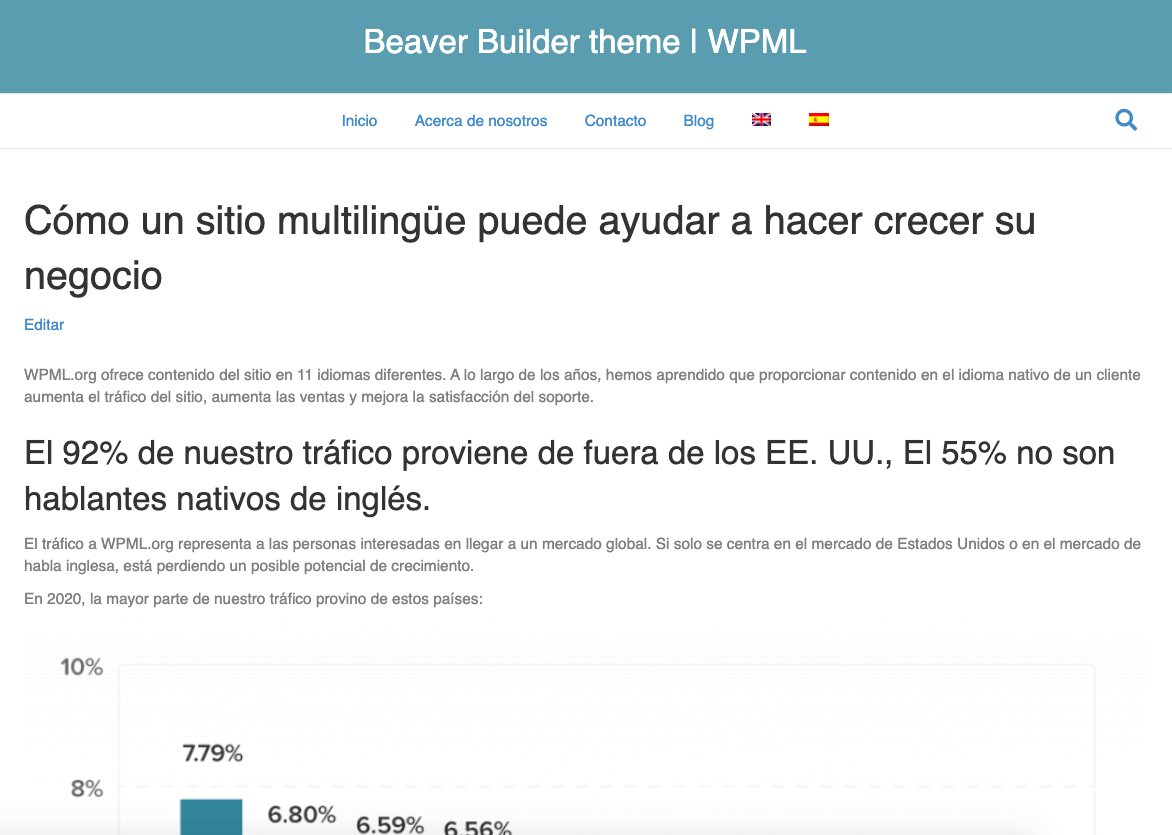 Translating categories and tags
You can translate categories and tags assigned to a specific post while translating the page content in WPML's Advanced Translation Editor.
Alternatively, you can translate the categories and tags by navigation to WPML → Taxonomy translation. From the Select the taxonomy to translate: drop-down menu, choose Categories. Click the plus icon under the language you want to translate the category or tag into and add the translation.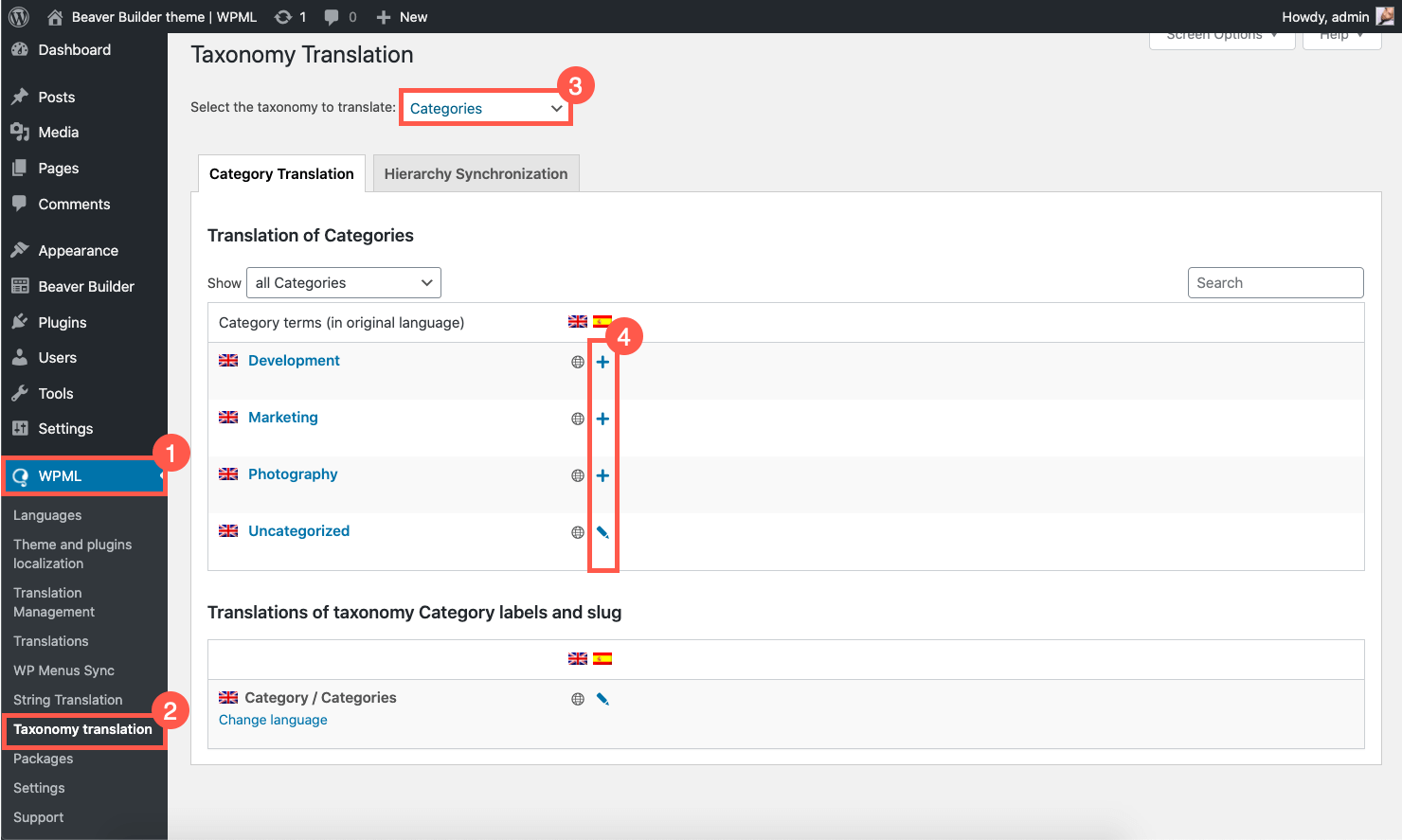 Finally, fill in the translation and click Save.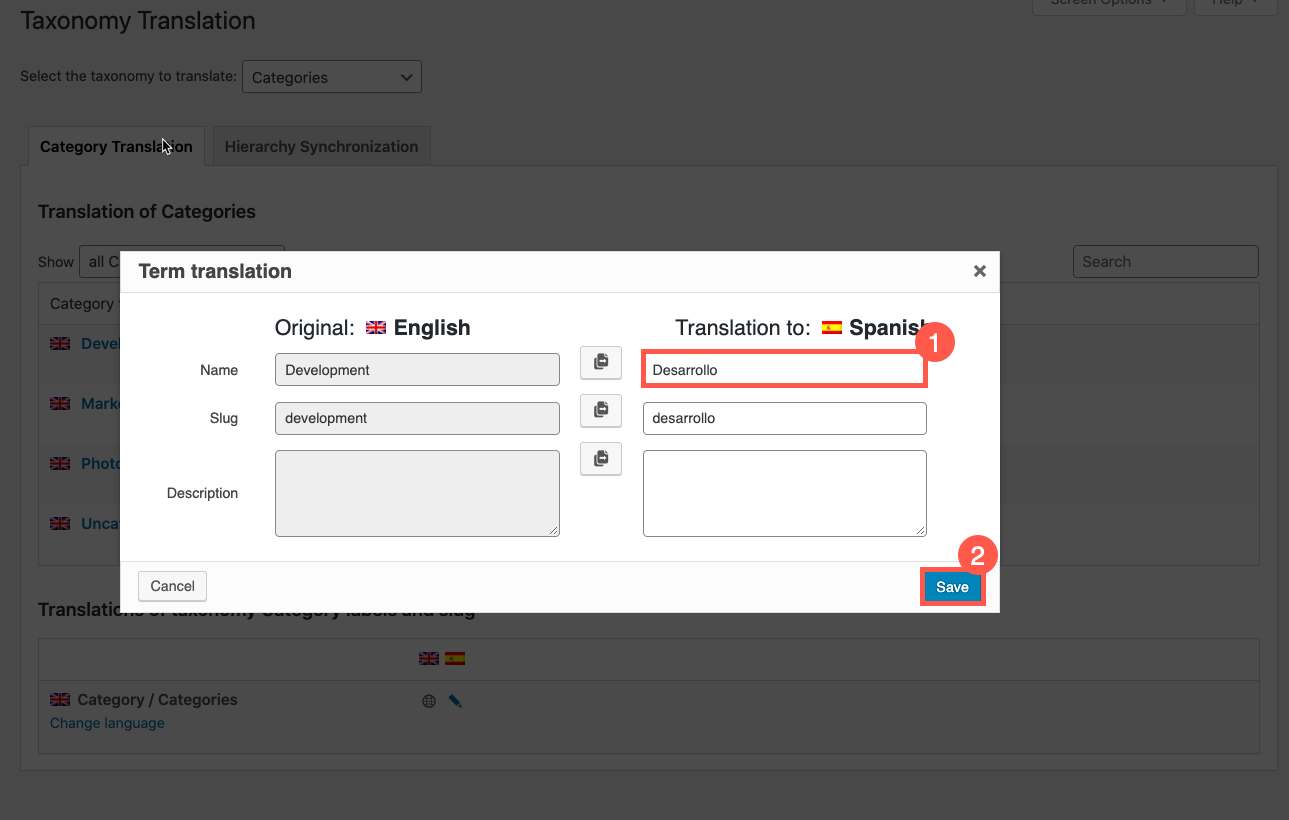 Translating texts from Beaver Builder theme, plugins, and other places
Besides content coming from posts and pages on your site, there are usually some texts coming from other places. The most common examples are themes and plugins. To learn how to translate these texts, visit WPML's documentation page about translating strings.
Translating menus
With WPML, you can have a different menu for each language version of your website or you can easily synchronize your menus across the different languages on your website. For more information, check out WPML's guide on translating menus.
Getting help
Having difficulties trying to translate sites built with the Beaver Builder theme using WPML? Visit our support forum. Our support team will be more than happy to help you.