Adding sliders to your site is a great way to level-up your design and impress your site visitors. The winners of our recent slider competition show how easy it is to create eye-catching, multilingual sliders using WPML and Slider Revolution.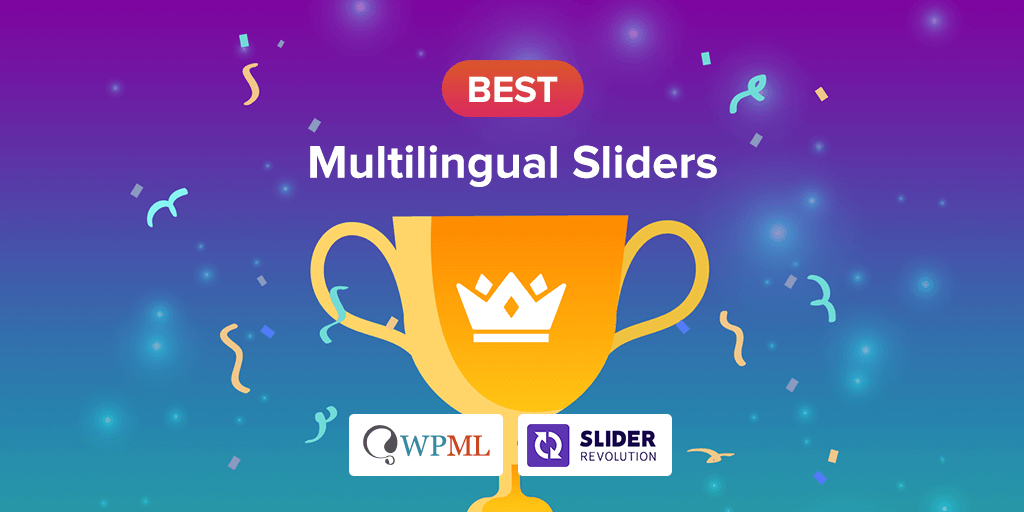 Together, Slider Revolution and WPML make it quick and easy to build multilingual sliders that combine beautiful, responsive designs and visuals with seamless multilingual content integration.
We wanted to find out what this looks like on real sites. To do this, we teamed up with Slider Revolution for a contest to find three excellent examples of multilingual sliders that showcase the creative possibilities.
You can find all the great submissions here:
Three winning multilingual slider designs
Without further ado, we'd like to congratulate the following winners. Each winner has received a free license or renewal from both WPML and Slider Revolution to continue making amazing sliders!
Waldemar Kerschbaumer's unique and creative usage of the Slider Revolution hero module
This slider, built by Waldemar Kerschbaumer for a professional coach in Bolzano, Italy, visualizes his idea of getting people "moving through advice." He represents this idea literally, using moving, animated elements that interact with and surprise the user. In the GIF below, you can see the animation as it follows the movement of the cursor.
Waldemar included different multilingual sliders on each page of this site, demonstrating the straightforwardness of building and translating sliders. The site also includes a variety of other translated content like headers, menus, blockquotes, and strings. WPML makes it possible to translate every part of your site – not just posts and pages.
Website: https://www.ilse-egger.it/
WPML languages: Spanish, Italian, and German
Slider Revolution features used:
Fullscreen hero module
Particle Effects addon
Typewriter Effects addon
What Waldemar says about his design:
"A professional coach from Bolzano, Italy wants to get people moving through advice. And it is precisely this possible or triggered movement that should be found on the website. On the homepage, lines, texts and videos move within dynamic round surfaces. As you scroll, further scroll-sensitive elements appear and, last but not least, encouraging animated texts appear to the left and right of the text to pause."
Peter Wolf's clean design and universal slider header
What better way to showcase a travel company's destinations than by featuring breathtaking videos in a slider? Peter Wolf did just that and translated it to appeal to both English-speaking and German-speaking clients.
When it comes time to expand his business to include more languages, WPML has over 40 to choose from, plus the ability to create custom languages for locale variations (like Canadian French, for example).
Website: https://www.gokanada.ca/
WPML languages: English and German
Slider Revolution features used:
Hero image header with video background
What Peter says about his design:
We run a travel company and our website (in-house design) is intended for German and English speaking audiences, so everything is bilingual. Every page uses a slider for the main image, with the homepage having a video imbed with some menus. Future expansions will include more languages – but, no tourism at the moment, so funds are a bit tight. 😉
Mohamed Shaheen Fathy's slider that looks equally great in both right-to-left and left-to-right languages
Mohamed Shaheen Fathy faced the challenge of needing a slider that could work with languages in either direction. With Slider Revolution and WPML, he was easily able to translate his content and make adjustments to the layout to make sure his slider kept the sleek look in both directions.
WPML is one of the few translation plugins that is fully compatible with right-to-left languages and includes Arabic, Hebrew, Urdu, Persian, and more as pre-configured languages.
Website: https://yallabusiness4u.com/
WPML languages: English and Arabic
Slider Revolution features used:
Slider module in the header area
Random slide transitions
About Mohamed:
Mohamed is the managing director of Mawq3i, an agency that uses WPML and Slider Revolution in many of the websites they build.
Build your own multilingual sliders
You can start building your own multilingual sliders in minutes with Slider Revolution and WPML CMS Multilingual licenses.
As a WPML-recommended plugin, Slider Revolution is committed to ongoing compatibility with WPML. This means you can trust that translating your Slider Revolution sliders is simple and straightforward and you can create great-looking sliders in any language.