By default, WordPress allows you to categorize your posts and pages into Categories and Tags. These are called taxonomies. However, many sites also feature additional, custom taxonomies. For example, posts belonging to a "Book" post type might feature a "Genre" taxonomy to help you categorize your book posts. WPML allows you to easily translate taxonomies.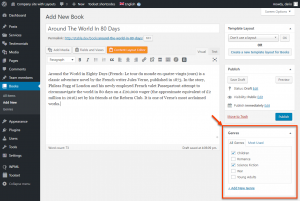 Translating Tags and Categories
Default WordPress taxonomies called Categories and Tags are translatable by default. This means that sending posts to translation will include them as well. Translators will be able to translate any Tags and Categories associated with your posts.
If you prefer translating Categories and Tags manually, go to the WPML -> Taxonomy Translation page. There, use the drop-down menu to select Categories or Tags. Depending on your selection, a list of Categories or Tags appear. In the list of languages, click the "+" button next to the item you wish to translate.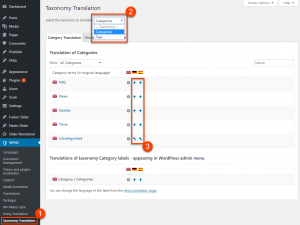 Translating custom taxonomies
To be able to translate custom taxonomies, you need to set them as "translatable" in WPML.
To make you custom taxonomies translatable, go to the WPML -> Translation Management page and click on the Multilingual Content Setup tab. There, scroll to the Custom taxonomies section and set your custom taxonomy to one of the Translate options. First will display only translated taxonomies, while the other will fall back to the taxonomies in the original language if there are no translations.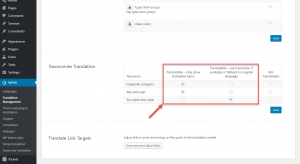 Finally, you need to resend all contents that feature these custom taxonomies for retranslation. Now, translators will be able to see and translate these taxonomies from the translation editing page.
Alternatively, you can translate the taxonomies yourself, on the WPML -> Taxonomy Translation page.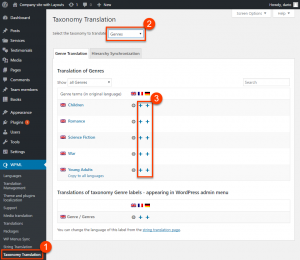 Next part: Translating menus