OceanWP is a free lightweight multi-purpose WordPress theme. Because it is compatible with well-known page builders such as Visual Composer, Elementor, and Beaver Builder, you can create beautifully designed websites. OceanWP's integration with WPML allows you to build multilingual websites effortlessly.
In this tutorial, we demonstrate how to translate every part of the OceanWP theme using WPML.
Content
Getting started
If you are a developer, ensure that the OceanWP theme is activated by navigating to the Appearance -> Themes page.
In addition, ensure that the WPML Multilingual CMS, WPML String Translation, WPML Translation Management, WPML Media Translation, and WooCommerce Multilingual plugins are activated. Follow the steps in the WPML beginner's guide to verify that your setup is correct.
For a better translation experience, activate WPML Translation Editor. To do this, navigate to WPML -> Translation Management page and click the Multilingual Content Setup tab. There, check the Use the translation editor option in the How to translate posts and pages section and click Save.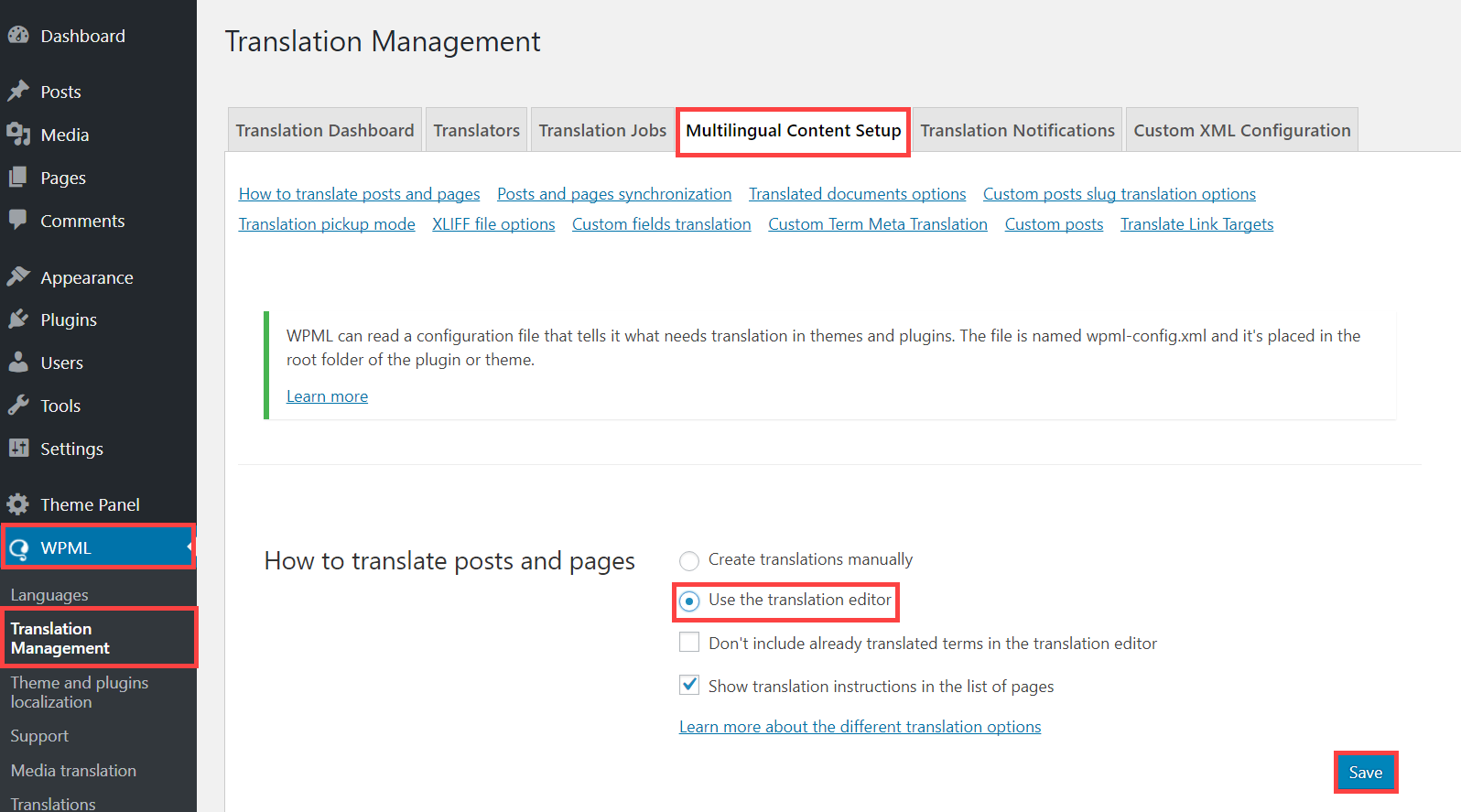 If you are a website owner working with a developer, please ask the developer to review these settings for you.
Translating pages
With WPML, you can translate any type of content in your site, including pages and posts. For an easy start, read our beginners guide to site translation. Simply click on the "+" icon under the desired language and translate your page.
Translating categories and tags
You can translate your categories and tags by navigating to WPML -> Taxonomy Translation page. Select Categories or Tags from the drop-down menu and a list of your categories or tags will appear. Click the "+" icon to translate a category into the desired language and use the dialog box that appears to add your translation.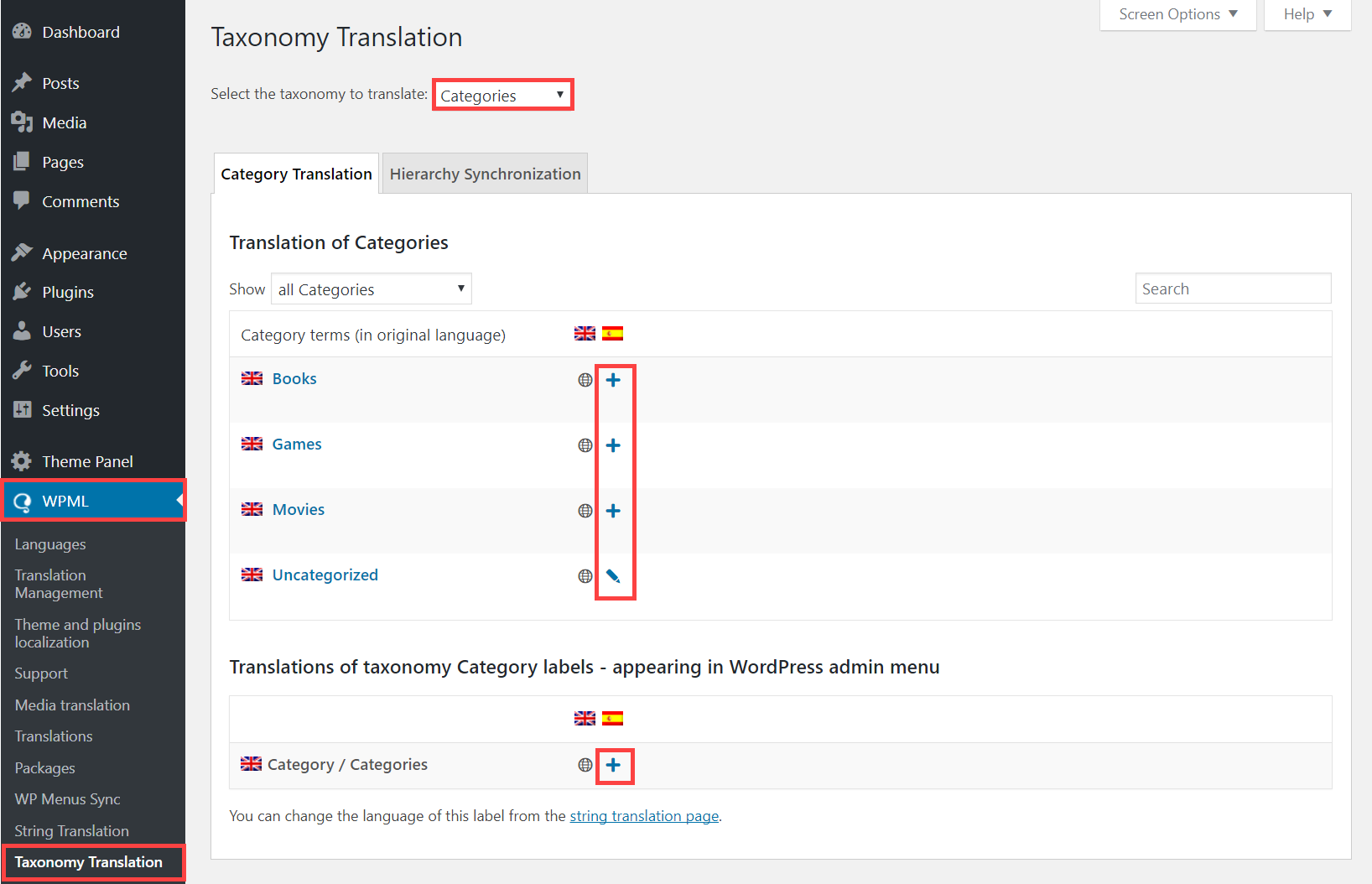 See our detailed documentation on translating taxonomies.
Translating texts from the OceanWP theme, plugins, and other places
In addition to content from posts and pages in your site, some texts usually come from other locations. The most common examples are themes and plugins. To learn how to translate these texts, read our documentation page about translating these texts manually or sending them to others for translation.
In this example, we will translate the footer copyright text. You can follow these same steps to translate any text listed in the theme options.
To edit the footer copyright text in the default language, navigate to Appearance -> Customize -> Footer Bottom, and then edit the text in the Copyright field. Click on the Save & Publish button.

Edit the footer copyright text in the default language

Navigate to WPML -> Theme and plugins localization, and then choose OceanWP from the Strings in themes section. Click on the Scan selected themes for strings button.

Scan OceanWP for strings

Navigate to WPML -> String Translation and search for the copyright text. Click on the translations link and add your translated text. Then check the Translation is complete box and click the Save button.
Translating menus
With WPML, you can easily synchronize your language menus. For more information, please review our complete menus translation tutorial.
Translating WooCommerce elements using WCML
To translate everything that WooCommerce offers, download the WooCommerce Multilingual plugin (WCML) from your WPML account. Visit our dedicated WCML documentation to learn how to setup a multilingual store and translate your products, categories, variations, shipping classes, and more.
OceanWP extensions compatibility
OceanWP theme offers a bundle of extensions that allows you to extend the functionality of the theme even further. We have created a detailed guide on translating the textual elements that come from the different OceanWP extensions.
Getting help
Experts in our support forum are ready six days a week to assist you. They are trained in using WPML with OceanWP.
If you are working with a developer on your site, please use our Translation support forum to obtain help in translating your site's content.
If you are setting up the site and WPML yourself, please use our Technical support forum.