In this tutorial, you'll learn how to create WordPress multilingual sites using the Real Homes theme and WPML. Real Homes offers a purpose-oriented design with all the useful features a real estate website needs. Whatever you build, you can easily translate with WPML.
| Real Homes Page in original content | Real Homes Page translated to French |
| --- | --- |
| | |
Contents
Getting started and what to check
Make sure that the Real Homes theme is activated, by going to the Appearance -> Themes page.
Make sure that the WPML Multilingual CMS, WPML String Translation, WPML Translation Management, and WPML Media Translation plugins are activated.
For a better translation experience with contents created using Visual Composer, activate WPML Translation Editor. To do this, go to the WPML -> Settings page. There, check the Use the translation editor option under the How to translate posts and pages section and click Save.
Translating your pages
With WPML, you can translate any types of contents in your site, including pages and posts. For an easy start, read our Getting Started Guide.
Translating pages built with Visual Composer
The Real Homes comes bundled with Visual Composer.
Visit our documentation page for exact steps on how to translate contents build with Visual Composer.
Translating Agents, Properties, Partners and other categories
WPML supports the translation of all of the custom elements that come with the Real Homes theme including Agents, Properties, Partners, Testimonials, and FAQ.
Let's see how to do this on the example of Properties. In Real Homes theme, Properties come with some custom taxonomies: Property Features, Property Types, etc. Taxonomies are a way to organize your contents and group them, just like Categories and Tags that come with standard WordPress posts.
To translate Properties manually, use the steps below.
1. In your WordPress Administration, go to Properties.
2. Select a Property you want to translate.
3. Click on the plus button located in the language box. WPML Translation Editor opens.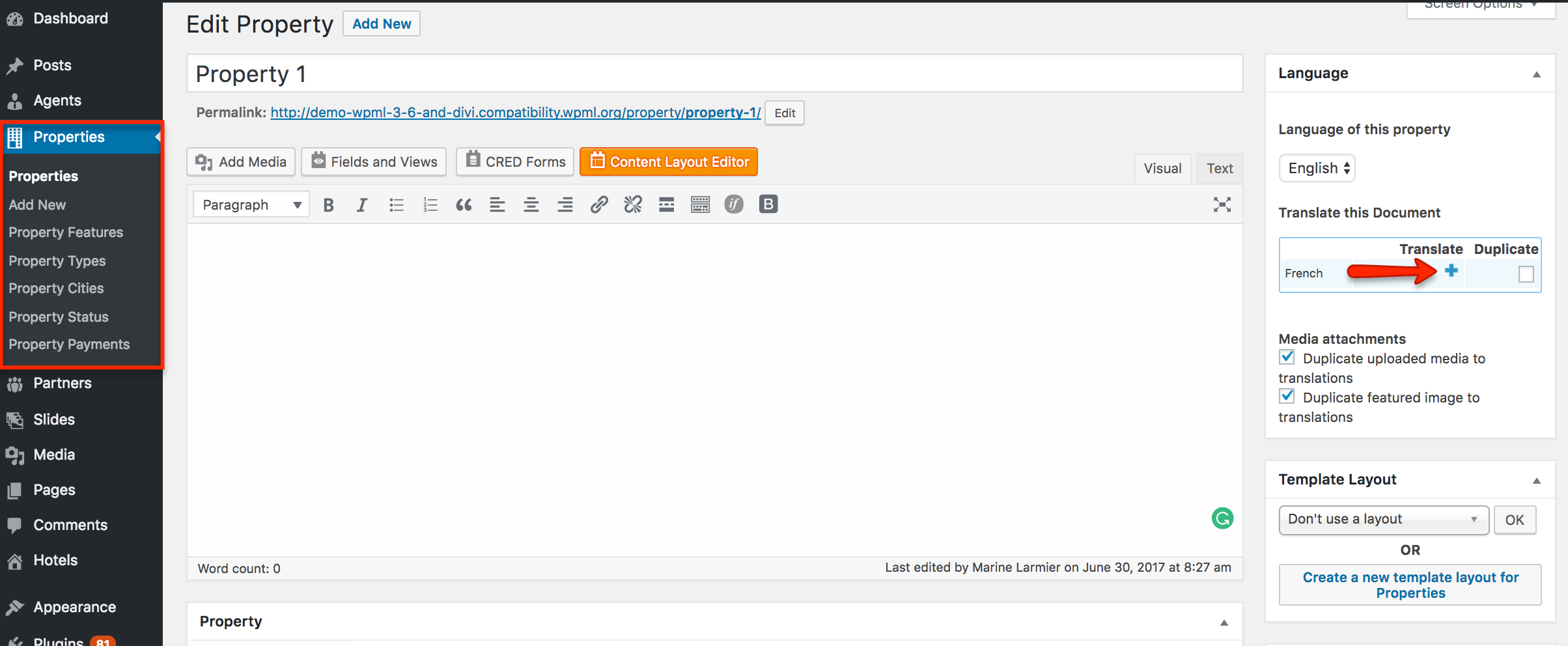 4. You can translate the Property content as well as custom fields and taxonomies. Keep in mind that taxonomy translations are global: making a change in one place will update it everywhere.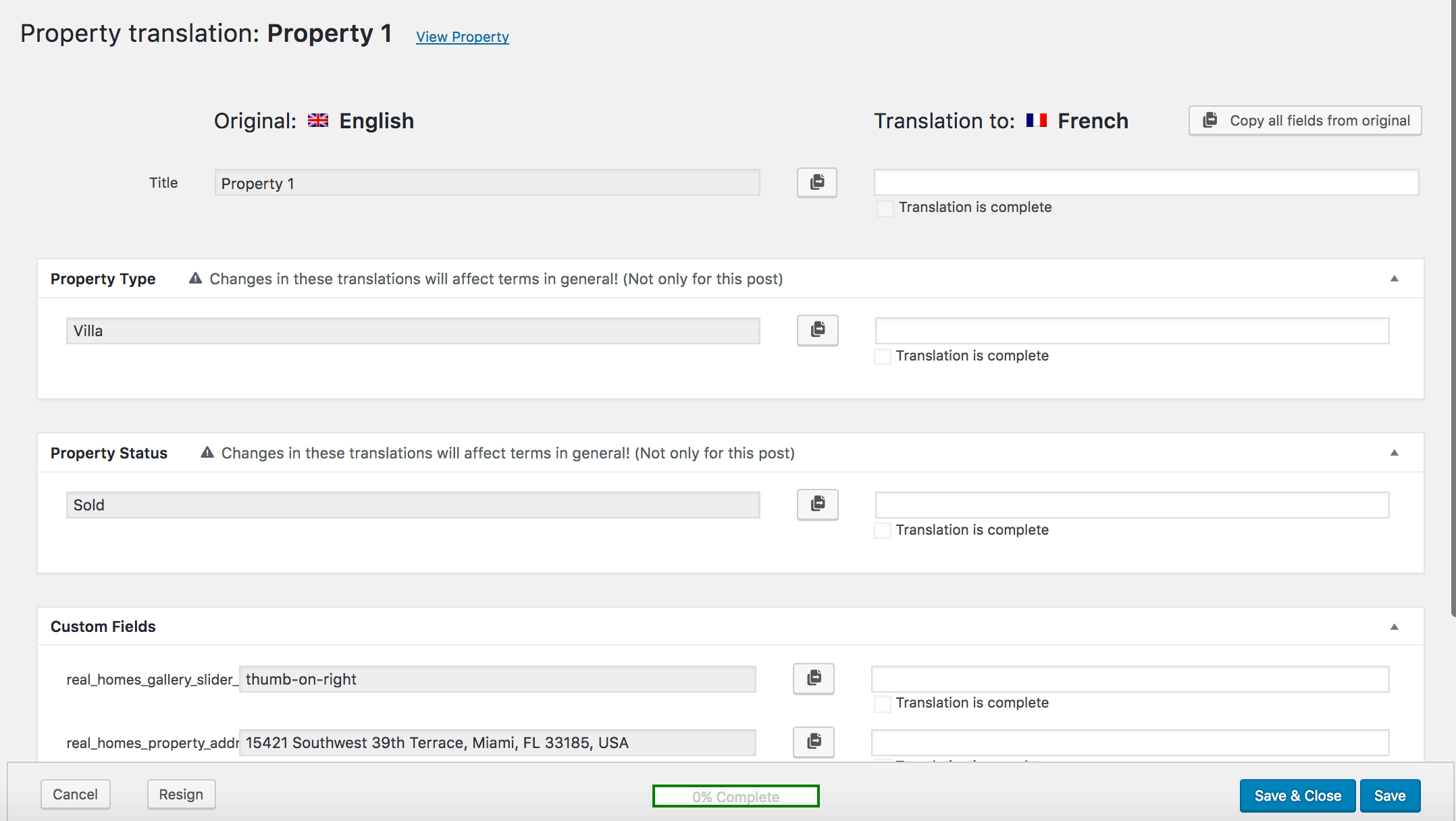 Translating texts from Real Homes theme, plugins, and other strings
Besides contents coming from posts and pages on your site, there are usually some texts coming from other places. Most common examples are themes and plugins.
To learn how to translate these texts, read our documentation page about translating strings.
Translating Slider Revolution
The theme comes with the powerful Slider Revolution plugin. We have dedicated documentation that explains how to translate sliders built with Slider Revolution.
Translating Real Homes menus
We recommend that you review our full documentation explaining how to translate a menu using WPML.
Getting help – WPML Translation support forum
We have supporters in our forum who are ready six days a week to help you. They are trained in how to use WPML with Real Homes. If you are working with a developer for your site, please use our Translation support forum to get help with translating your site's content.
If you are setting up the site and WPML yourself, please use our Technical support forum.
Need help with building and maintaining your site?
If you need help with building or maintaining your site, take a look at our list of WPML Contractors. They are experienced developers specialized in developing multilingual sites.