Themeco's X and Pro themes include the Cornerstone page builder. Both of these themes, along with the page builder, are fully compatible with WPML. This allows you to run a multilingual site with the same or different designs for each language.
On This Page:
Getting Started
Start by installing and activating the following:
If you're new to WPML, check out our Getting Started Guide. It quickly walks you through all the translation options you can use.
Translating Your Pages and Portfolio Pages
Both the X theme and Pro theme come with the Cornerstone page builder. WPML allows you to easily translate any content built using Cornerstone.
Keeping the Same Design Across All Your Languages
Most often, you'll want your pages to look the same across different languages and only translate their text. With WPML, you can do this in different ways, depending on your preference.
You can choose to enable the Translate Everything Automatically mode and let WPML translate all your content automatically as you add or edit it.
You can also use WPML's Translate What You Choose mode and decide which posts or pages to translate and who will translate them.
Once you create your page with the Cornerstone page builder, you can translate it by going to WPML → Translation Management and choosing which content you would like to translate and how to translate it.
If you are translating by yourself, you can also go to your list of pages and translate the page of your choice by clicking the plus icon.
Visit our documentation page for exact steps on how to translate content created with page builders.
Creating Different Designs Per Language
At times, you might need to make small changes to a design to accommodate your secondary language or even create a completely different design. To do this:
Edit the page you want to translate in the Cornerstone Builder.
In the upper right corner, click the flag for the language you want to translate the page into.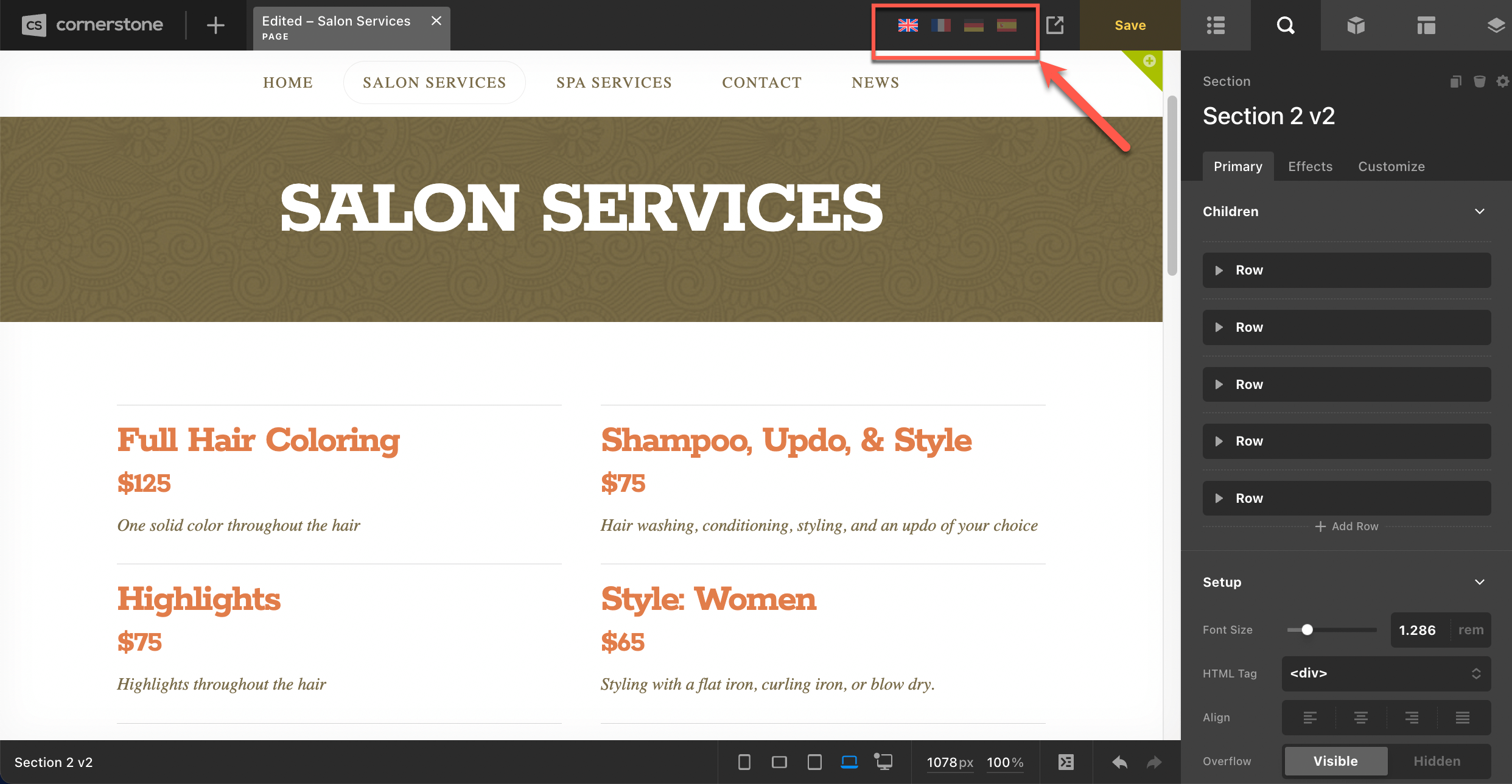 You have the option to create a new page completely from scratch, or you can copy the default language page to use as a template for small changes.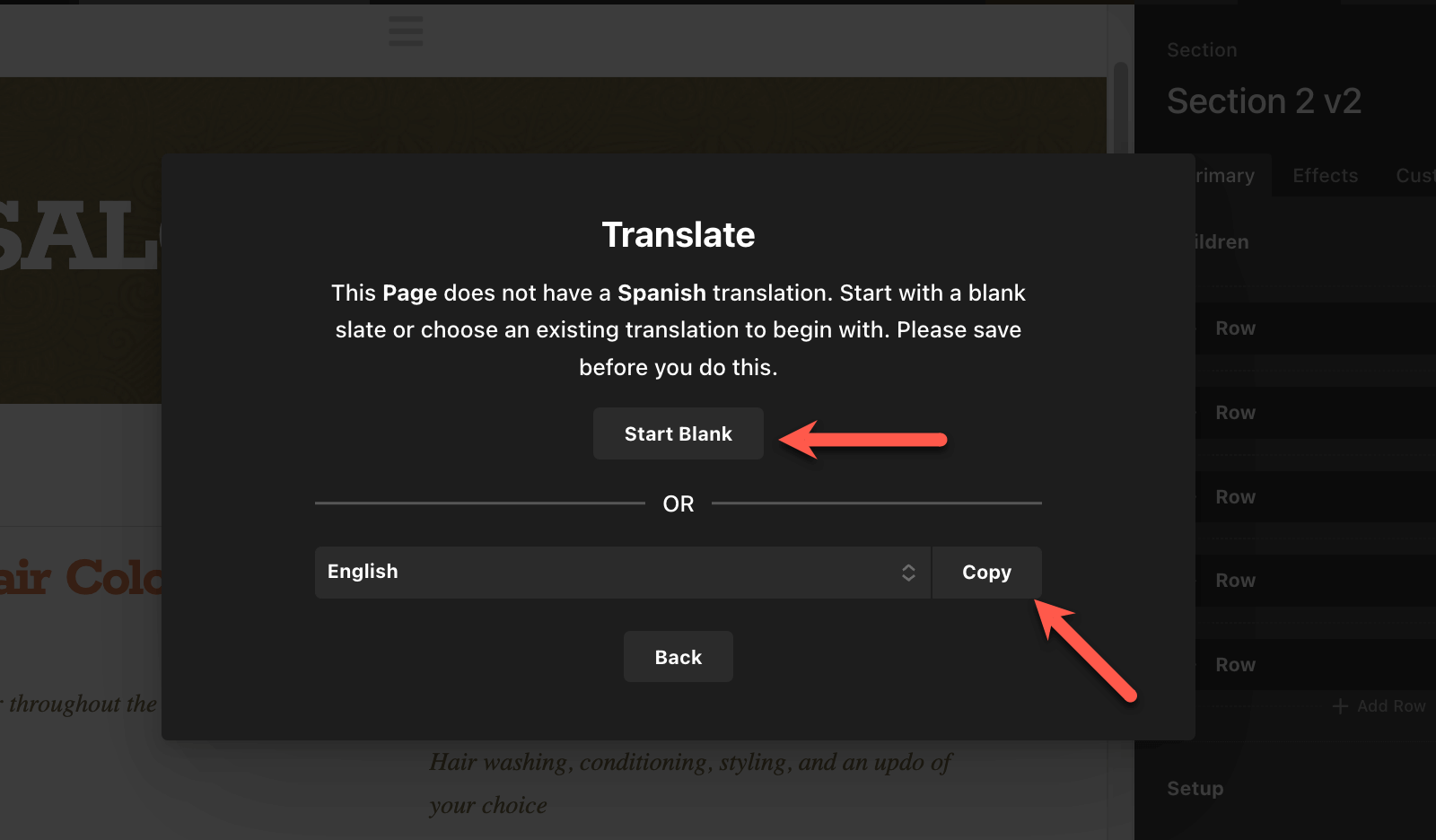 Create your design for your secondary language page and translate your page content. Then, hit the Save button.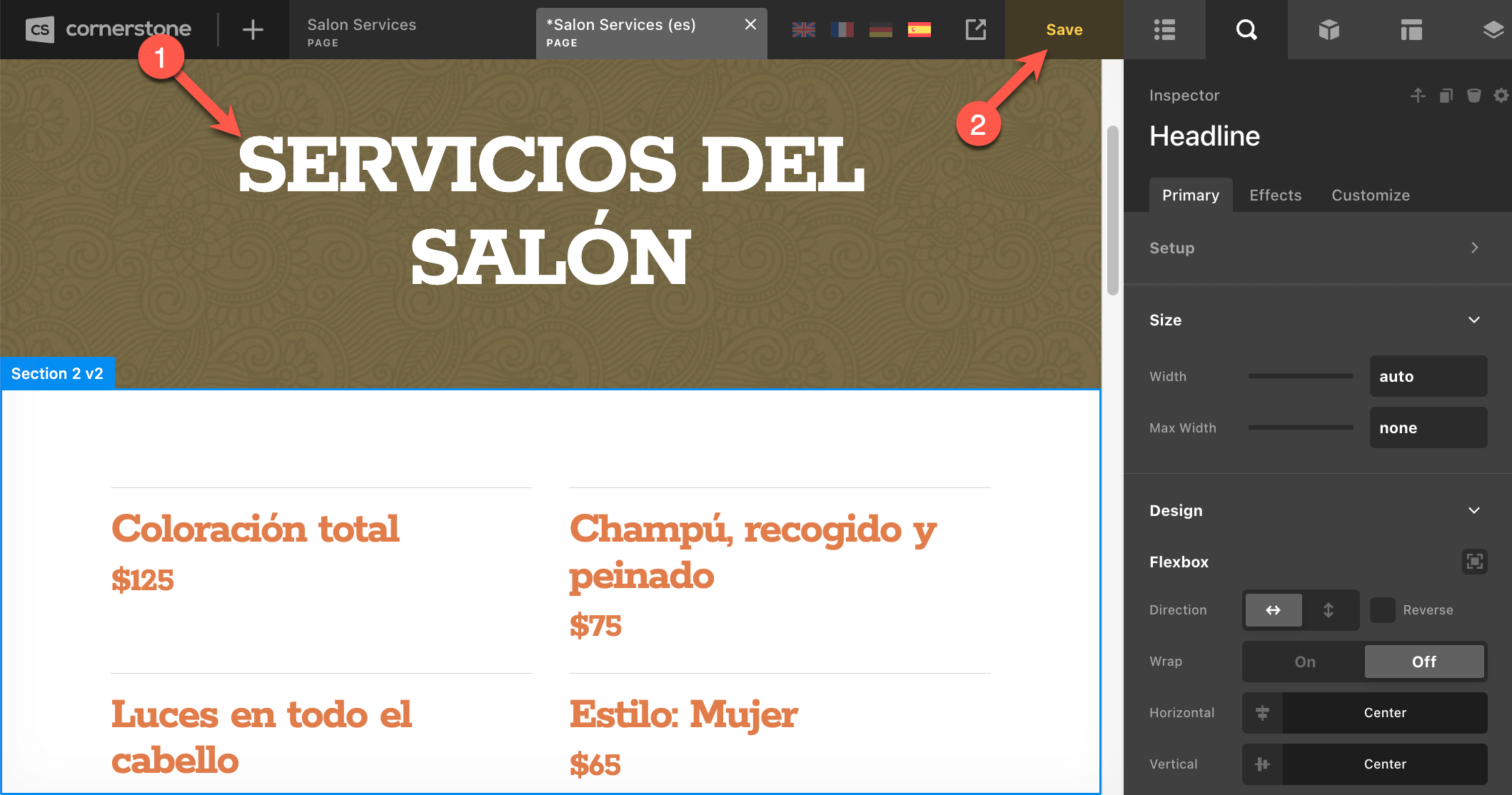 Please note that if you choose to translate your content manually, you cannot use Translate Everything Automatically mode, the Advanced Translation Editor, or send your content for translation. If you switch to using one of these, your manual translations and designs will be overwritten.
Translating Portfolio Categories and Other Taxonomies
You can translate your Portfolio categories and other site taxonomies while translating your pages using WPML's Advanced Translation Editor. In the editor, they will appear as part of the text that you are translating.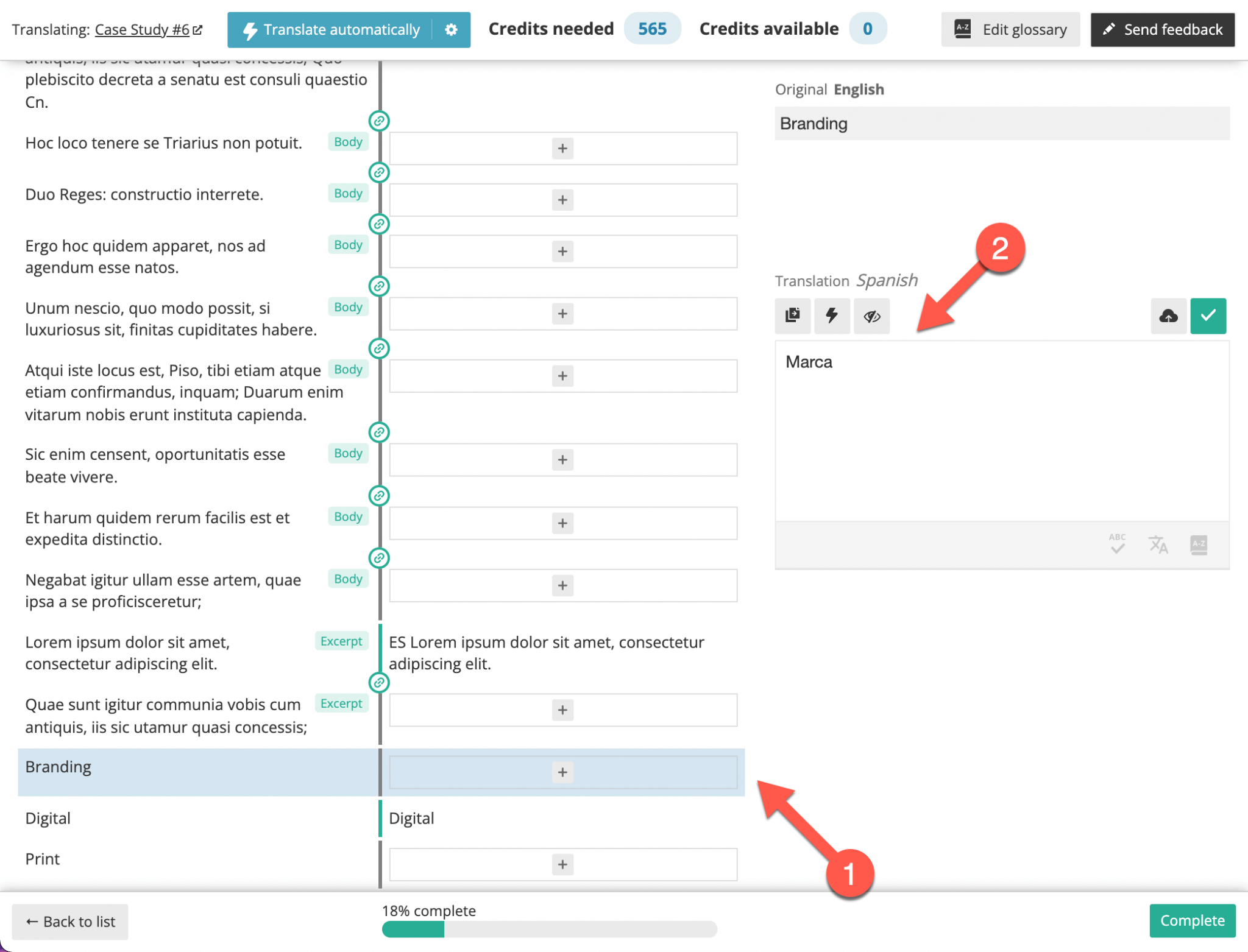 Read more about other ways to translate your site's taxonomies.
Keep in mind that the translations of categories are universal: any changes that you make are updated everywhere.
Translating Texts From X and Pro Theme, Plugins and Other Places
In addition to content coming from your site's posts and pages, there are often other texts coming from themes and plugins.
To learn how to translate these texts, see our documentation on String Translation.
Translating Sliders
Both the X and Pro themes come bundled with the Slider Revolution plugin. For detailed information, check out the page about creating multilingual sliders using Slider Revolution.
Adding Sidebars to Translated Pages
Themeco's X and Pro themes allow you to create sidebars that you can display on specific pages, posts, tag archives, or category archive pages.
Start by creating a page in your default language and translating it. To create a sidebar that appears on all language versions of your page:
Go to Appearance → Sidebars and Add a New Sidebar.
Select the pages in your default and secondary languages where you want to display your sidebar.
Click the Update Sidebar button.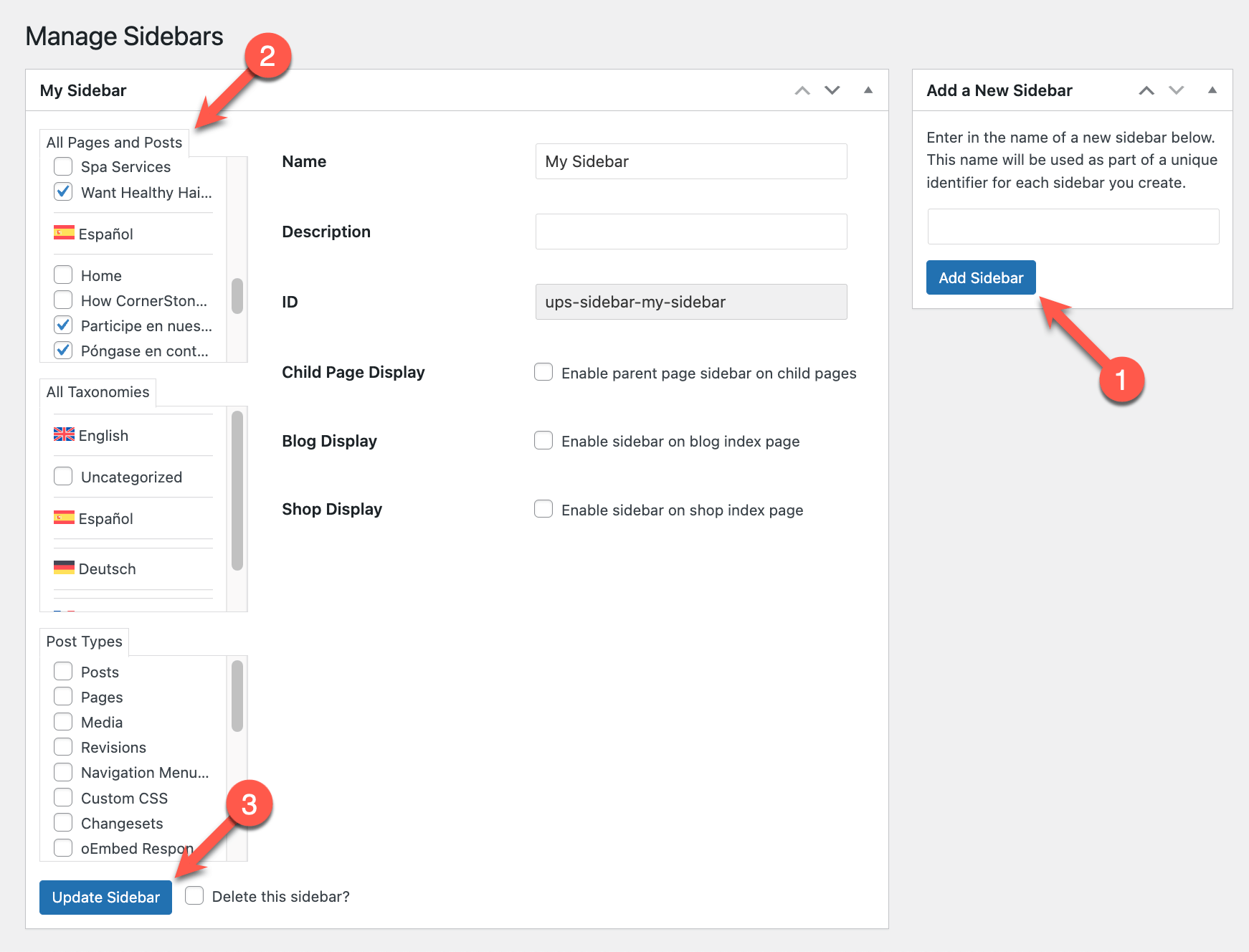 You can now add widgets to your newly created sidebar and proceed to translating your site's widgets.
Translating Menus
WPML allows you to translate menus automatically, manually, or synchronize menu content. We recommend that you read through our documentation on translating menus.
Adding Translation Support for Cornerstone Elements
WPML allows you to manually enable the translation of additional X or Pro theme/Cornerstone elements.
Enabling the translation of the following elements might cause issues when sending a page to professional services or using Translation Editor locally to translate it. The issue is not technical but stems from the fact that translators often do not understand the code and can break it during translation.
To translate any text generated by these shortcodes, you must add them to the Custom XML Configuration tab found on the WPML → Settings page.
Let's consider an example of a Classic Code Snippet element that includes texts that require translation. In this case, you would add the following code on the Custom XML Configuration page.

Example - Classic Code Element
<wpml-config>
  <shortcodes>
    <shortcode>
      <tag>x_code</tag>
    </shortcode>
  </shortcodes>
</wpml-config>
You can learn more on the page about defining page builder shortcodes in the language configuration file.
Translating Content Coming From Cornerstone Add-ons
The X and Pro theme ecosystems are wide and feature many add-ons that extend usability. We are constantly working on making these add-ons translatable with WPML, but not all of them are yet integrated.
In case you use an X or Pro theme add-on that's not yet configured to work with WPML, you can fix it yourself. Follow the instructions on integrating page builders that use shortcodes with WPML. You can tell WPML which shortcodes include texts, making it all work together.
Known Issues for X Theme
Current unresolved issues:
You can also search all known issues including previously resolved issues for this theme.
Known Issues for Pro Theme
Current unresolved issues:
You can also search all known issues including previously resolved issues for this theme.
Getting Help From Our Support
If you need help translating your site built using X or Pro Theme and WPML, visit WPML's support forum.
Get WPML
WPML offers a 30-day money-back guarantee that allows you to test our plugin. If you are not satisfied with WPML, let us know within 30 days and we will give you a full refund.