X Theme includes the Cornerstone page builder. WPML allows you to conveniently translate pages built with Cornerstone. You will design once with Cornerstone and translate just the texts with WPML.
| Cornerstone Page in original content | Cornerstone Page translated to Italian |
| --- | --- |
| | |
Contents
Getting started and what to check
Make sure that the X Theme is activated, by going to the Appearance → Themes page.
You will need the Multilingual CMS version of WPML. Install the WPML core plugin plus String Translation, Translation Management, and Media translation add-ons.
WPML translation tools
WPML offers two translation editors you can use for translating your site's content:
Besides translating your site content yourself, you can also:
Translating your pages
With WPML, you can also translate any types of contents in your site, including pages and posts. For an easy start, read our Getting Started Guide to site translation.
Translating your pages built with Cornerstone
Visit our documentation page for exact steps on how to translate contents build with Page Builders.
Watch a short overview of translating pages built with Cornerstone in the following video. Please note that from the WPML 4.0 version and newer, the option to activate the translation editor is on the WPML → Settings page.
Translating Portfolio pages and categories
To translate Portfolio items or any custom post type items, you need to follow the same steps as for translating any other types of pages. Visit our documentation page for exact steps on translating the contents yourself.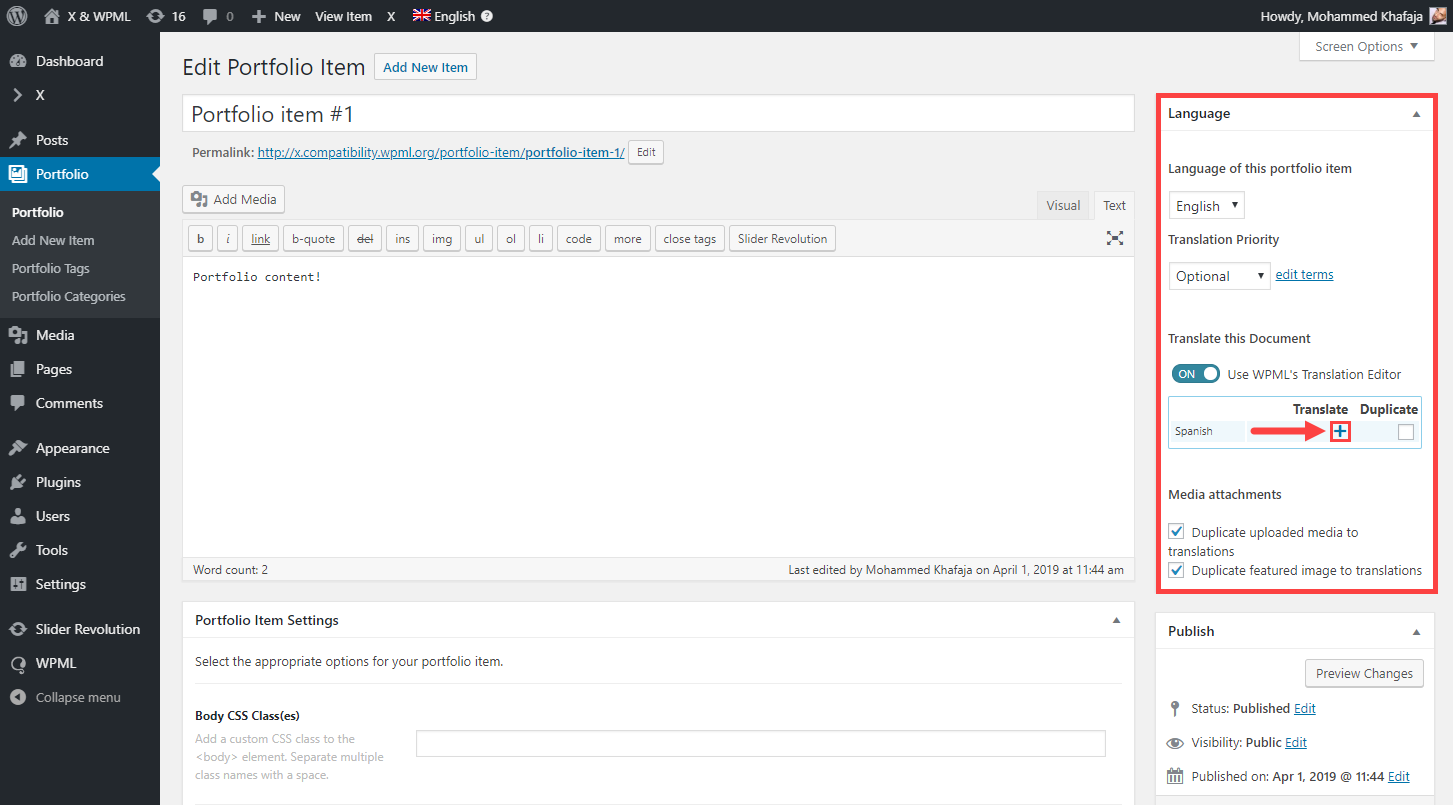 You can translate Portfolio Categories while translating your pages, on the Translation Editor screen.
Additionally, you can translate your Portfolio Categories on the WPML → Taxonomy Translation page. Select the Portfolio Categories from the drop-down menu and a list of your categories will appear. Click the plus icon to translate a category for the respective language and use the dialog box that appears to add your translation.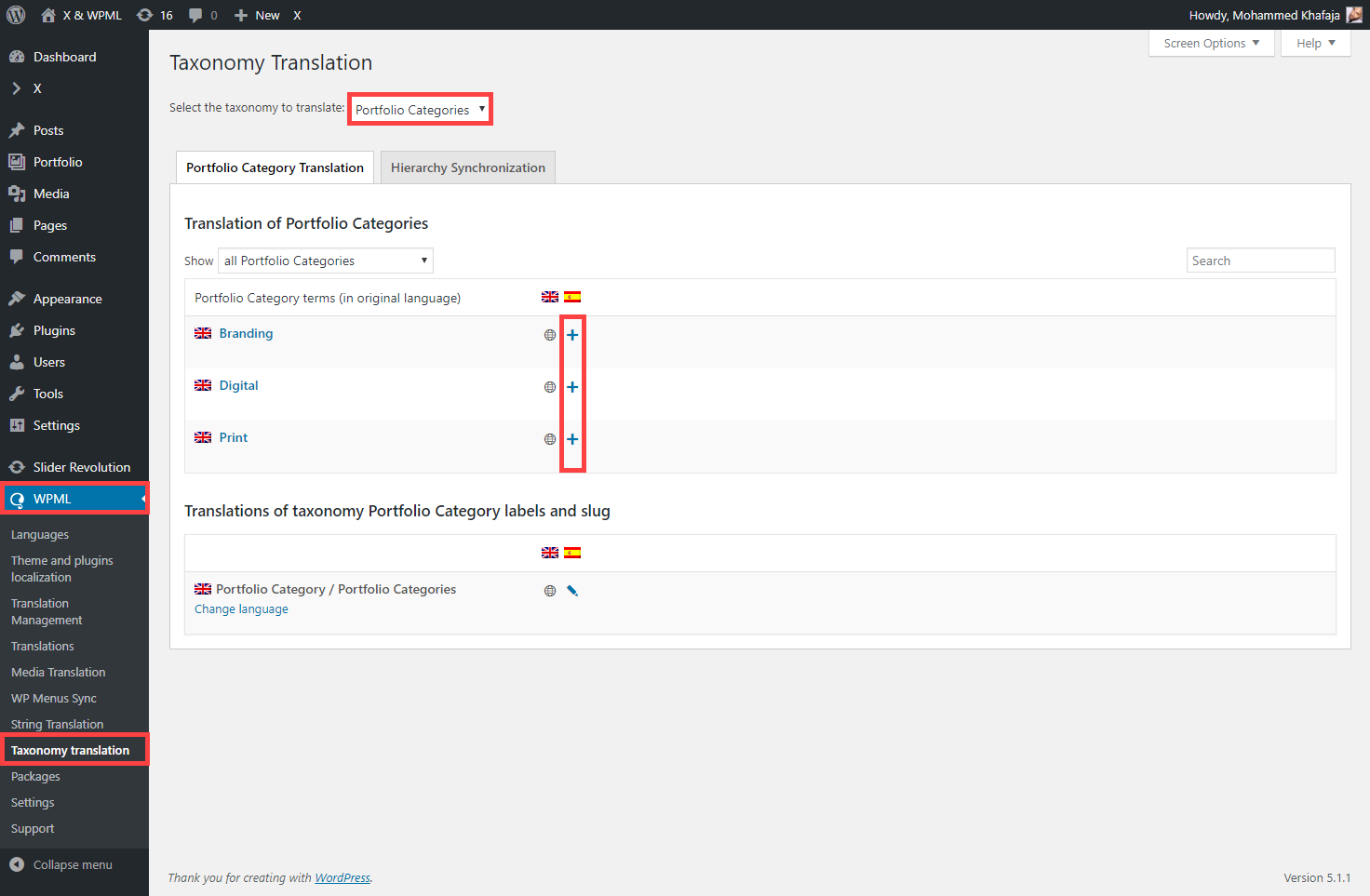 Keep in mind that the translations of categories are universal: if you make a change, they will be updated everywhere.
Translating texts from X Theme theme, plugins and other places
Besides contents coming from posts and pages in your site, there are usually some texts coming from other places. The most common examples are themes and plugins.
To learn how to translate these texts, read our documentation page about translating these texts manually or sending them to others for translation.
Adding translation support for Cornerstone elements
WPML allows you to manually enable the translation of additional X Theme/Cornerstone elements.
Enabling the translation of the following elements might cause issues when sending a page to professional services or using Translation Editor locally to translate it. The issue is not technical but stems from the fact that translators often do not understand the code and can break it during translation.
To translate any textual element in any of these shortcodes, you must add them to the Custom XML Configuration tab found on the WPML → Settings page.
Let's consider an example of a Classic Code Snippt element which includes texts that require translation. In this case, you would add the following code on the Custom XML Configuration page.

Example - Classic Code Element
<wpml-config>
  <shortcodes>
    <shortcode>
      <tag>x_code</tag>
    </shortcode>
  </shortcodes>
</wpml-config>
The following is the list of all shortcodes you can add manually, along with their attributes:
Audio (x_audio_player, x_audio_embed) | Attributes: mp3, oga
Classic Clear (x_clear)
Classic Code Snippet (x_code)
Counter (x_code) | Attributes: num_start, num_end, num_speed, num_color
DropCap (x_dropcap)
Gap (x_gap)
Line (line)
Map (x_map)
Classic Google Map (x_google_map)
Classic Promo (x_promo) | Attribute: image
Classic Protect (x_protect)
Classic Recent Posts (x_recent_posts) | Attribute: category
Classic Pricing Table (cs_pricing_table_column) | Attribute: price
Video (x_video_player) | Attributes: m4v, ogv, posterc
Classic Raw Content (x_raw_content)
Classic Skill Bar (x_skill_bar) | Attribute: percent
You can find more information on the page about defining page builder shortcodes in the language configuration file.
Translating content coming from Cornerstone add-ons
X Theme ecosystem is wide and it features many useful add-ons that extend its usability. We are constantly working on making these add-ons translatable with WPML but not all of them are yet integrated.
In case you use an X Theme add-on that's not yet configured to work with WPML, you can fix it yourself. Follow the instructions on integrating page builders that use shortcodes with WPML. You will tell WPML which shortcodes include texts, making it all work together.
Translating sliders
X Theme comes bundled with the Slider Revolution plugin. For detailed information, check out the page about creating multilingual sliders using Slider Revolution.
Translating sidebars
X Theme allows you to create sidebars that you can display on specific pages, posts, tag archive or category archive pages. To translate the widgets on these sidebars, follow the steps below:
Create the default language post or page where you want the sidebar to be displayed.
Translate the page or post.
Set the admin bar language switcher to All languages and create a new sidebar by navigating to Appearance → Sidebars. For more information, check out the X Theme documentation page on creating sidebars.
Select both the default language post(s) or page(s) and the secondary language post(s) or page(s) where you want the sidebar to be displayed and click the Update Sidebar button.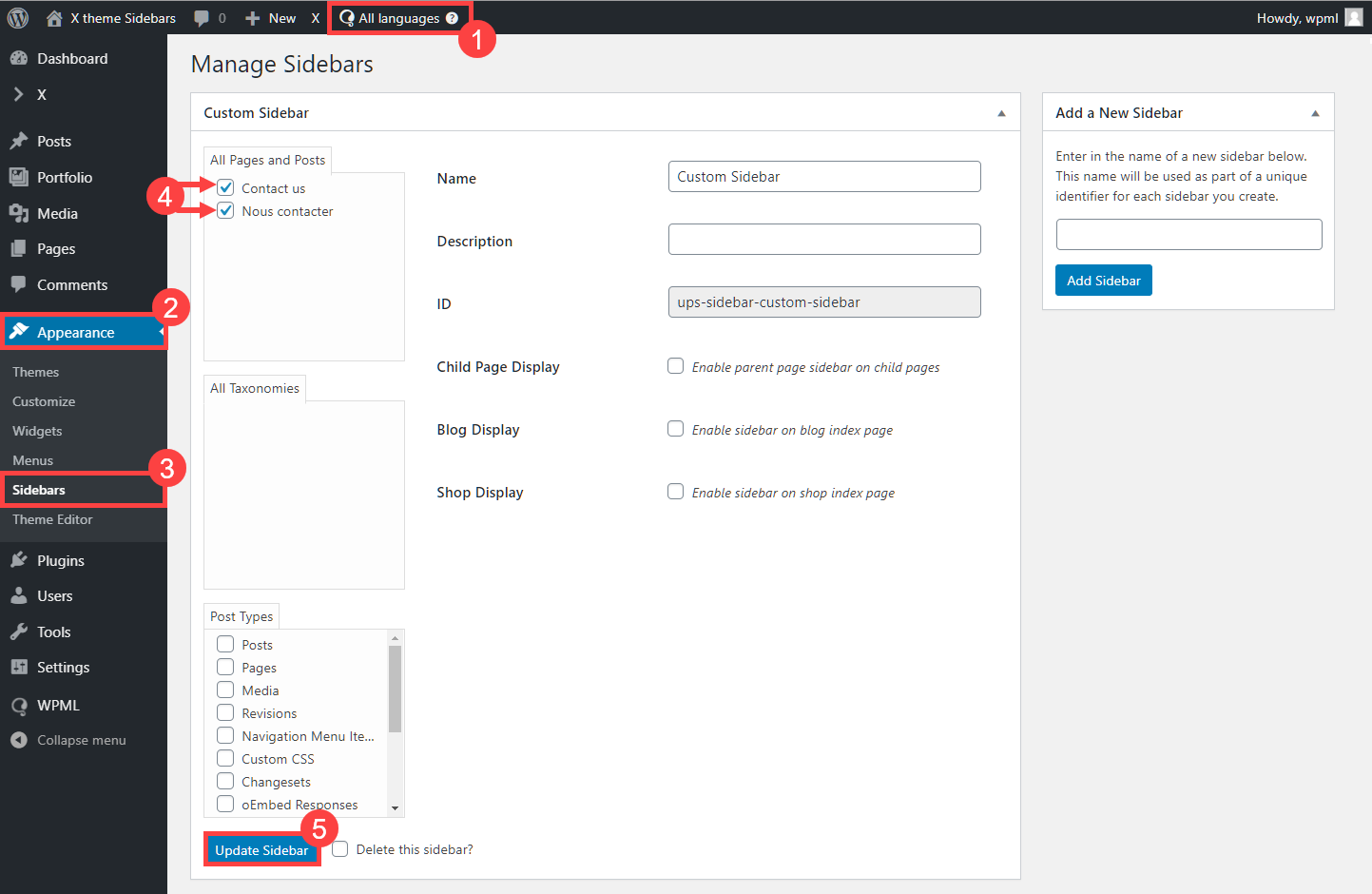 Add widgets to the sidebar that you have created and translate the widgets' content.
Translating menus
WPML allows you to easily synchronize between your language's menus. We recommend that you see our full documentation explaining how to translate a menu.
Maintaining the CornerStone Builder Compatibility with WPML
We have prepared documentation that explains how the CornerStone Builder works with WPML. Additionally, it explains the process of updating the language configuration file in order to maintain the compatibility between WPML and CornerStone builder. Feel free to check it here.
Known issues
Currently, there is an issue with translating the old, classic (legacy) Cornerstone elements using any of WPML's translation editors. As a workaround, you should be able to translate the classic elements manually.
Getting help from our support
In case you need help translating your site built using X Theme and WPML, visit WPML's support forum.
Need help with building and maintaining your site?
If you need help with building or maintaining your site, take a look at our list of WPML Contractors. They are experienced developers specialized in developing multilingual sites.
Get WPML
You can evaluate WPML for 30 days and see how you like it. If you are not happy with our plugin, we refund you without any questions in the 30 days.
Buy and Download