WPML allows you to display content written in the site's default language when viewing pages in other languages.
Sometimes, you may not have translations for all of the content you wish to display on your site. This may be because you have not received translations back yet, or it may not make budgetary sense to translate a specific page or post type.
With WPML, there are three ways you can use untranslated content in your secondary languages:
Using the default language as a fallback for untranslated content
In your WPML settings, you have the option to set entire post types and even taxonomies to display translations, if available, or display default language content if translations don't exist.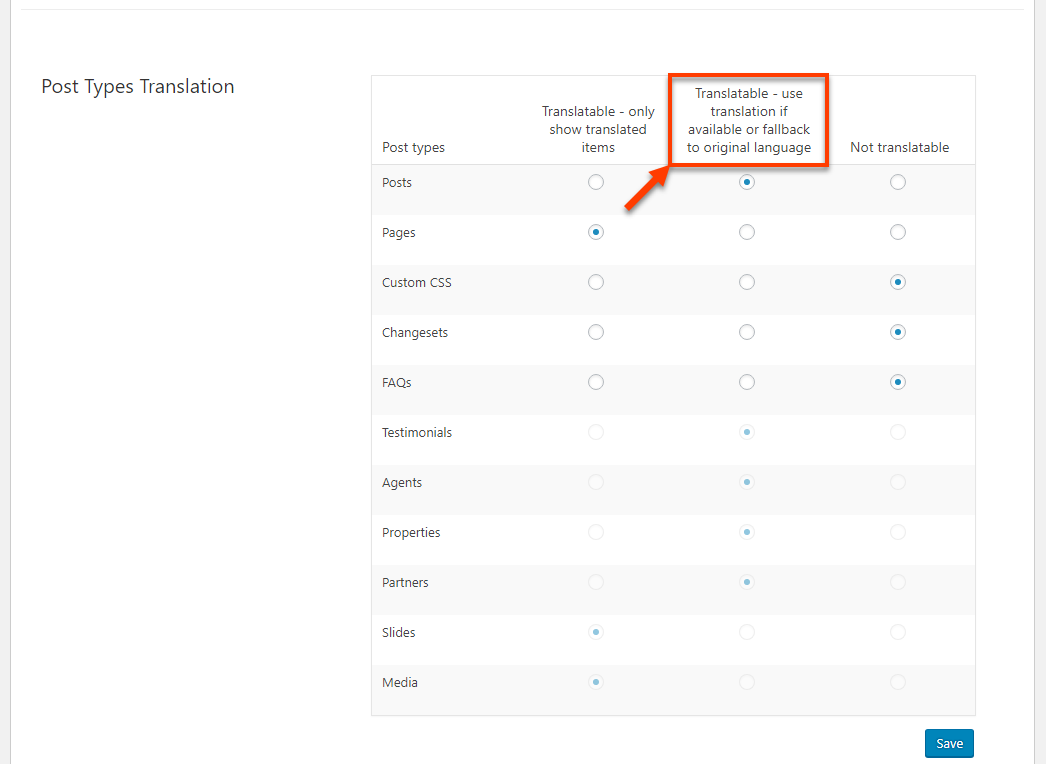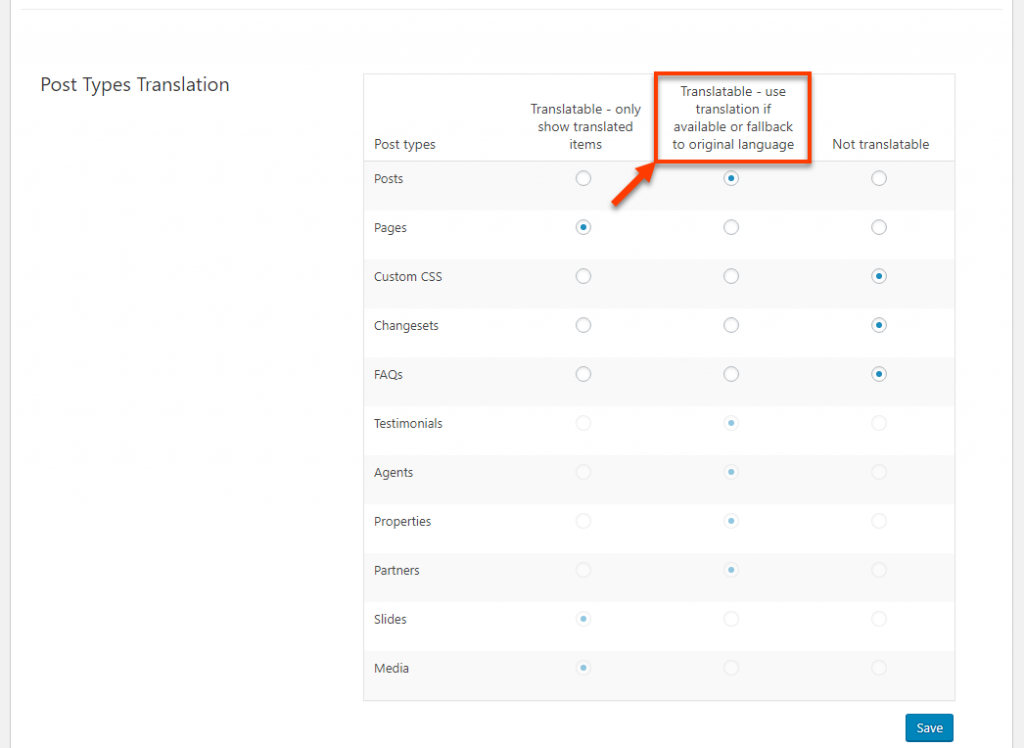 This can be useful if you want all of a particular post type or taxonomy to show, even if not all of the posts have been translated. This makes it a great option for listing sites, directory sites, membership sites, and e-commerce sites.
What about SEO?
The best part of using this translation mode is that it will have no negative SEO implications for your site.
WPML tells Google what is the default content, so Google can ignore all the same content on secondary language pages. If you eventually translate a post or a page, Google will then see it as new content and not a duplicate.
How to display untranslated post types as a fallback
To display untranslated content for all posts belonging to specific post types:
Go to the WPML → Settings page.
Scroll down to the Post Types Translation section and select the second option, Translatable – use translation if available or fallback to default language, for all post types you need.
How to display untranslated taxonomy values as a fallback
You can also enable this feature for taxonomies. In this case, if the taxonomies featured on a page are not translated, WPML displays the ones from the default language.
To display default language taxonomy values for specific taxonomies:
Go to the WPML → Settings page.
Scroll down to the Custom taxonomies section and select the second option, Translatable – use translation if available or fallback to default language, for all post types you need.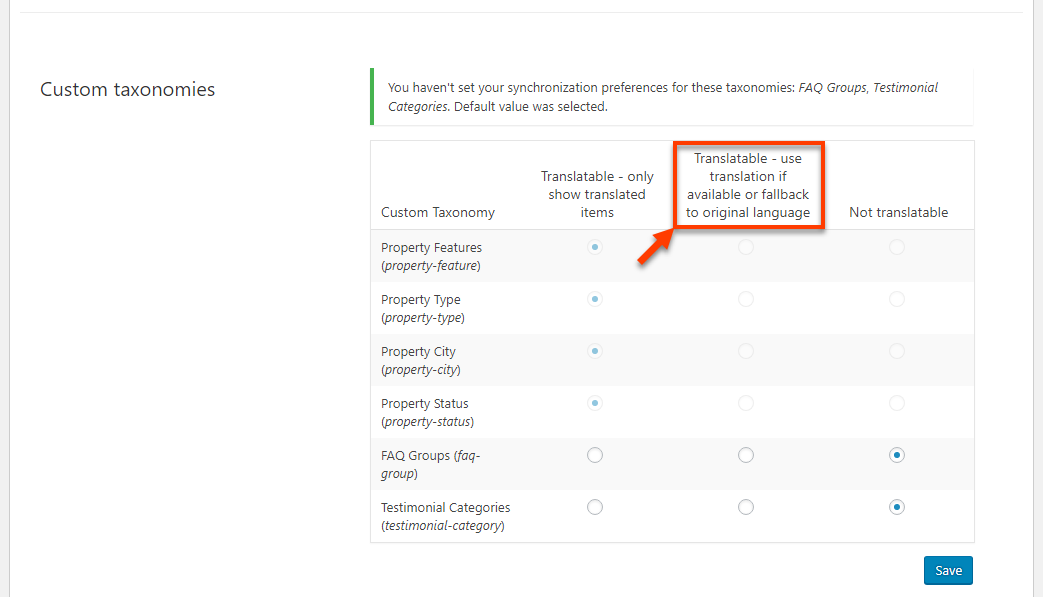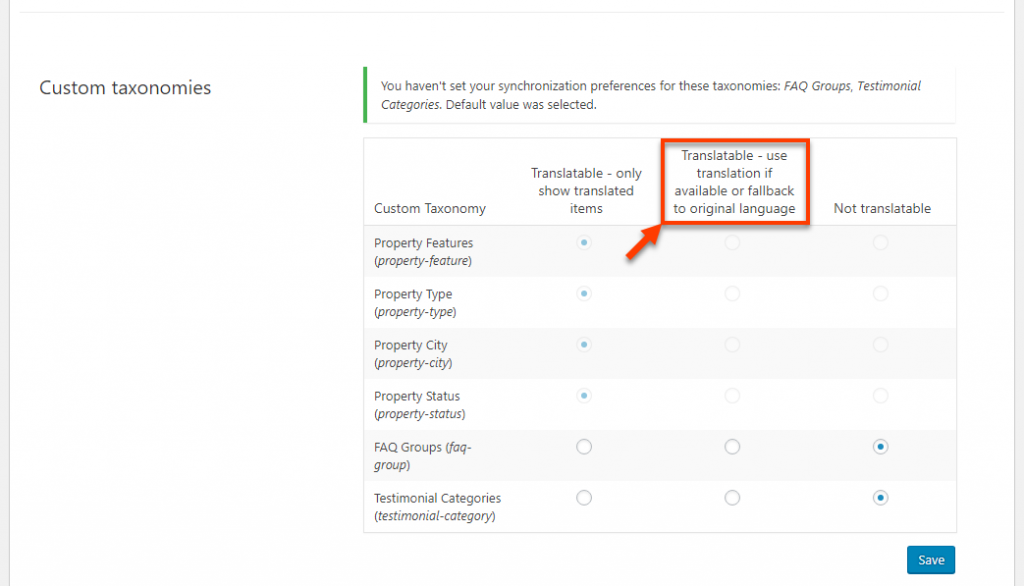 If you're using WooCoomerce with the Translatable – use translation if available or fallback to default language setting enabled for your products, you won't see any items on the archive page for your taxonomies in the secondary language. You must change settings for your products to Duplicate. After this, you will be able to use translated taxonomies on your product pages.
Duplicating content
Sometimes, you might need to display the original content for specific posts and not the whole post type they belong to. In these cases, you can duplicate content, which creates the exact same content in different languages.
This can be useful if:
You do not plan to translate your content but would like to display your default content for all languages.
You would like the secondary content to stay synced with the default language.
Duplicating content connects your default language content and secondary language content. This means that updating a post in the default language will automatically update content in the secondary language as well.
Editing the secondary language version of a duplicated page or post is possible, but any changes will be overwritten when you update the default content.
By default, taxonomy terms are not duplicated along with pages. This is because on the WPML → Settings page, Copy taxonomy to translations is selected as a default. With this setting, if taxonomy translations exist, WPML adds them to the duplicates. Otherwise, no taxonomy terms are added.
How to duplicate posts and pages using the page editor
Please note that post duplication is only available for post types that use the translation setting Translatable – only show translated items.
When you edit any content (a post, page or custom post), you will see a set of checkboxes in the Language box. Select the languages you want to duplicate and click on the Duplicate button that appears.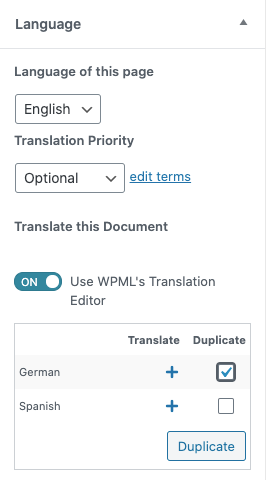 Please note that if the post type translation is set to Translatable – use translation if available or fallback to default language, the Duplicate option is not available. However, you can still use the Translation Dashboard page to duplicate multiple pages as explained in the next section.
How to duplicate pages and posts in bulk
If you want to duplicate multiple pages at once, you can do so by going to WPML → Translation Management. Select the posts and pages and under Translation options, choose Duplicate content.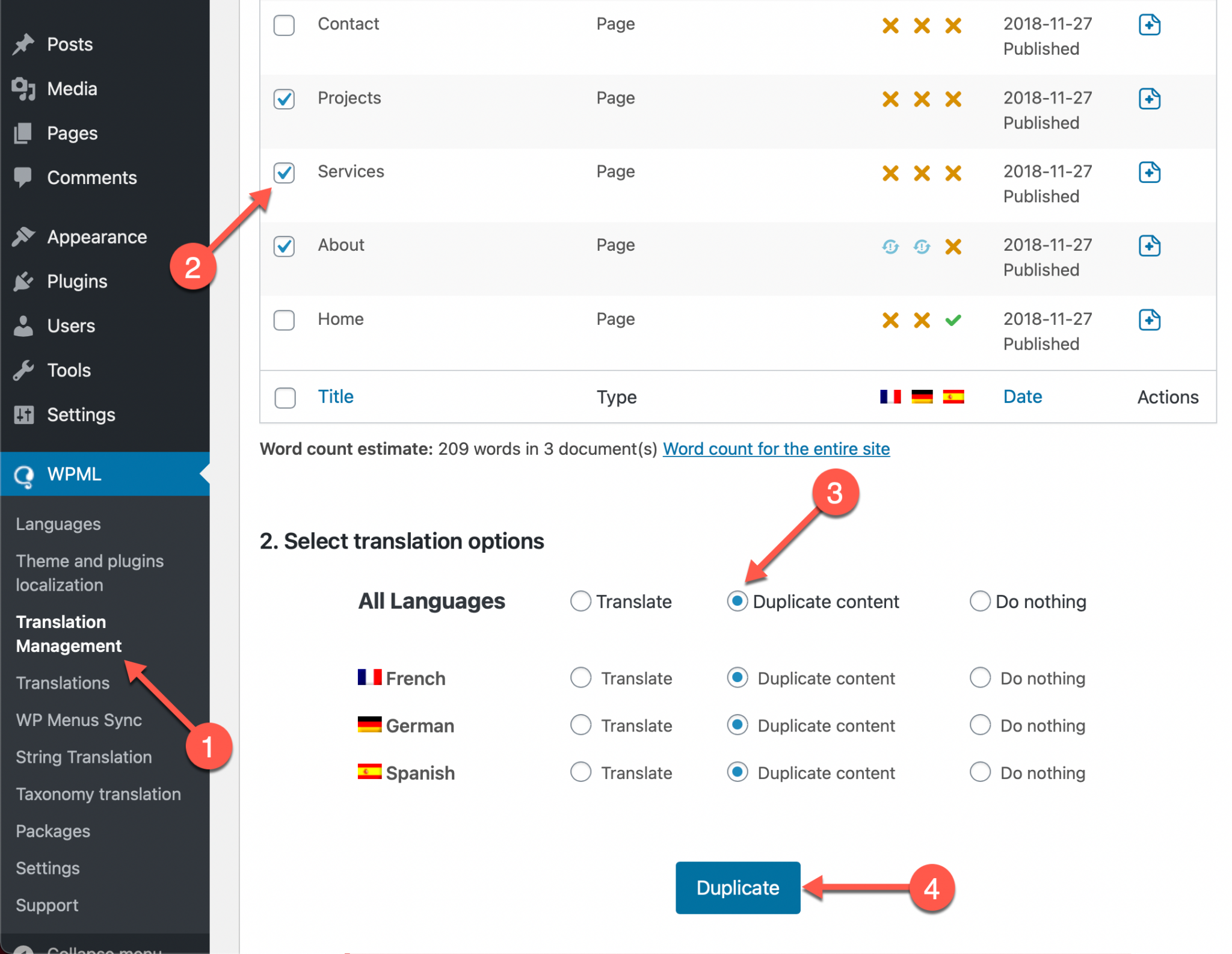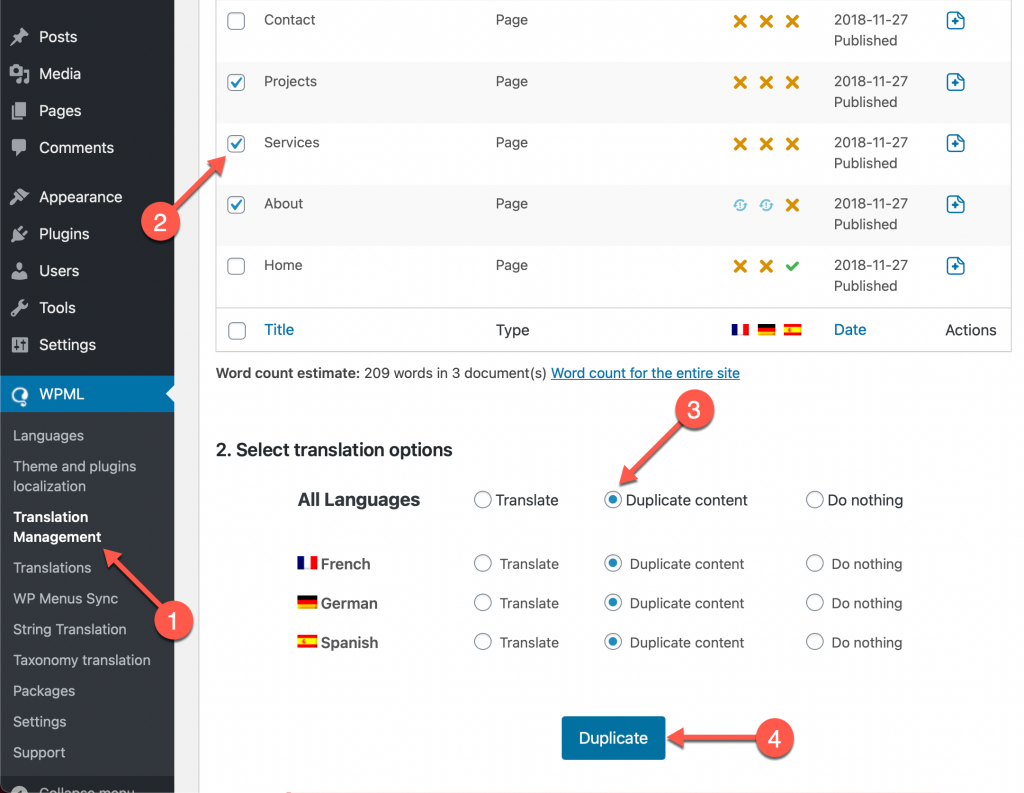 How to convert a translation into a duplicate
If you would like to overwrite an existing translation with a duplicate of the default content:
Choose the secondary language from the language switcher in the WordPress admin view.
Click the post or page you would like to convert to a duplicate.
In the Language section of the editor, click the Overwrite with [default language] content button.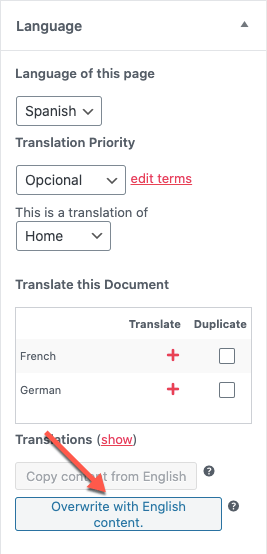 To convert a duplicate to a translation, follow the same steps, but click the Translate independently button. This will stop the post from automatically syncing with the default language content.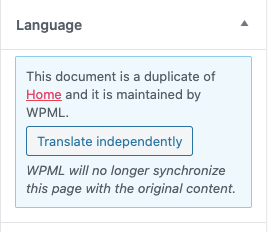 Copying content
Copying content does the same thing as duplicating content with one major exception: the translations are only copied once and do not stay synced with the default content. This is useful if, for instance, you need temporary content for a post or page (but not the whole post type) while you wait for the content to be translated.
WPML treats a copied page the same as if it was a translation. You can edit the "translation" independently, and changing the default content will not overwrite it.
Copying content copies the title, excerpt, and content from the default language. It does not copy custom fields.
How to copy content
You can only copy content if there isn't a translation already in place.
To copy content:
Edit the page in the default language.
Use the language switcher to switch to the secondary language.
You'll see a blank page. In the Language menu setting, click the Copy content from [default language] button.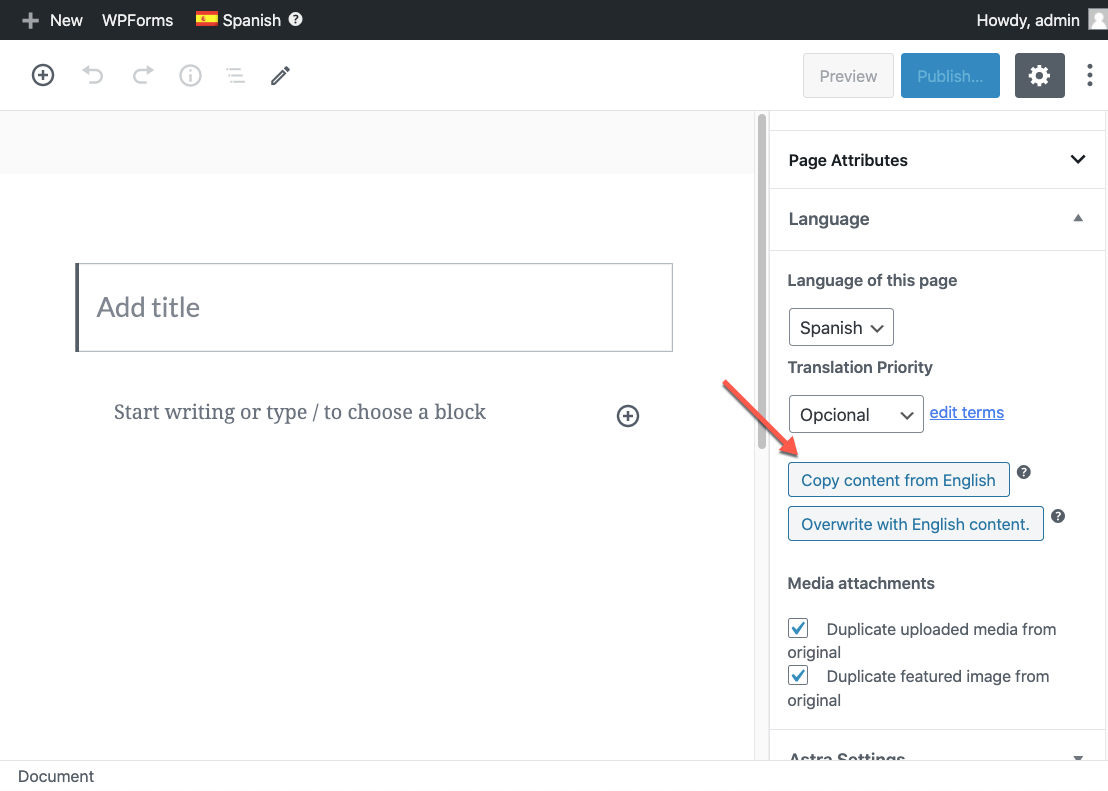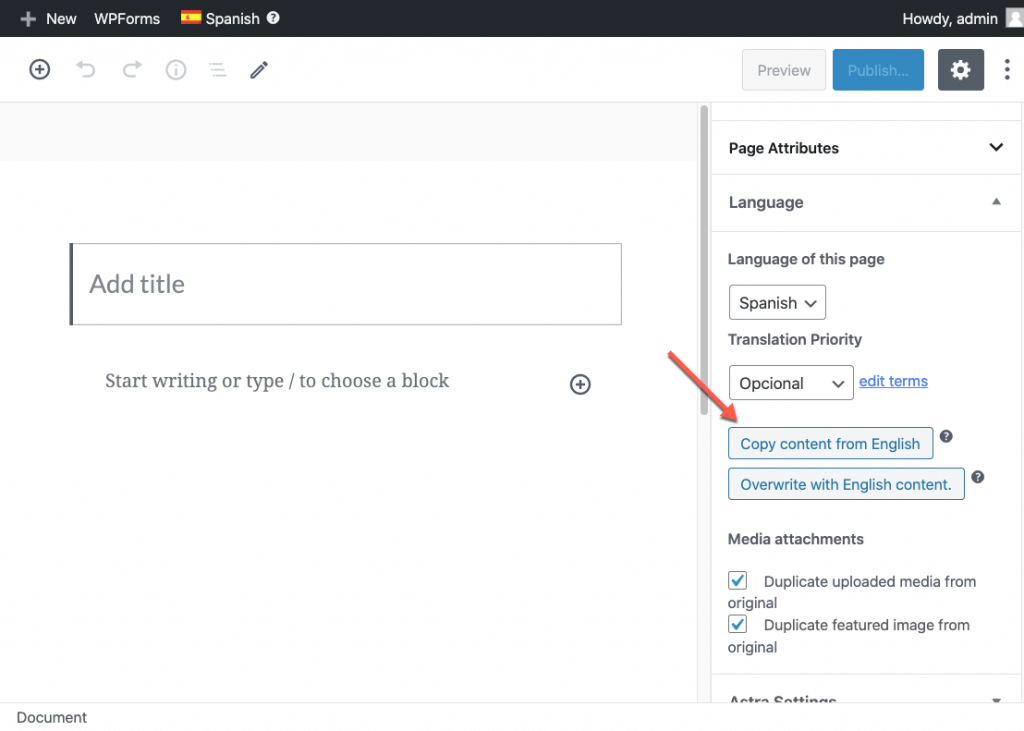 If you're using the Gutenberg Block Editor and don't see the language switcher at the top of the screen, click the 3-dot menu at the top right corner and un-check Fullscreen Mode.
Switching to the fallback setting if your site is using content duplication
The ability to display untranslated content on pages in secondary languages was introduced with WPML 3.9 version. In the preceding versions, you had to use content duplication.
When switching your site to new translation mode, you will want to start by removing all the duplicates in your site. You can find the detailed instructions on how to do this on the page about deleting duplicate content after changing how content is translated.