Contact Form 7 allows you to create, customize, and manage front-end forms for your site. In this tutorial, we provide step-by-step instructions on how to make these forms multilingual using WPML.
Here is a short video that explains the process of translating form built using the Contact Form 7 plugin:
Content
Getting started
WPML translation tools
WPML offers two translation editors you can use for translating your site's content:
Besides translating your site content yourself, you can also:
Translating your forms
To translate your forms, use the following steps:
Create your form in the default language and translate it.
Insert the form shortcode into a post, page, or widget in the default language.
Translate the post, page, or widget that holds the form.
1. Creating the default language contact form and translating it
To create your form, go to the Contact → Add New page. When completed, you will get a shortcode for your contact form. Copy it to insert it later in your contact page.
By default, the fields' placeholder texts are hidden on the ATE screen. To translate them, add an "=" sign between the placeholder attribute name and its value.
Here is an example of the field's tag that Contact From 7 generates which includes the placeholder text:
[text* your-name placeholder "Your name here"]
To be able to translate the placeholder text using ATE, alter the field's tag in the default language form to be:
[text* your-name placeholder="Your name here"]
Now it is time to translate the form. Click on the plus icon corresponding to the language you want to translate your form into. This will take you to WPML's Advanced Translation Editor (ATE) screen.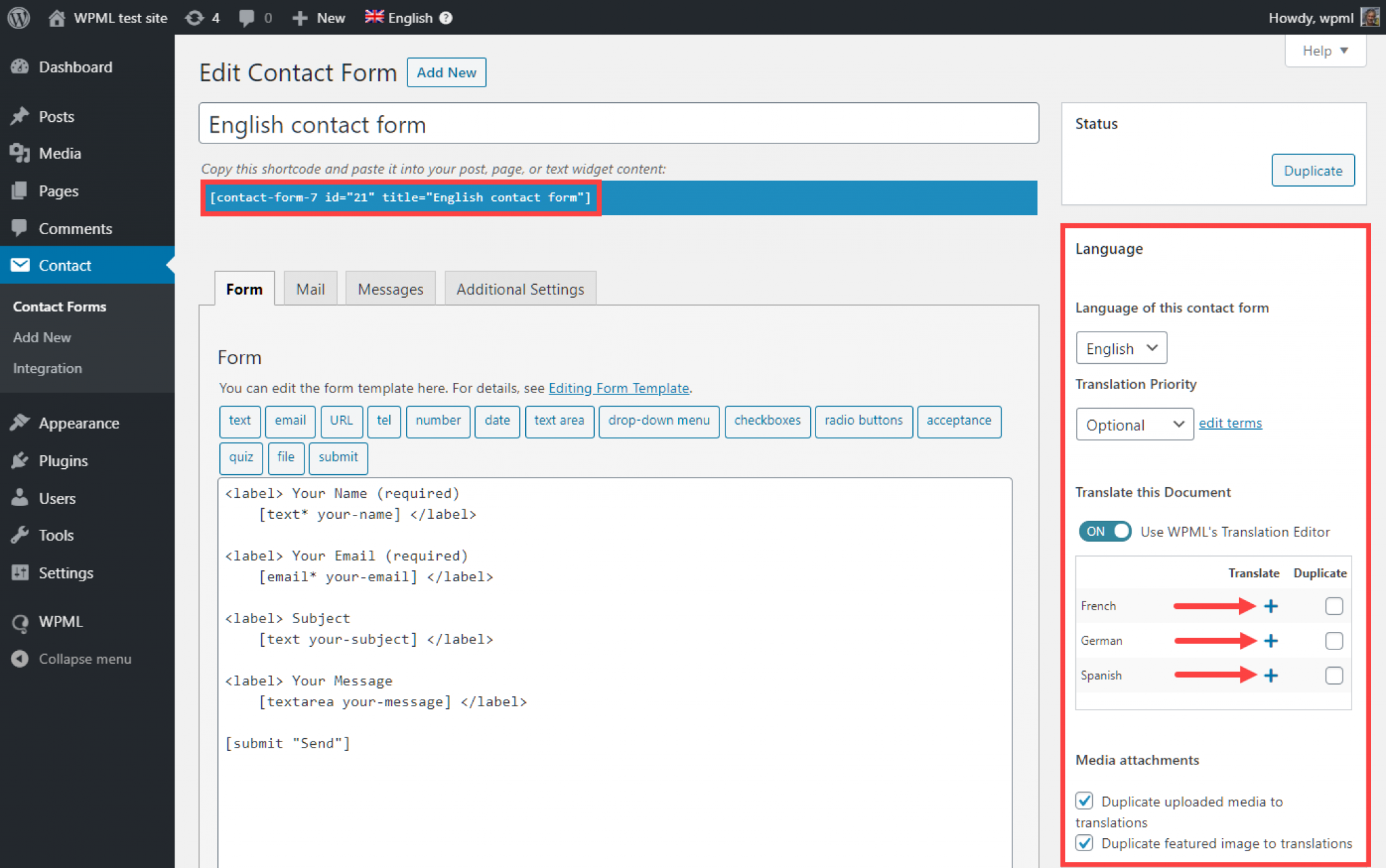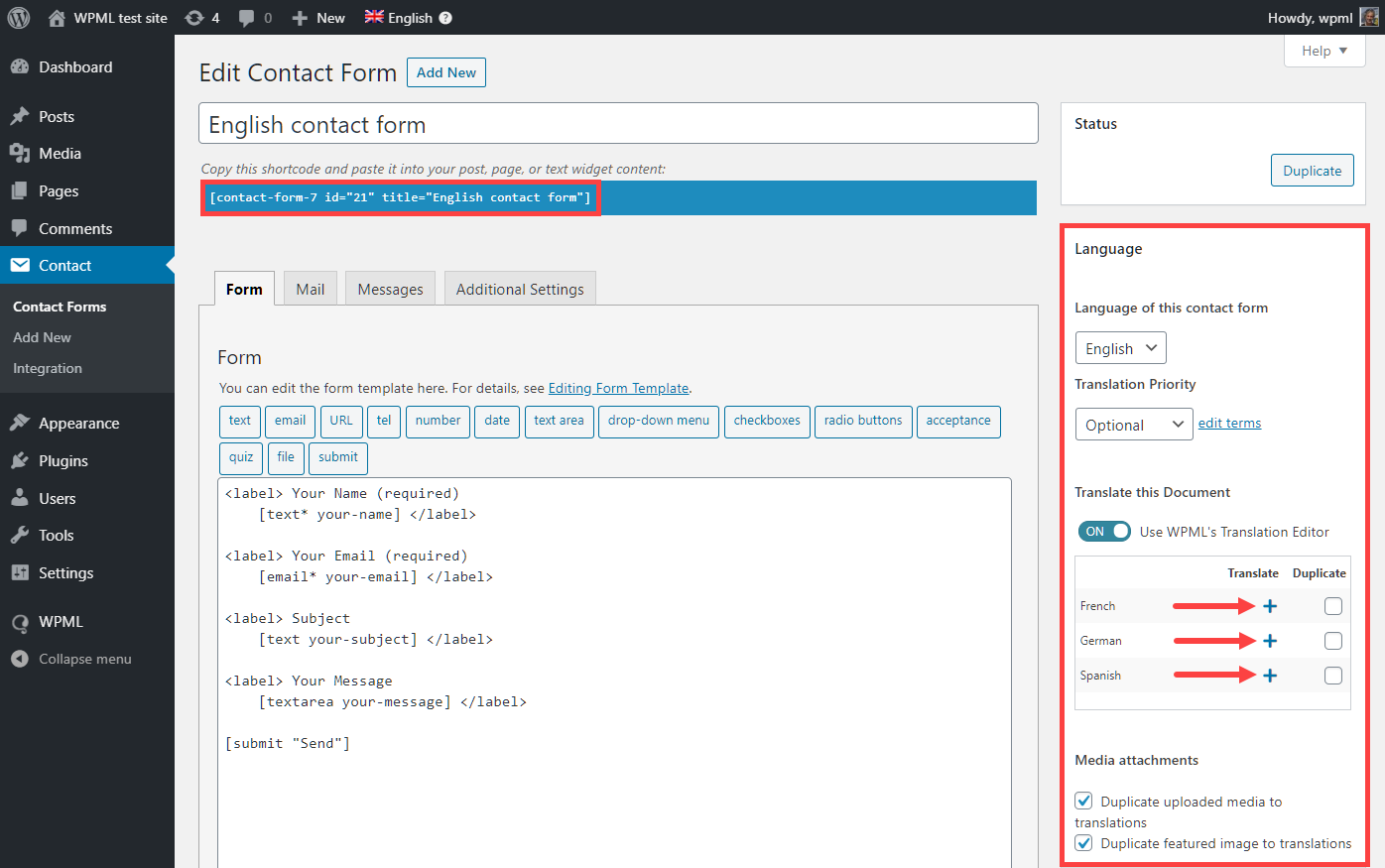 Translate the form texts. Make sure to copy the to the form tags to the secondary language fields. Translating it will break the secondary language form.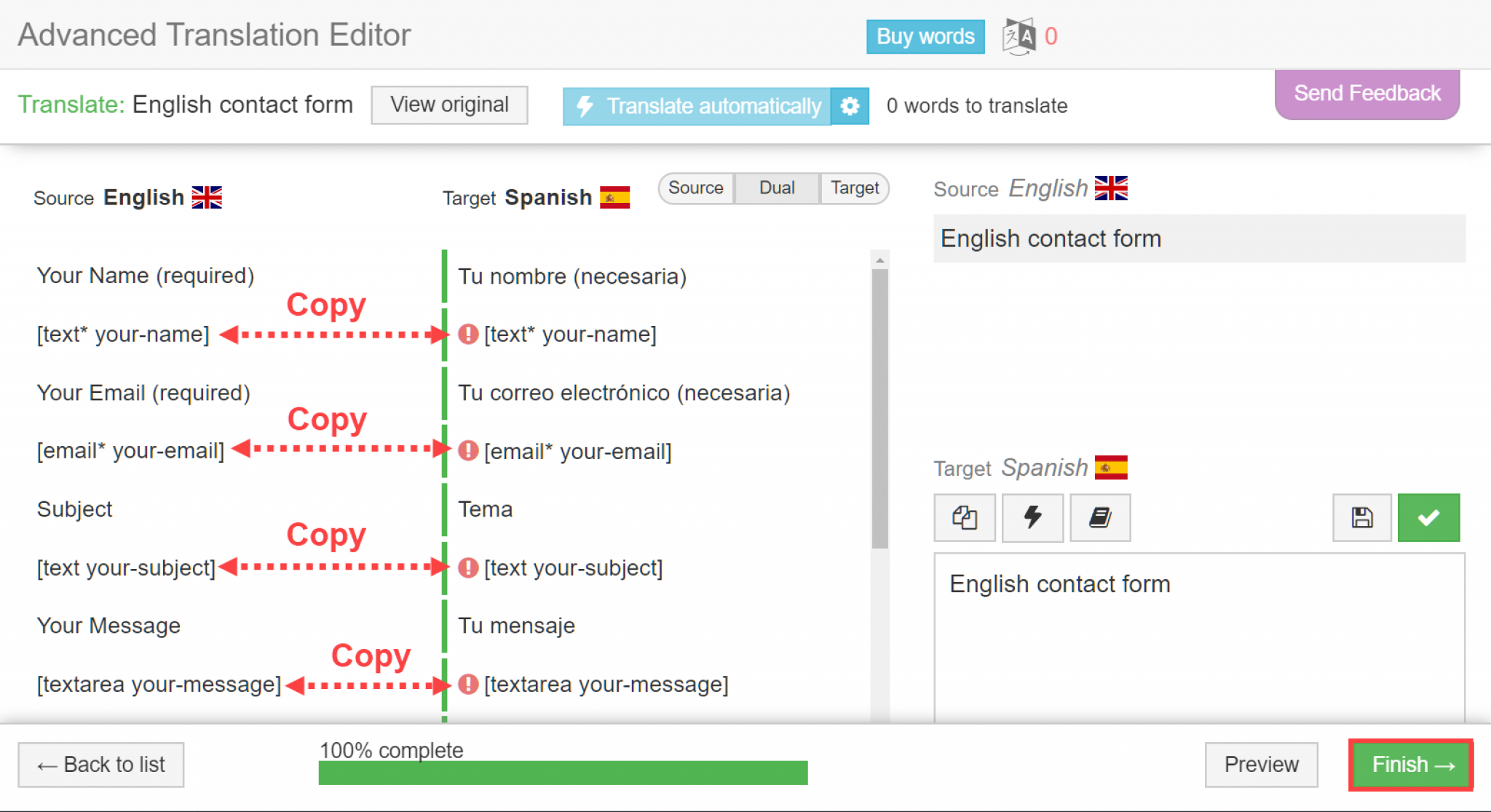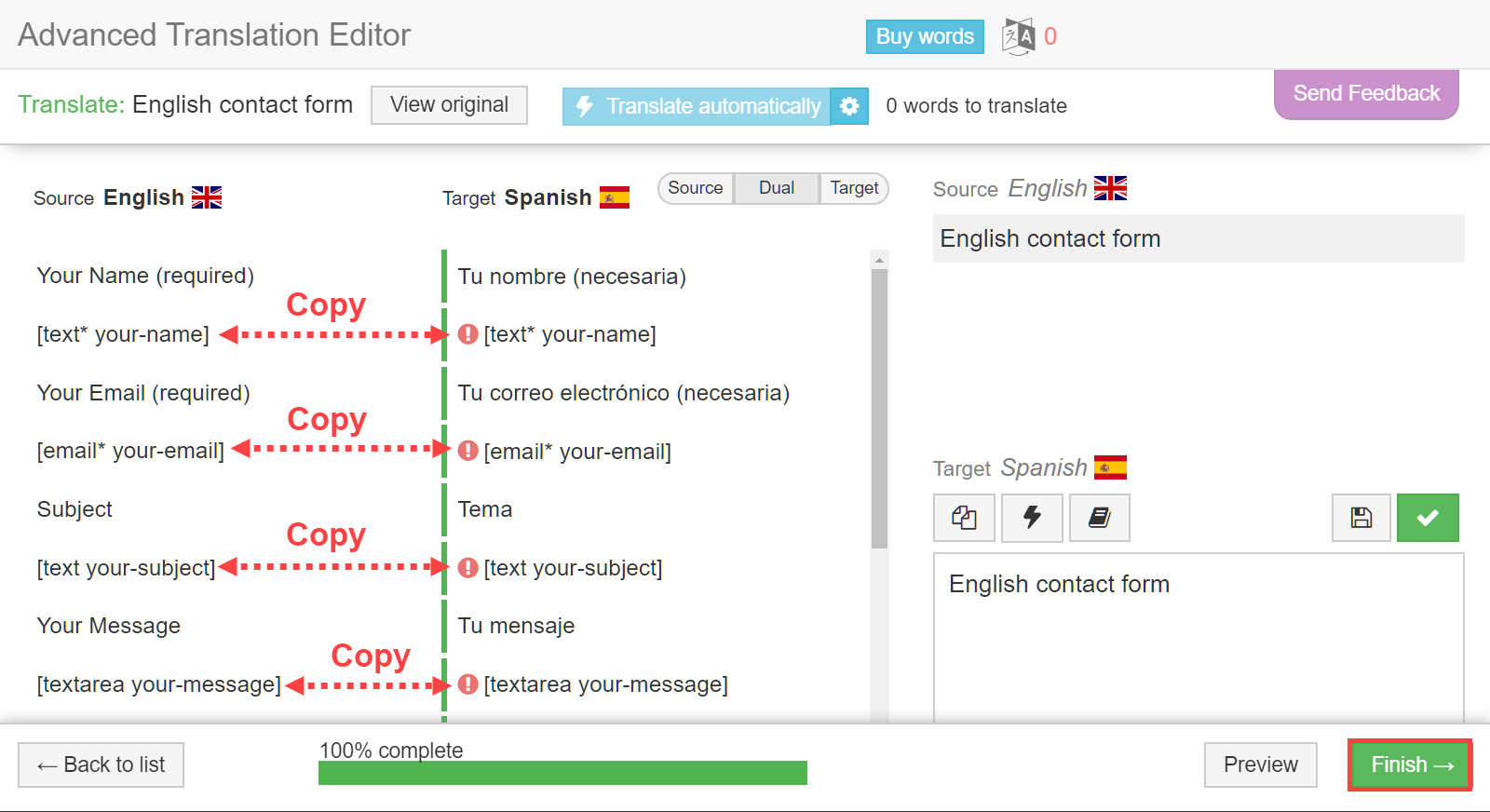 It is worth mentioning that you can also work with a team of translators or professional translation services to translate your form content using WPML's Translation Management.
2. Insert shortcode into the content
Now, you need to insert the shortcode into a post, page, or widget in the default language.
In our example, we created a new page in English and added a shortcode to it.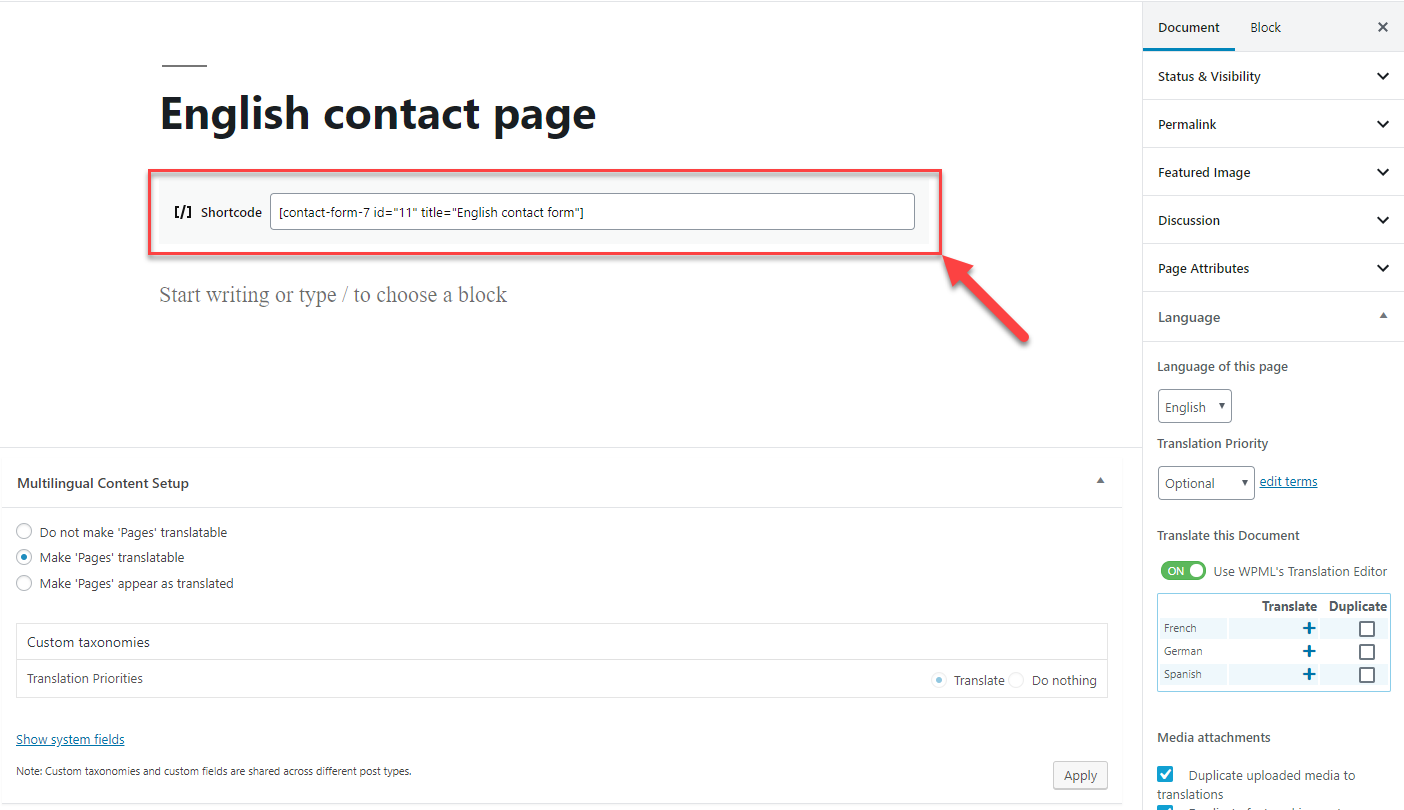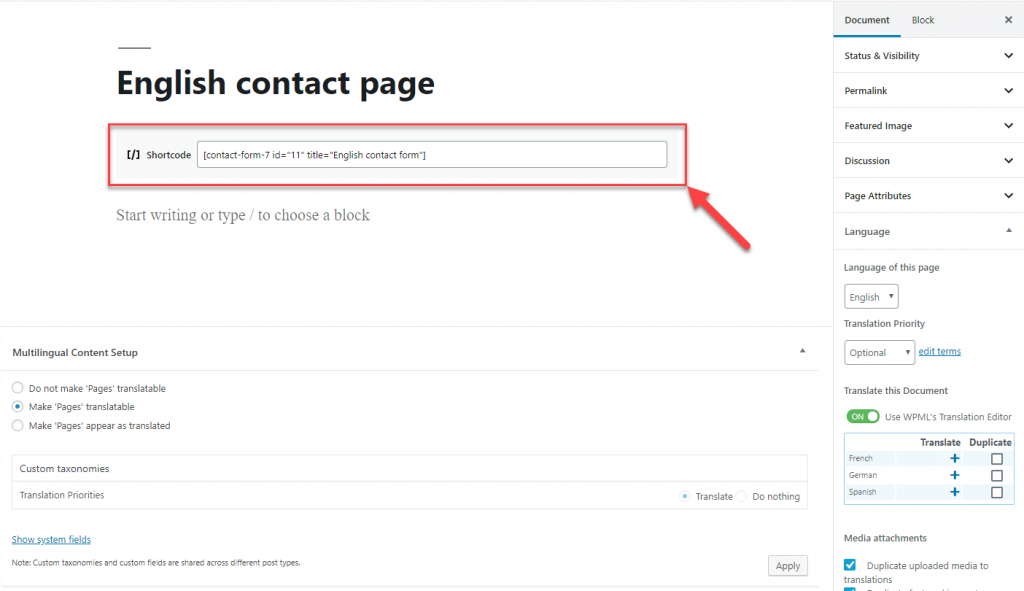 3. Translate content with embedded forms
Finally, you need to translate the pages, posts, or widgets that hold the forms.
When editing a post or page, use the Language box to translate or duplicate it.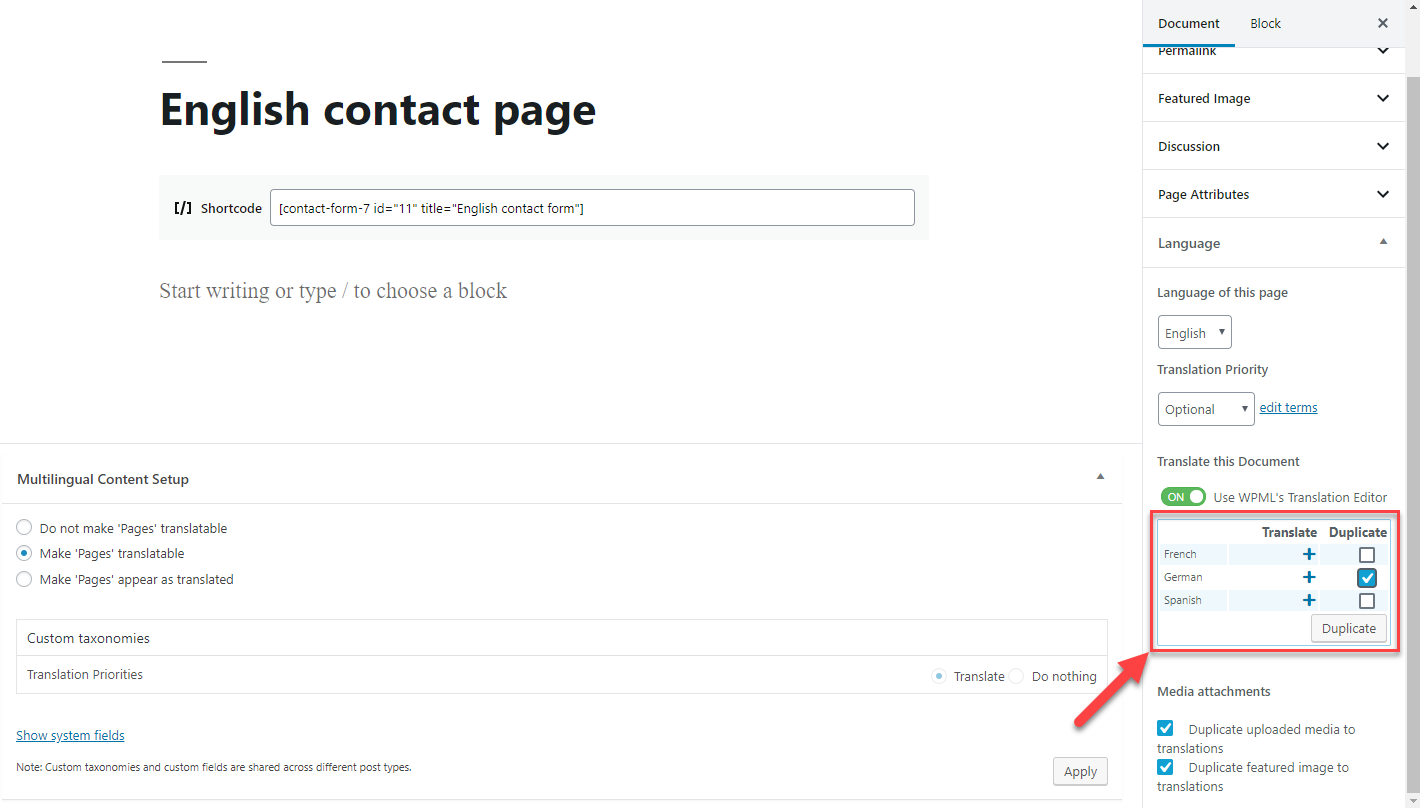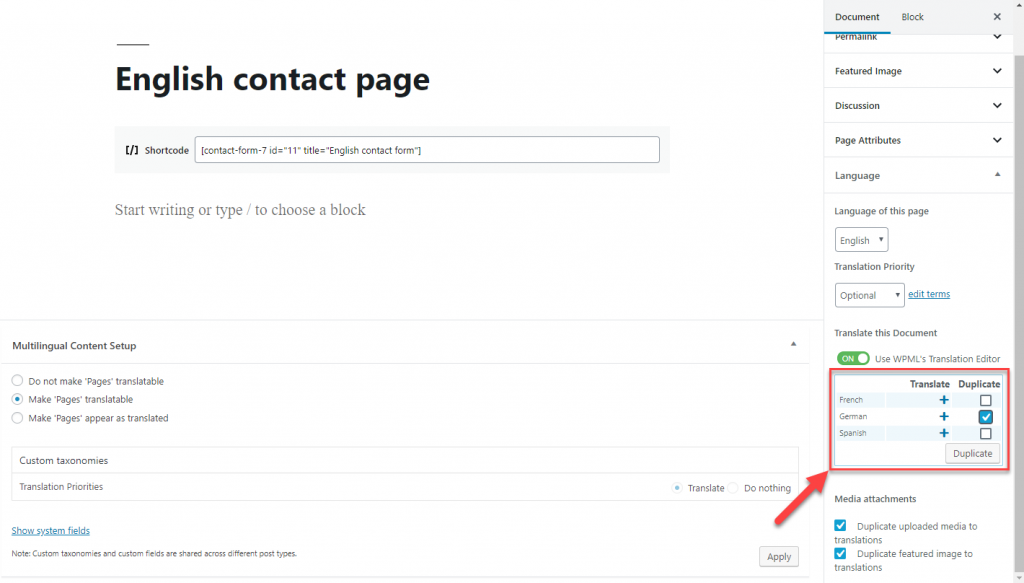 Make sure to translate only the texts. Do not change anything within the shortcode that is used to insert the contact form. WPML will automatically display the form in the correct language.
Getting Help
In case you need help translating your forms built using Contact Form 7 and WPML, visit WPML's support forum.
If you want to build automated multilingual forms without any hassle, check out these amazing online form builders that help you in collecting payments, leads and unlimited form submission to grow your business in many folds.