WPML's Advanced Translation Management allows you to use automatic, machine translation for your WordPress sites. This page walks you through the steps of using automatic translation and how it works.
Using the automatic translation
We advise using automatic translation and then reviewing translations. Automatic translation alone will save you a huge amount of time. Spending a few more minutes on reviewing will make sure translations are accurate and sound human.
When entering the Advanced Translation Editor, you can select to translate your pages automatically. In this case, the system will go through all the texts and translate them. All HTML markers will also be added automatically.
Once the page is automatically translated you can review and edit translations. If you do not want to do any additional editing you can just click Finish and submit the translation as-is.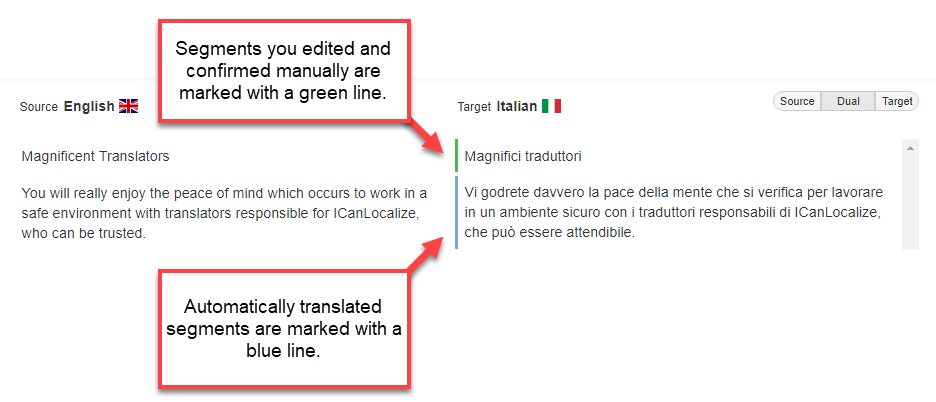 Machine translation word quota
When you activate Advanced Translation Editor, an account is created for you, with a free quota of 2000 words for automatic translation. To be able to use the automatic translation, you need to have enough word quota.
Once you spend the initial, free quota you need to buy more to keep translating. To do this, click the Buy words button at the top of the Advanced Translation Editor.

Existing translations are reused to save your quota
Advanced Translation Editor saves the translations of all finished text segments (e.g. sentences). Next time it comes across the same segments it will recognize them and apply translations directly from its memory.
Thanks to this, the system will not spend your words quota on text segments that were already translated.
Preventing automatic translation of certain terms
Often, there are terms that you do not want to be automatically translated. For example, this could be the name of the company, specific technical terms, and others.
You can use the built-in Glossary to tell the system how to translate (or not translate) any words and phrases in your content.
Translations belong to you
All translations produced automatically belong to you and are saved in your site's database. You cannot lose them at a later time.
If you run out of machine translation quota or decide to stop using the Advanced Translation Editor, all existing translations will remain intact in your site.
We will never want to or even be able to remove existing translations from your site.