WPML allows you to translate images and other media. You will be able to provide replacement images for content in different languages and translate the meta texts of those images.
By default, WPML uses duplication to make media files available in all languages.
The options for translating media can be found at the bottom of the WPML -> Settings page.
Out-of-the-box translation of images and media
WPML core plugin allows you to manually translate the images and media in your content. In this case, you translate them just as any other part of your pages.
When to Use WPML Media Translation
Use WPML's Media Translation add-on plugin when:
You are using Translation Management.
You need to show different images for translations.
Some of your content may include images containing text (i.e., screenshots of user interface items) that must be presented in different languages.
For example, here is a welcome page for WordPress.
| The English page includes a screenshot of the WordPress admin in English | The Spanish text includes a screenshot of the WordPress admin in Spanish |
| --- | --- |
| | |
This page includes a large screenshot that contains text. When we translate this page into Spanish, we want to include a screenshot of the WordPress admin, where the text included in that image is in Spanish.
The Media Translation plugin allows you to upload "replacement" images for different translations. In this manner, you can translate the texts on the page using WPML's Translation Management and provide replacement images for images that feature text which requires translation.
When you need to show images with content that you translated using WPML's Translation Management, you should never edit that content manually using the WordPress "post editor." If you do, your edits will be lost the next time you update this content using Translation Management.
Translating Attached Images and Other Media
Go to WPML -> Translation Management to send content for translation. There, when you choose any content that has media files, you will see a list of the attached media. Select all images for which you want to use "replacement" images in other languages.
After sending the content for translation, go to WPML -> Media Translation. There, you can filter by "Needs Media File Translation." You will see only images that you previously selected as requiring translation. Click to edit any image and upload its replacement.
Here is a quick video that shows this entire process:
Translating the Page that Includes Images
As you translate the page, you will see the content that includes the images requiring translation.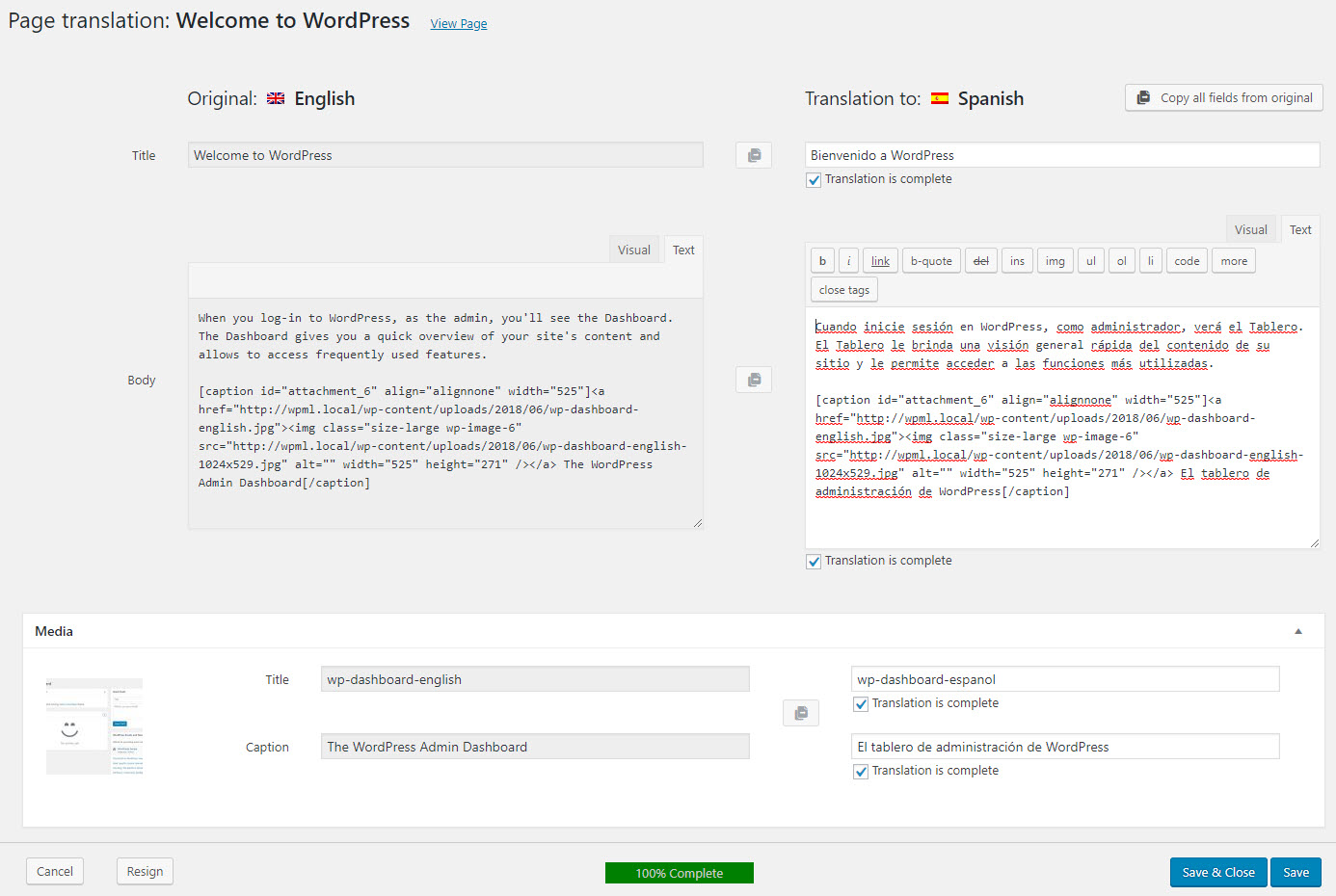 Be sure to include the images in the translation and to translate their meta texts. You do not need to upload replacement images here or edit the image shortcodes. You only need to translate the texts. WPML's Media Translation will later replace the actual images with their translations.
Translation for Image Captions and Titles
WordPress makes a copy of the image captions and title texts when you insert images into content. You must translate these texts in the Translation Editor.
The texts that you translate in WPML -> Media Translation belong to the attachments. You will see these translated texts when you create image galleries or load the images using other methods.