WPML includes a Translation Management plugin which allows site managers to determine which users will translate each content.
The Translation Management module is available as part of the Multilingual CMS package.
This page explains how to use WPML's Translation Management.
To learn more, read about Translation Management Features.
Setting up translators
A translator, in WPML, is a WordPress user to whom you give translation privileges. Translators can have any type of account in WordPress, including even subscribers. When translating, they will use WPML's translation editor, rather than manually editing WordPress posts and pages.
To turn WordPress users into translators, go to the WPML -> Translation Management page and click the Translators tab.
Click the Add Translator button and select the translation language pair and the user. Finally, click the Add translator button found at the bottom of the page.
You can also find pre-qualified professional translators if you enable a translation service such as ICanLocalize. To enable a translation service, go to the WPML -> Translation Management page and click the Translation Services tab. There, activate the preferred service and click the Authorize button to enter your authentication information.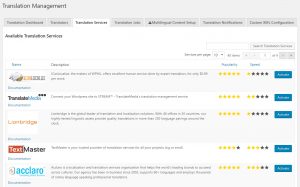 Tip: once you have chosen a WordPress user as a translator, to add another language pair, click edit languages link for that translator in the list of translators on this page.

Selecting content types for translation
If you are only using posts and pages, without any custom fields, you can skip this section.
To choose custom types and custom fields for translation, go to the WPML -> Translation Management page and click the Multilingual Content Setup tab.
You will see a section for custom fields, custom types, and taxonomy. Check the items that require translation.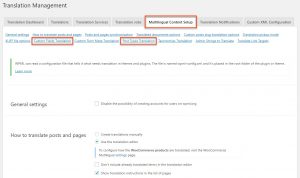 For custom fields, you can choose to:
Don't translate – field is not be available for translation
Copy – field value is automatically copied to translations.
Copy once – field value is automatically copied once, but can be changed manually afterward.
Translate – field is set to be translated.
For custom types and taxonomy, you can choose to make them translatable, or keep everything in the default language.
Sending content for translation
Now that you have turned regular WordPress users into translators and configured what to translate, you can go ahead and send content for translation.
Go to the WPML -> Translation Management page.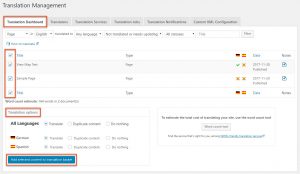 The Translation Dashboard lets you filter content according to translation status, post type, and more. Then, you can select what to translate and the target language to have it translated to.
When you click on Send to translation basket, what you have selected is added to your Translation Basket tab. Additionally, you will see an automatically calculated Suggested deadline field. From there you can send the items to translation.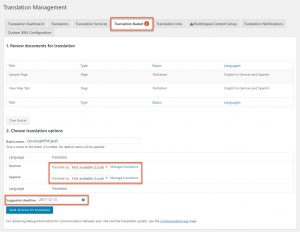 If you have enabled professional translation via a translation service, content is sent offsite for translation. If you selected local, your translators will receive notification emails and will translate in WordPress, using WPML's Translation Editor.
In both cases, you will see the status of the documents update from not translated, to translation in progress. Then, when translations complete, the status updates accordingly.
Sending updated content for translation
WPML automatically handles cases when you update the original content while the translation job is already created. It will automatically create a new, updated job and translators can simply proceed to translate the updated content.
When a page that already has a translation is edited and re-sent to translators, WPML displays the Show differences link under each content field. Clicking this link displays a dialog with all the changes for that field. This makes it easier for translators to do the subsequent translations.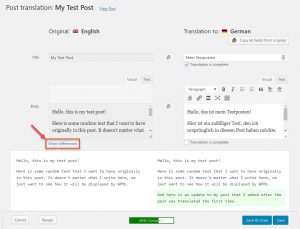 Jobs queue for translators
When administrators send content for translation, your translators receive notification emails.
Translators do not see the Translation Dashboard. Instead, each translator has a queue of jobs, which the site Admin has sent to them.
Translators go to WPML->Translations for their queue of pending jobs.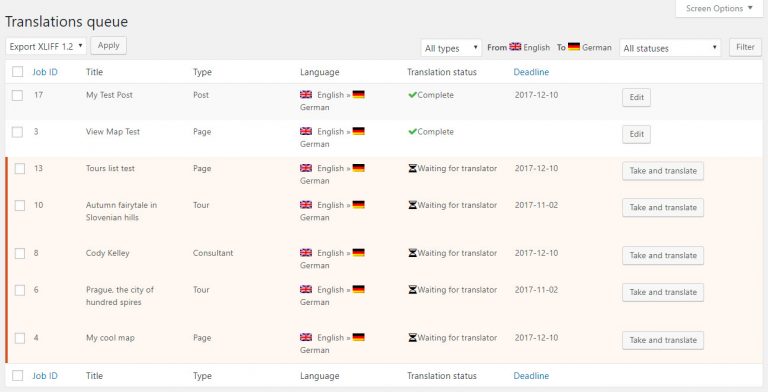 Translating using WPML's translation editor
When translators click on edit, from their list of pending jobs, they are taken to WPML's Translation Editor. There, they view the originals and the translations, side-by-side.
Here is the same Hello world post, in the Translation Editor.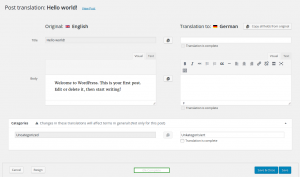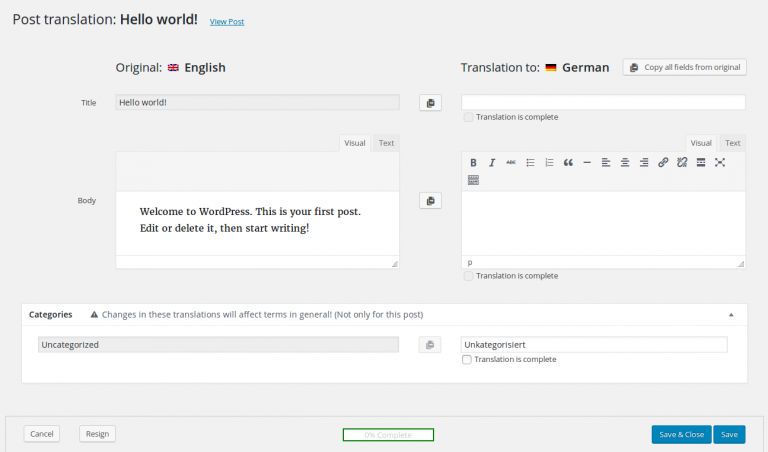 A blog post includes a title, a body, tags and categories. The Translation Editor shows each of these in a different field. You can see the original and the translation and copy between them.
Just like the standard WordPress editor, the Translation Editor also includes HTML and Visual editing modes.
When each field is completed, click on the translation finished checkbox to move to the next field.
Translating fields with images and other media types
The Translation Editor does not allow adding media to the contents during translation.
Use the following steps to translate fields that feature media:
Copy the field from the original. You will see the media appear in the translation.
Translate the texts.
Click on the checkbox to indicate that translation is complete.
The following image illustrates this on the simplest example, where the body of a page features an image.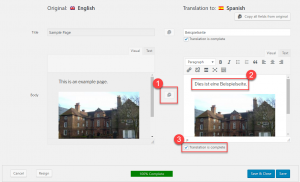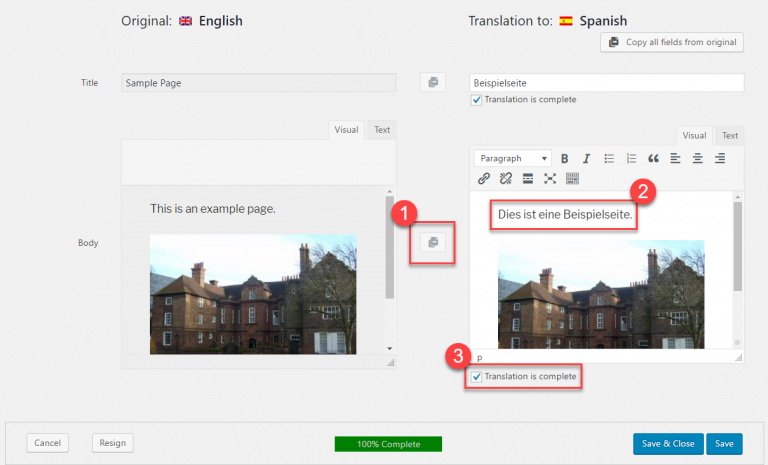 Translating taxonomy terms
As mentioned above, when a post type is sent to translation, WPML will send along all taxonomy terms associated with a particular post type. Translators will be able to see and translate these right from the Translation editor.
Re-translating already translated taxonomy terms may not be desirable and it may cause a problem to post type – term associations especially when more documents are connected to a particular taxonomy term. For this reason, administrators can prevent translation of taxonomy terms that have already been translated. The setting is located on the WPML -> Translation Management page, under the Multilingual Content Setup tab. There, look for the How to translate posts and pages section.


When you enable this setting, your translators will not be able to edit the translations of already translated terms.