WPML's Classic Translation Editor allows translating any content type from the inside of your WordPress admin.
Jobs queue for translators
When administrators send content for translation, your translators receive notification emails.
Translators do not see the Translation Dashboard. Instead, each translator has a queue of jobs, which the site Admin has sent to them.
Translators go to WPML → Translations for their queue of pending jobs.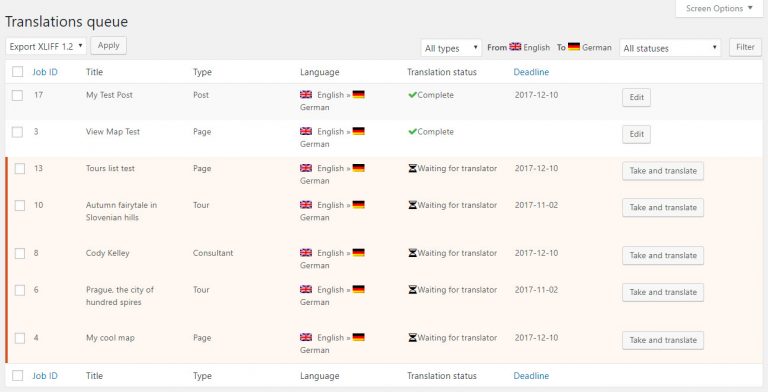 Translating using WPML's translation editor
When translators click on edit, from their list of pending jobs, they are taken to WPML's Translation Editor. There, they view the originals and the translations, side-by-side.
Here is the same Hello world post, in the Translation Editor.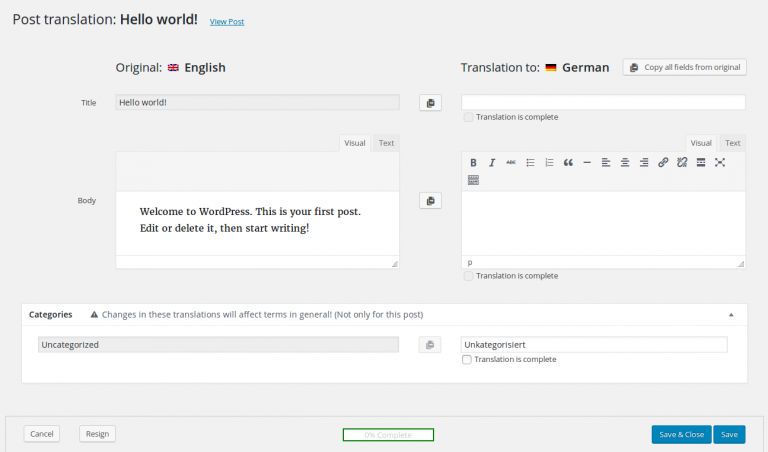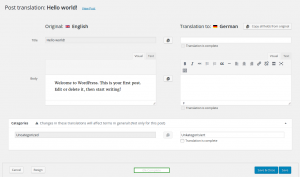 A blog post includes a title, a body, tags, and categories. The Translation Editor shows each of these in a different field. You can see the original and the translation and copy between them.
Just like the standard WordPress editor, the Translation Editor also includes HTML and Visual editing modes.
When each field is completed, click on the translation finished checkbox to move to the next field.
Translating fields with images and other media types
The Translation Editor does not allow adding media to the contents during translation.
Use the following steps to translate fields that feature media:
Copy the field from the original. You will see the media appear in the translation.
Translate the texts.
Click on the checkbox to indicate that translation is complete.
The following image illustrates this on the simplest example, where the body of a page features an image.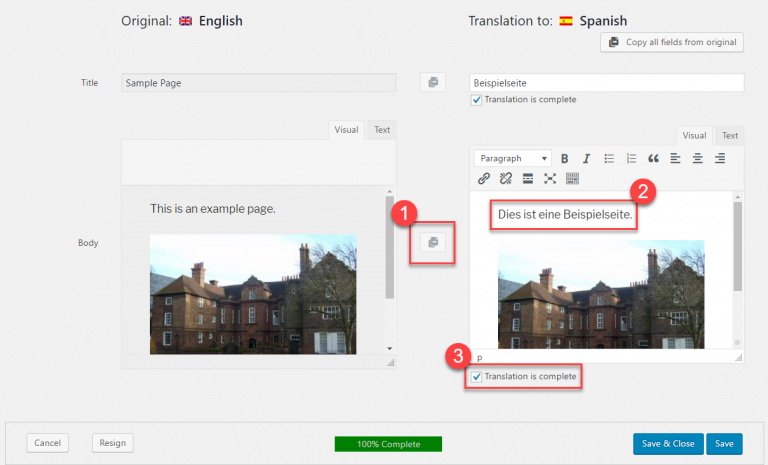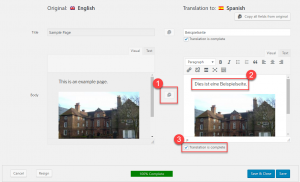 Translating taxonomy terms
As mentioned above, when a post type is sent to translation, WPML will send along all taxonomy terms associated with a particular post type. Translators will be able to see and translate these right from the Translation editor.
Re-translating already translated taxonomy terms may not be desirable and it may cause a problem to post type – term associations especially when more documents are connected to a particular taxonomy term. For this reason, administrators can prevent translation of taxonomy terms that have already been translated. The setting is located on the WPML → Settings page, under the How to translate posts and pages section.


When you enable this setting, your translators will not be able to edit the translations of already translated terms.