Every site is unique and has a specific structure and features. There is a fair chance that certain parts of the contents received after translation will not have been translated. You need to identify what was missed and resend it for translation.
Don't worry, the translators or the translation service will need to translate only the missed parts and not everything from scratch.
The easiest way to identify parts that were not translated is to visit the front-end of your site. Visit all types of contents, including pages, single posts, archive pages, and others, to make sure that you don't miss anything.
Let's go over typical contents that might not be translated and see how to resend them for translation.
Translating texts originating from a theme and other places
In addition to contents that originate from posts and pages on your site, there are often more texts (words and phrases) that need to be translated. These texts usually originate from the theme and plugins used on your site.
To translate the theme and plugins WPML first needs to scan them. To do this, go to the WPML -> Theme and plugins localization page.
There, in the Strings in the themes section, select the themes you wish to scan and click the Scan selected themes for strings button. When the scanning is complete, do the same for the plugins in the Strings in the plugins section.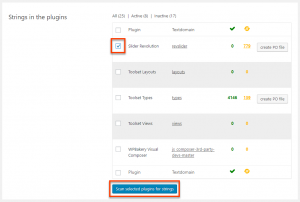 Besides letting WPML scan your site for texts, be sure to visit your site's front-end and take note of all texts that are not originating from your contents but are likely to be derived from a theme or plugins. This will make it easier for you to find and translate these texts.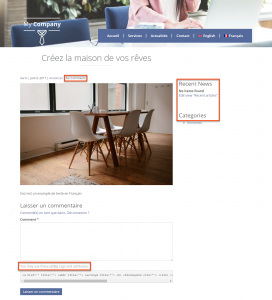 WPML allows you to translate these texts or send them to be translated by others.
Translating texts yourself
Go to the WPML -> String Translation page and use the following steps.
Use the filter on the top of the page to find the texts you want to translate.
When you find the wanted string, click on the translations link next to it and add your translated text.
Finally, choose the Translation is complete option and click Save.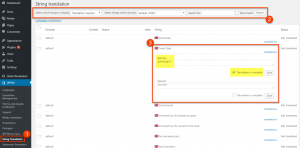 Sending texts to be translated by others
To send texts to be translated by others, for example, a professional translation service, follow the steps in the table below.
| 1. Select the preferred texts and use the "Translate options" box below to add them to Translation Basket. | 2. Click the "Send to translation" link at the top of the page or go to the "WPML" -> "Translation Management" -> "Translation Basket" tab and send the texts to selected translators. |
| --- | --- |
| | |
Next part: Translating custom posts