Follow this tutorial to learn how to create multilingual WordPress sites using the Avada theme and WPML. Avada is a highly responsive theme with a modern and clean design with many features such as premium sliders, unlimited colors, advanced theme options, and more. If you have chosen Avada as your site's theme, this tutorial teaches you how to turn it into a multilingual site with WPML.
What you will need
The Avada theme (version 5.0.3 or above), also available at Theme Forest.
A recent version of WPML (version 3.7 or above), including the String Translation, Translation Management and Media translation add-ons.
Contents
Getting started and what to check
Is your site already configured by your developer?
Check with them to make sure that the core WPML plugins (WPML Multilingual CMS, WPML String Translation, WPML Translation Management) are installed. Also, make sure that the Avada theme is installed and activated.
Are you setting up WPML yourself?
Then you need to follow the steps below.
Set up WPML from the WPML -> Languages page. See our WPML Getting Started Guide for a complete reference. The initial, simple three-step setup is self-explanatory, asking you to choose your default language, a set of active languages, and a language selector. (For starters, choose the footer language selector; you can change this later.)
Next, install and activate the core WPML plugins (WPML Multilingual CMS, WPML String Translation, WPML Translation Management) followed by other WPML plugins that may depend on them.
Install the Avada theme and activate it. Avada's documentation will provide you with all the information needed to set it up. You can also find an excellent collection of tutorials and step-by-step videos on Avada's YouTube channel.
Activate the WPML Translation Editor. Go to the WPML -> Settings page. There, check the Use the translation editor option under the How to translate posts and pages section and click Save.
Translating your pages
With WPML, you can also translate any types of contents in your site, including pages and posts. For an easy start, read our Getting Started guide to site translation.
Translating pages built using the Fusion Builder
WPML allows you to translate content in three ways: you can translate yourself, send content to your own translators, or send jobs to a translation service. Please visit our documentation page for exact steps on how to translate contents build page builders.
You can also watch a short video of translating pages built with the Fusion builder:
Updating a page and its translation
On our page about using WPML with page builders, you can learn how to update your translation if you modify the content of the default language page.
Translating Porfolio and taxonomies
You can translate custom post types using the Translation Editor.
Translating custom post types and post (Portfolio)
Here is an example of how you can translate a Portfolio item:
1. From your WordPress dashboard, navigate to the Portfolio page and click on the plus icon to translate a Portfolio item.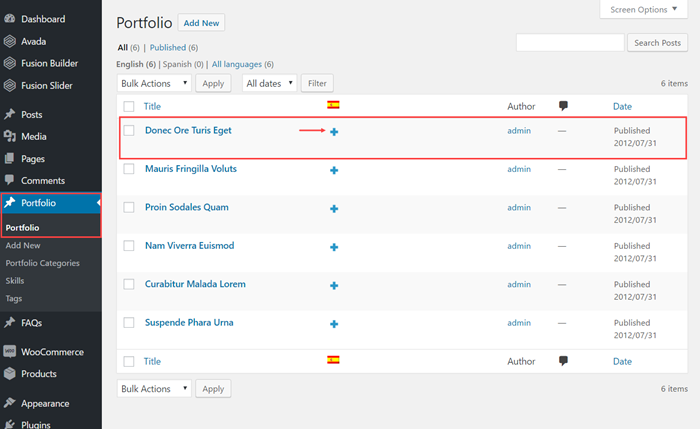 2. The Translation Editor opens again. Note that the Translation Editor screen displays the Portfolio categories for translation. Also, note that translating the categories affects all terms and not only the ones assigned to this portfolio item.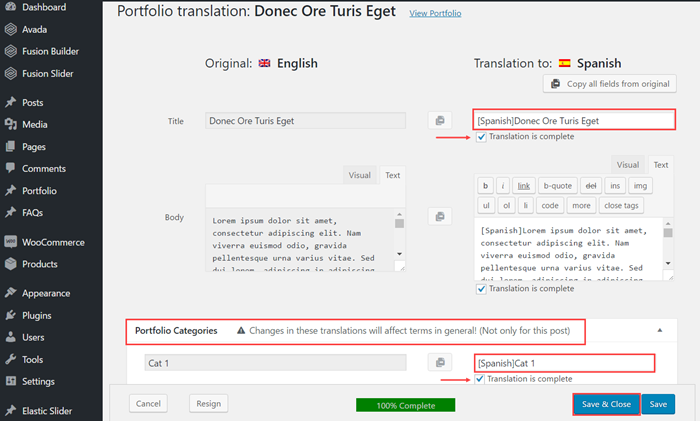 You can follow the same steps to translate the regular posts.
Translating post categories
In this example, we translate the post categories. Note that you can translate any post type category using the same method.
1. Go to the Posts -> Categories page and click on the category you want to translate.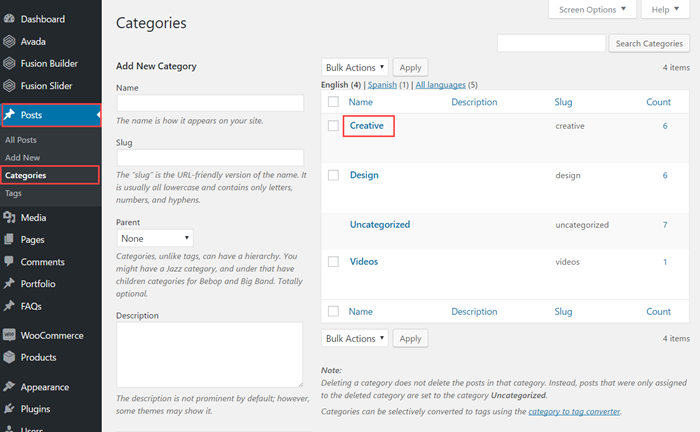 2. Click on the add link to add the translation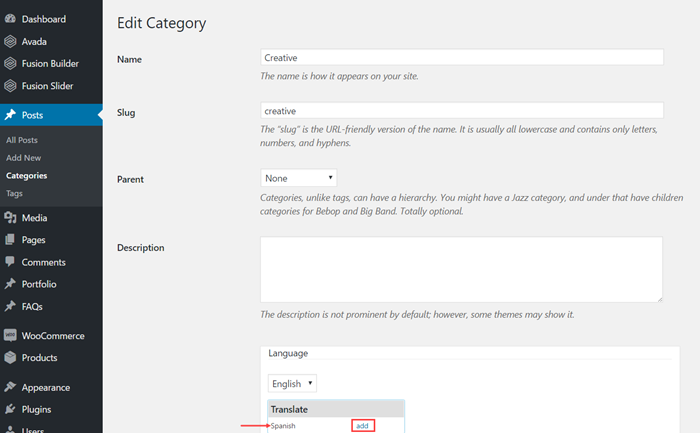 3. Add your translation to the Name, Slug and Description fields and click on Add New Catagory.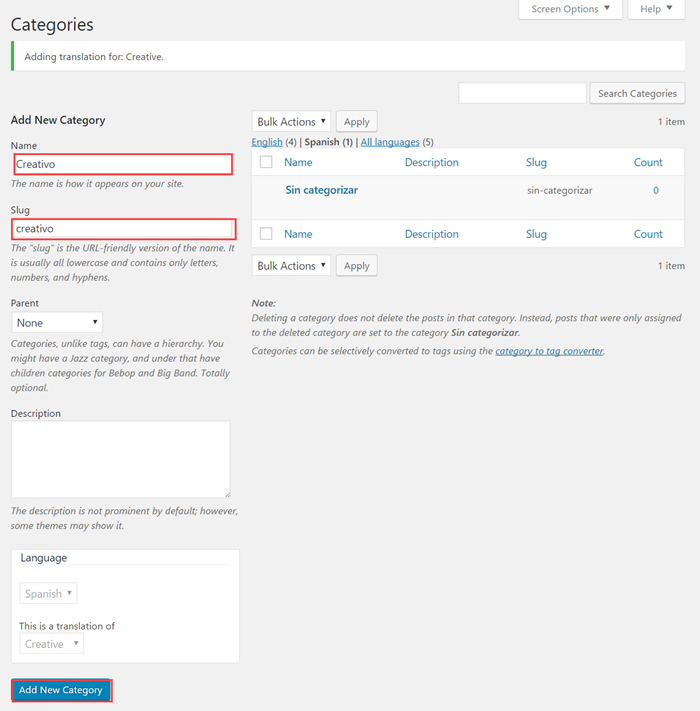 Translating custom taxonomies
In this example, we translate the Portfolio Categories. You can translate all the custom taxonomies using the same method.
1. From your WordPress dashboard, go to the WPML -> Taxonomy Translation page.
2. Select Portfolio Categories from the Select the taxonomy to translate drop-down menu.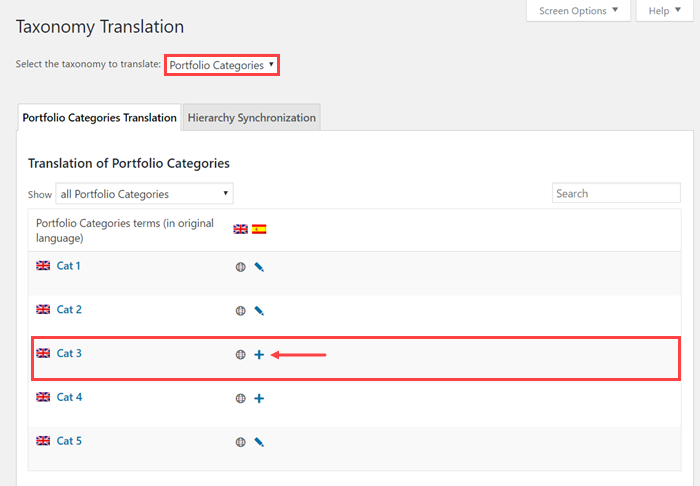 3. Click on the plus button to add the custom taxonomy translation by filling the required fields and then click on the Save button.
Translating Avada Sliders
Avada comes with its own custom slider called Fusion Slider. It is also bundled with the Slider Revolution and Layer Slider.
To help you learn how to translate sliders created using Slider Revolution we created a detailed tutorial that explains the process of translating Slider Revolution using WPML. We also created a document that provides step-by-step instructions on translating sliders created with Layer Slider using WPML.
To translate sliders created using the Fusion slider, use the following steps:
From the WordPress Dashboard navigate to Fusion Slider -> Add or Edit Slides. Choose the slide (slides that belong to the same slider) that you wish to translate. In this example, we will translate the Home page slide. Click on the plus icon next to the home page.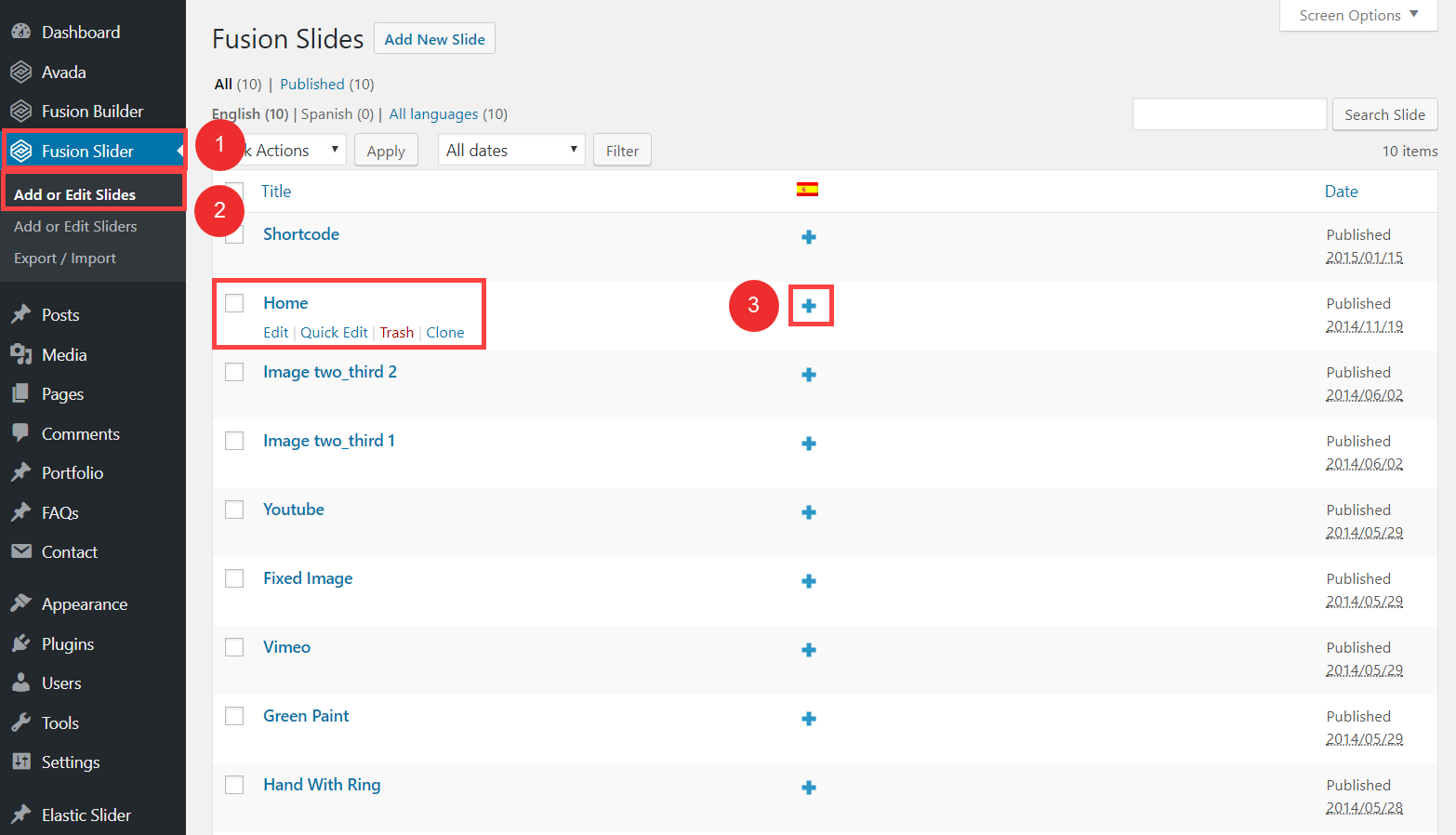 Add the translated text and tick the "Translation is complete" option for each field. Click on Save & Close.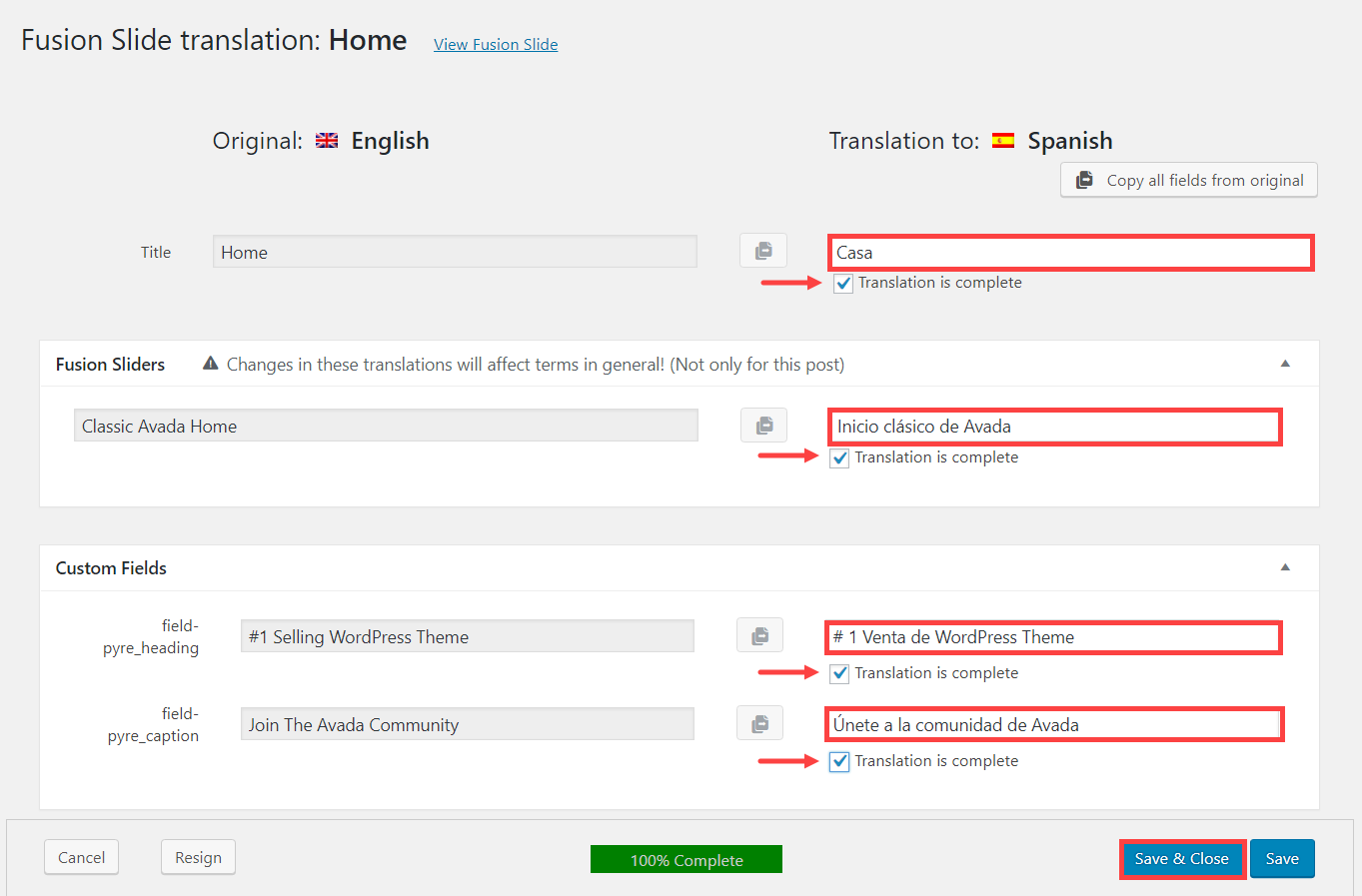 Ensure that the slider is added to the page using the Fusion Page Options. Using the Fusion page builder to add the slider to the page results in issues when displaying the slider on the front-end.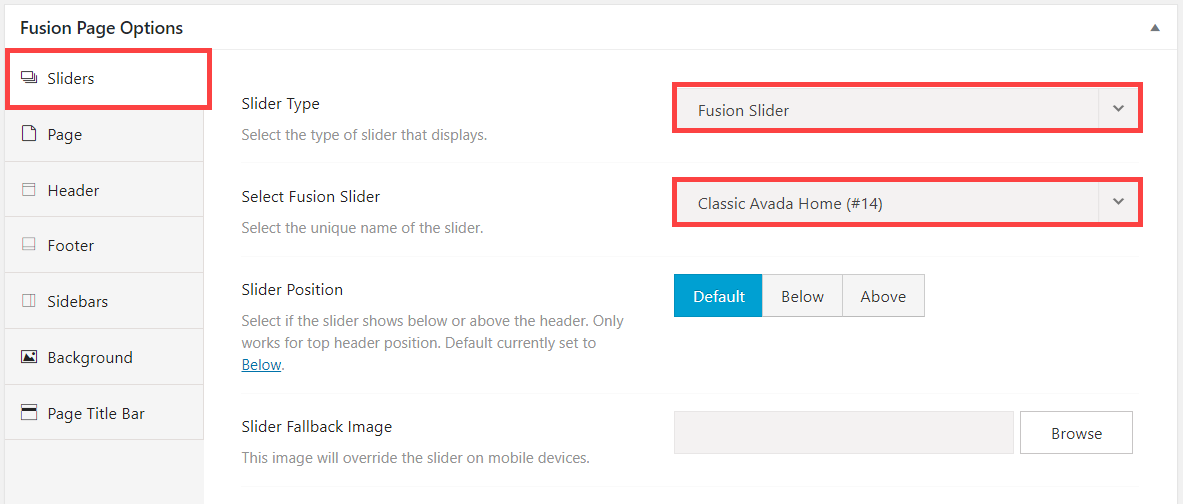 Navigate to Pages -> All Pages and click on the plus icon to translate the page that includes the slider. In our example is is the Home page

Add the translated text and tick the "Translation is complete" option for each field. Click on Save & Close. My Home page only includes the slider, this explains why, on the image below, you cannot see any textual elements available on the Translation Editor screen except for the Title.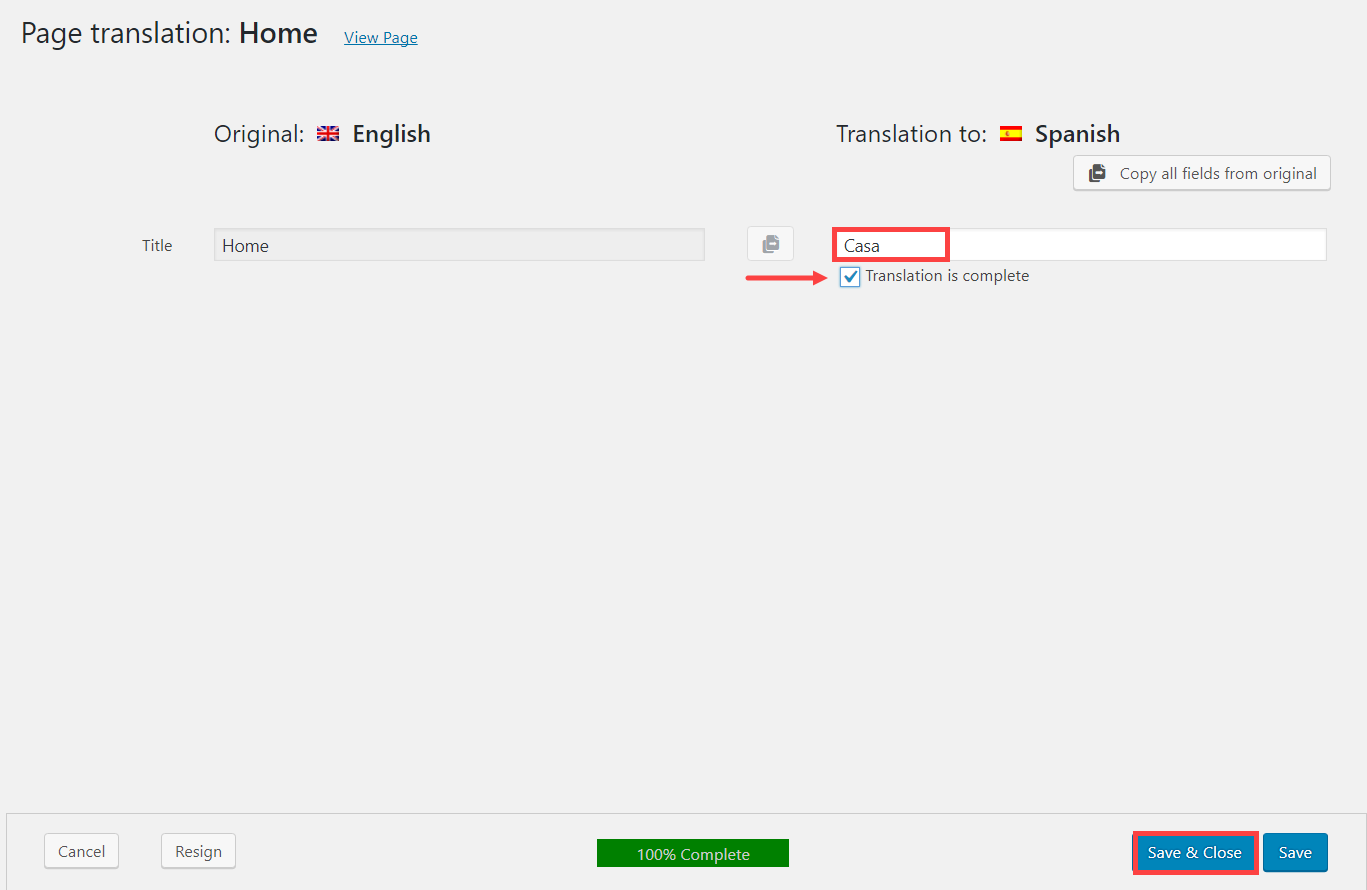 This is how the translated slider looks like on the front-end: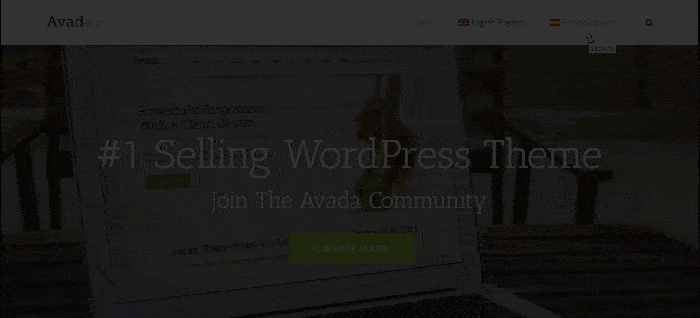 Translating texts from Avada theme, plugins and other places
Besides contents coming from posts and pages in your site, there are usually some texts coming from other places. Most common example are themes and plugins.
To learn how to translate these texts, read our documentation page about translating strings.
Translating Avada's menus
With WPML, you can easily synchronize your language menus. For more information, please check our page about translating menus.
Getting help from our support
If you need help using WPML with Avada theme, please visit our technical forum.
If you are working with a developer for your site, please use our Translation support forum to get help with translating your site's content.
If you are setting up the site and WPML yourself, please use our Technical support forum.
Maintaining the Fusion Builder Compatibility with WPML
We have prepared a documentation that explains how the Fusion Builder works with WPML. Additionally, it explains the process of updating the language configuration file in order to maintain the compatibility between WPML and Fusion builder. Feel free to check it here.
Get WPML
You can test WPML for 30 days and see if you like it.
If you are not happy with our plugin, we refund you without any questions in the 30 days.
Buy and Download