WPML lets you use unique URLs for custom content in different languages. This includes translating the post slug, as well as the name of the custom post type.
Understanding URLs
URLs for custom post types include the name of the post type and the page name. Typically, custom post types in different languages will look like this:
/houses/my-green-house/
/casas/mi-casa-verde/
The first part of the URL, in bold, is the post type. The second part of the URL is the page name. In this article, we will go over how to translate both parts.
Translating post type in a URL
To translate the first part of the URL, you will need to translate the post type. In order to do that, you must set the post types as translatable in WPML → Settings.
1. Check the box to enable slug translation for the site.

2. In the Post Types Translation section, set each post type to one of the translatable options and hit Save.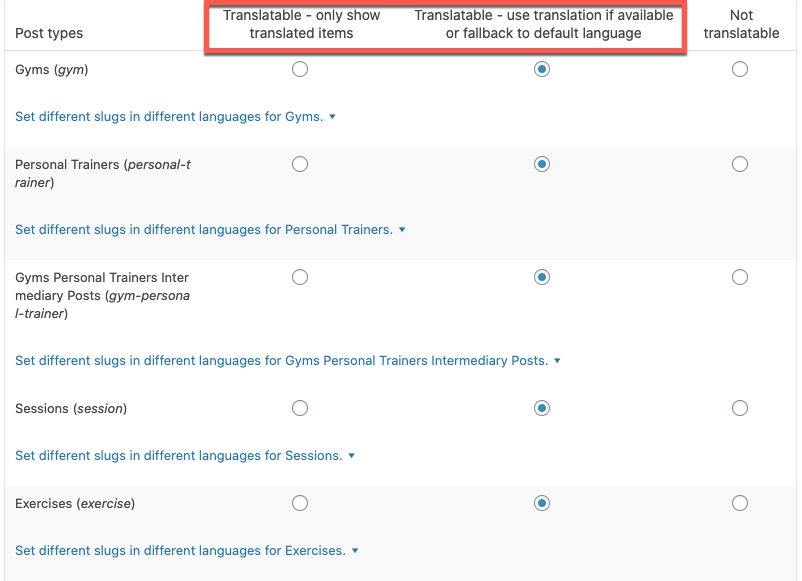 3. For each post type, select the option to set different slugs in different languages.
4. Enter the translations and hit Save again. On the front-end, you will now see the translated post type in your URL.

Translating page names in a URL
The second part of the URL is created from the page or post title. You can translate the title the same way you would any other page or post content, whether you use WPML's Translation Management module or simply translate the content yourself.
The translated URL will be generated from the newly translated page title.

Developer Resources
If you are a developer, you can read more about manually translating custom post type archives and customizable slugs in our Developers Information section.