By default, WordPress posts and pages feature only the main post fields, including the post title, post contents (body), and the featured image. However, many sites also feature custom post fields to allow inputting of additional post information. For example, posts belonging to an "Events" custom post type might have custom fields for "Date of the event," "Venue," "Type of the event," etc. WPML allows you to easily translate custom fields.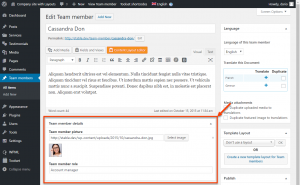 To be able to translate custom fields, you need to set them as "translatable" in WPML. There are two ways of doing this.
| | |
| --- | --- |
| When editing contents featuring the custom fields, in the "Multilingual Content Setup" box. | By going to the "WPML" -> "Settings" page, clicking on the "Multilingual Content Setup" tab, and scrolling to the "Custom Field Translation" section. |
| | |
After the custom fields have been set to Translate, they will be available for translation.
If you are not performing the translation yourself, you need to resend all contents that feature these custom fields for retranslation.