WordPress 5.0 introduces a completely new default editor called Gutenberg. WPML is fully compatible with Gutenberg, making it easy to translate content built with it.
Check out this WordPress Gutenberg tutorial for more information on how to create the content you want to translate.
Using Gutenberg in multilingual sites
With Gutenberg, you use elements called blocks to build content visually.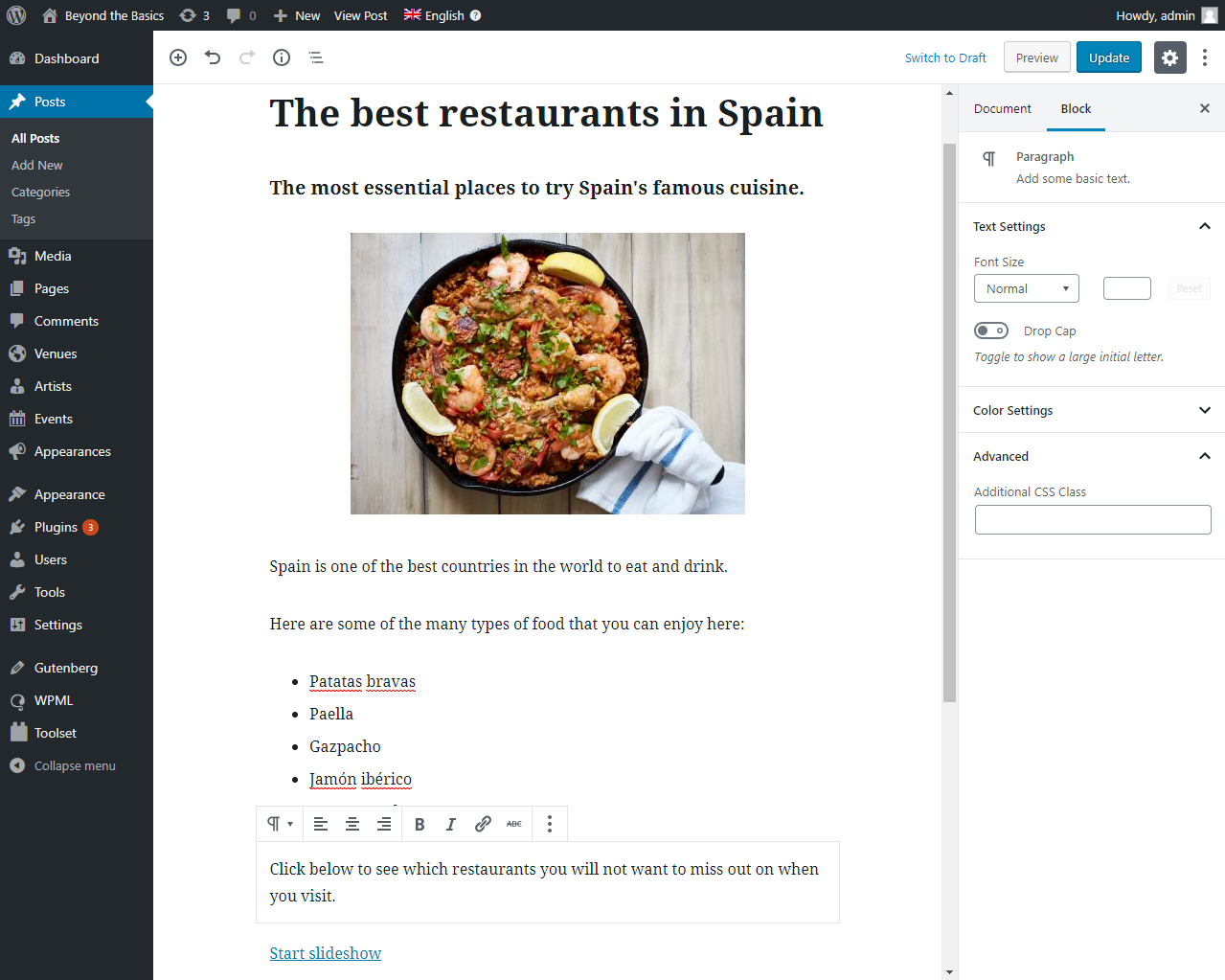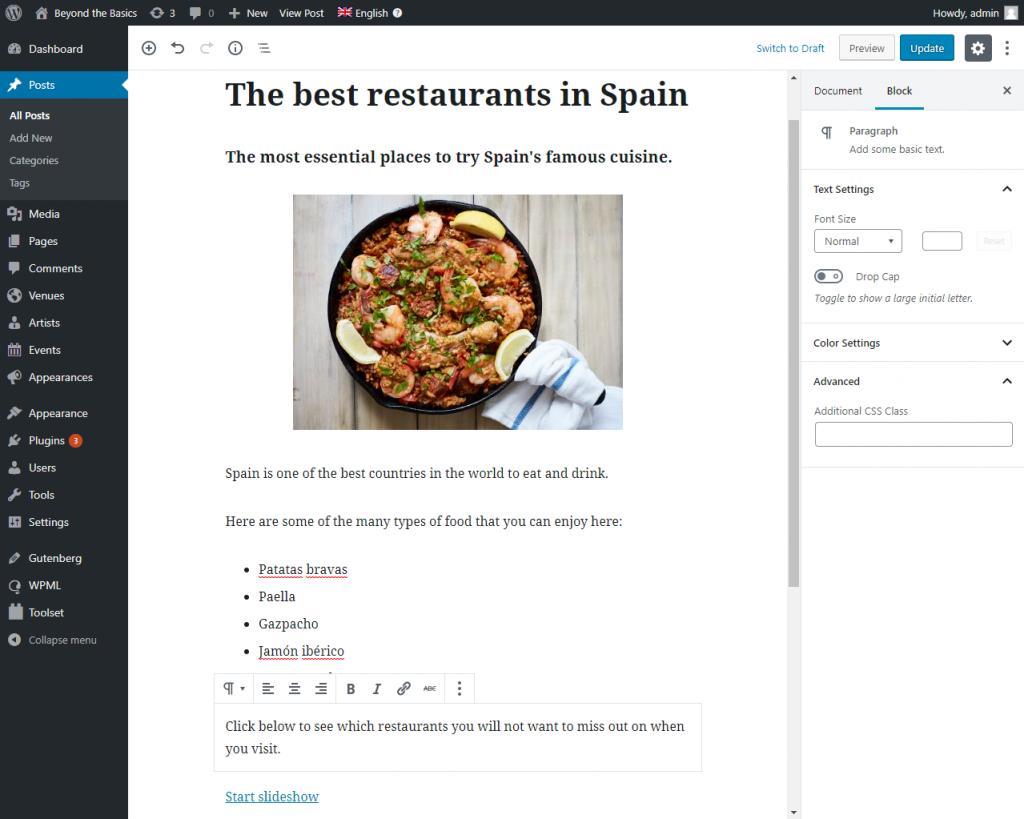 As you can see, creating content with Gutenberg is easy, however, it is not practical to recreate the same design over and over for each language. WPML lets you translate the texts in a convenient editor.
Getting started
First, you need to install the main WPML components:
WPML core plugin
String Translation
Translation Management
Media Translation.
If you have the WPML Multilingual Blog account, you don't have access to String Translation and Translation Management plugins and you can only translate your content using the manual translation.
Selecting how to translate content
WPML offers a few different options for translating your content. On new WordPress sites, you select this in the Translation Management wizard. On existing sites, you can always change this setting by going to the WPML → Settings page and using the How to translate posts and pages section.
WPML's built-in translation editors
If you are translating yourself or with your local users, you can use WPML's Advanced Translation Editor or Classic Translation Editor. We suggest using the Advanced Translation Editor because it allows you to translate content more quickly using automatic translation, translation memory, and more.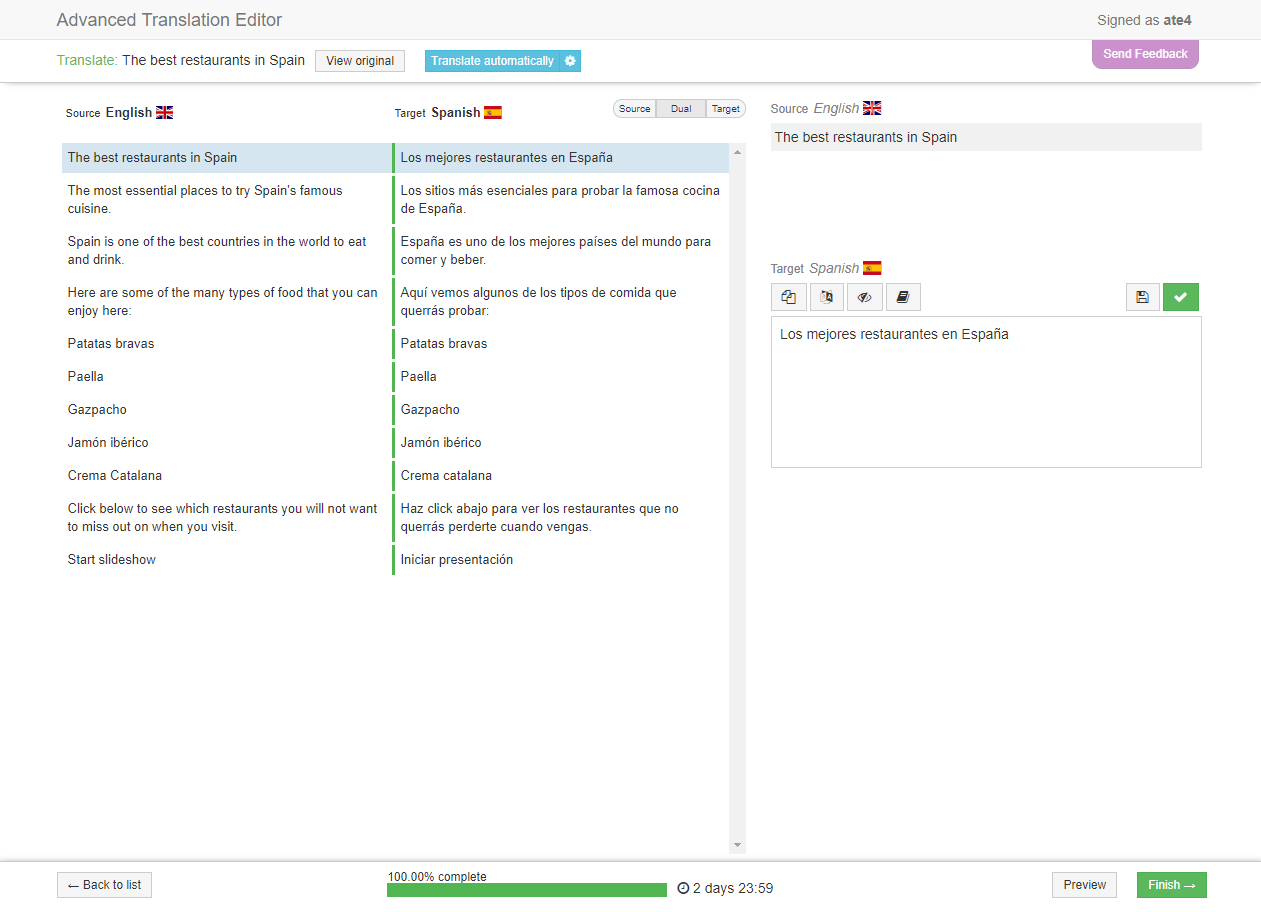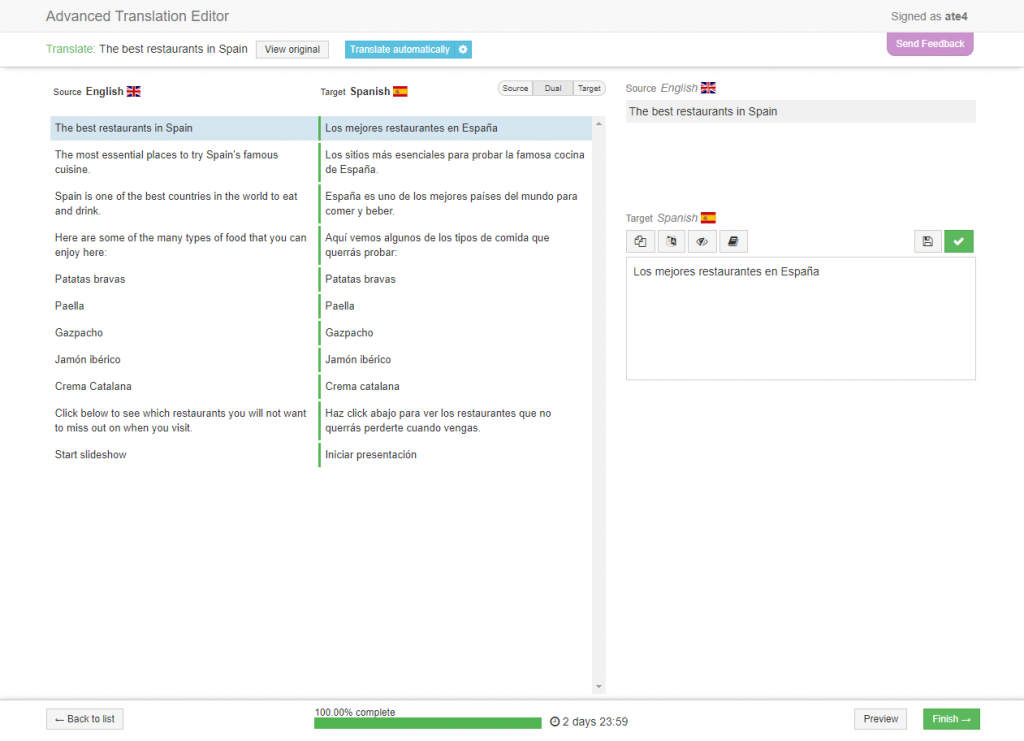 Please note that you can always choose to translate some content by yourself and your own translators and send parts of the content to a translation service.
Professional translation services
WPML is integrated with a number of professional translation services. They deliver translations fast and provide you with top quality translations.
We prepared a guide on translating your site using translation services and you can browse through our list of integrated translation services to easily choose the best one for your projects.
Translating content created using Gutenberg
Now, let's see the different ways of translating the content you create using the Gutenberg editor.
Sending for translation
When working with your own local translators or a translation service, you simply send the content for translation using the WPML → Translation Management page:
Select the content to send for translation.
Select the languages you want to translate into.
Go to the Translation Basket tab and click to send selected content for translation.
That's it! When translators finish the job, it will be available in your site.
You can, at any time, check if there are finished translations and get them into your site. To do this, go to the WPML → Translation Management page and click the Check status and get translations button. You can learn more about this on our page about translation management.
Translating the content yourself
If you are the site's only translator you can start translating any page in two ways:
Edit the page and in the Gutenberg editor's sidebar, open the Language section. There, click the plus icon next to the language you want to translate this page into.

In both cases, you will be taken to a translation editor of your choice and can translate the page's texts.
Manual translation
If you have the WPML Multilingual Blog account, you don't have access to the Translation Management and String Translation plugins.
In this case, you can only use the manual translation for your Gutenberg-designed content:
Create or edit the page in the default language.
Click the plus button in the Language section of the Gutenberg editor's sidebar.
Recreate the same page using the selected language in all blocks.

Translating Reusable Blocks
WordPress Block Editor allows you to save any content block and reuse it later in other pages. WPML allows you to easily translate these reusable blocks.