WPML allows you to easily translate pages you build using your favorite page builder. Read this guide to learn which page builders are supported and how to translate page builder designs.
What you need
WPML Multilingual CMS package which includes the main WPML plugin, WPML Translation Management, and WPML String Translation add-ons. All three must be installed.
Which page builders are supported
We are constantly working on adding more popular page builders to WPML's list of integrations.
The following page builders are integrated with WPML:
If your favorite page builder is not yet integrated with WPML, follow this guide about integrating page builders that use shortcodes.
How to translate page builder content
There are two ways content created with page builders can be translated:
By translating it yourself
By sending it to be translated by others
Translating page builder content yourself
Use the following steps to translate the content yourself:
Click the plus icon for the language you want to translate the post into. The plus button is accessible either in the language box when editing a page or from the list of pages, as you can see in the table below:


| The plus located in the Language box when editing my page. | The plus located under the flag in Pages → All pages |
| --- | --- |
| | |

WPML's Advanced Translation Editor opens, and you can add your translations for each sentence in the field on the right. Click the green check mark to complete each translation.

WPML's Advanced Translation Editor

You can also use automatic translation to translate the entire page in one click. Double check each translation to make sure they are correct.

When you are done translating, click Finish and then Close.
Sending content to other translators
WPML also allows you to send your content to be translated by local translators or by professional translation services. To use a professional translation service, be sure to activate the service you want to use first.
Go to WPML → Translation Management
Choose the type of your content (page, post, etc.), select it, and click Add to translation basket.
For jobs assigned to local translators, they will be able to go to the WPML → Translations page and start with the translation job. The job will open in the same Advanced Translation Editor as described in the Translating page builder content yourself section above.
Jobs assigned to professional translation services will be sent to the translation service. You can choose to have the translations published immediately once the job is complete, or to review it first. This setting can be changed by going to WPML → Settings and scrolling to Translated documents options.
Translation of content that appears multiple time
Sometimes, you might have text that repeats on your page. WPML automatically recognizes the duplicate content and offers it for translation as one field. This way, you don't need to spend time translating the same texts in the page.
WPML will then display the translation of these texts in all the places that they appear on your page.
The following image displays a design created using WPBakery Page Builder, using three instances of the same text.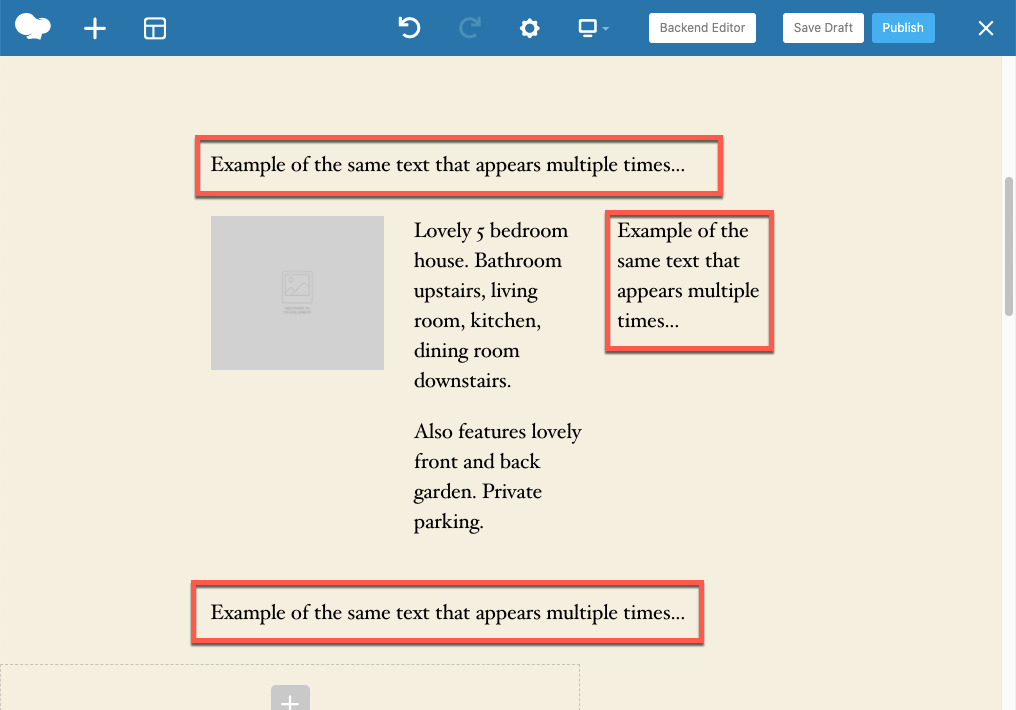 When we translate that page, we can see that the editor only shows one instance of the field to translate this text. Again, this means that we only need to translate it once.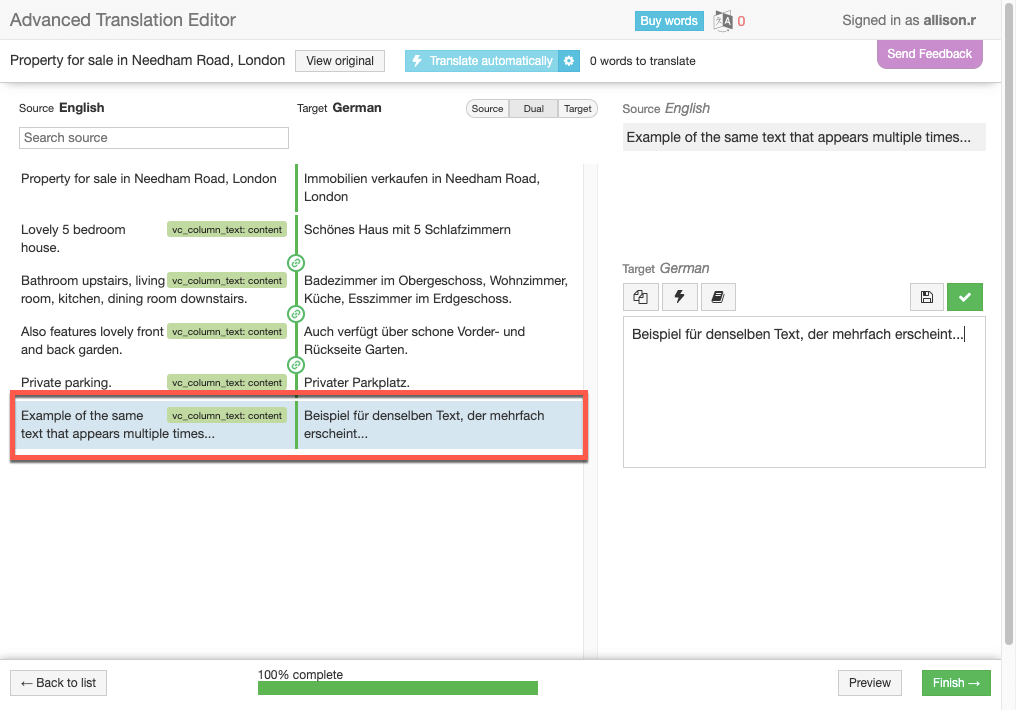 Finally, on the front-end, the translation of the text is displayed in all the places as intended.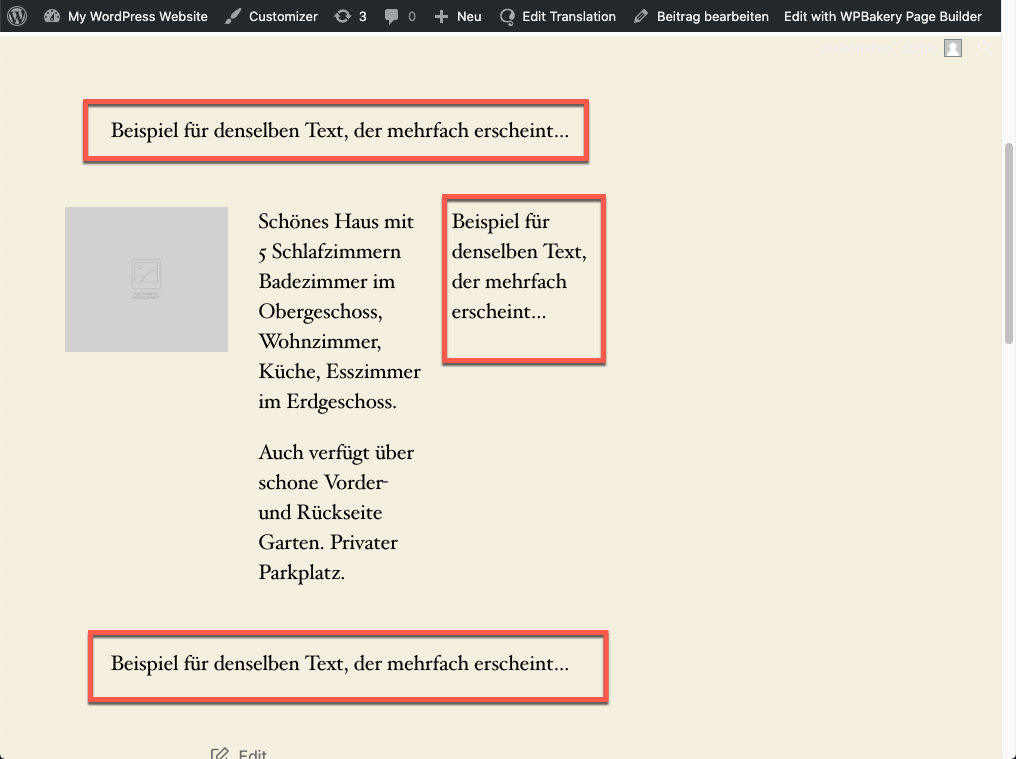 Updating translation when a page changes
When the content of the translated page changes, you can simply translate it or send it to translation once again. This time, you will not need to translate all the contents once again, but only the part that changed or was added.
In this example, I added a Text Box element to the "About Us" page: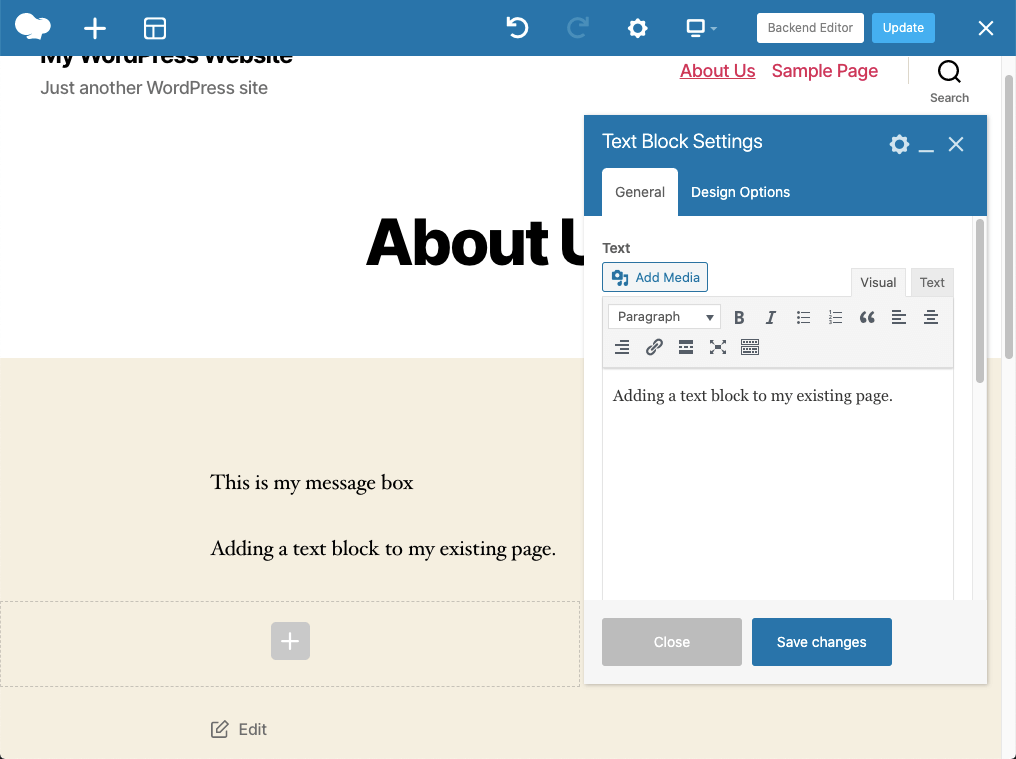 Note: Remember to Update the page after adding the element. This is important because it will load the text elements to the Advanced Translation Editor screen.
In the Language meta box, click the icon to update your translation.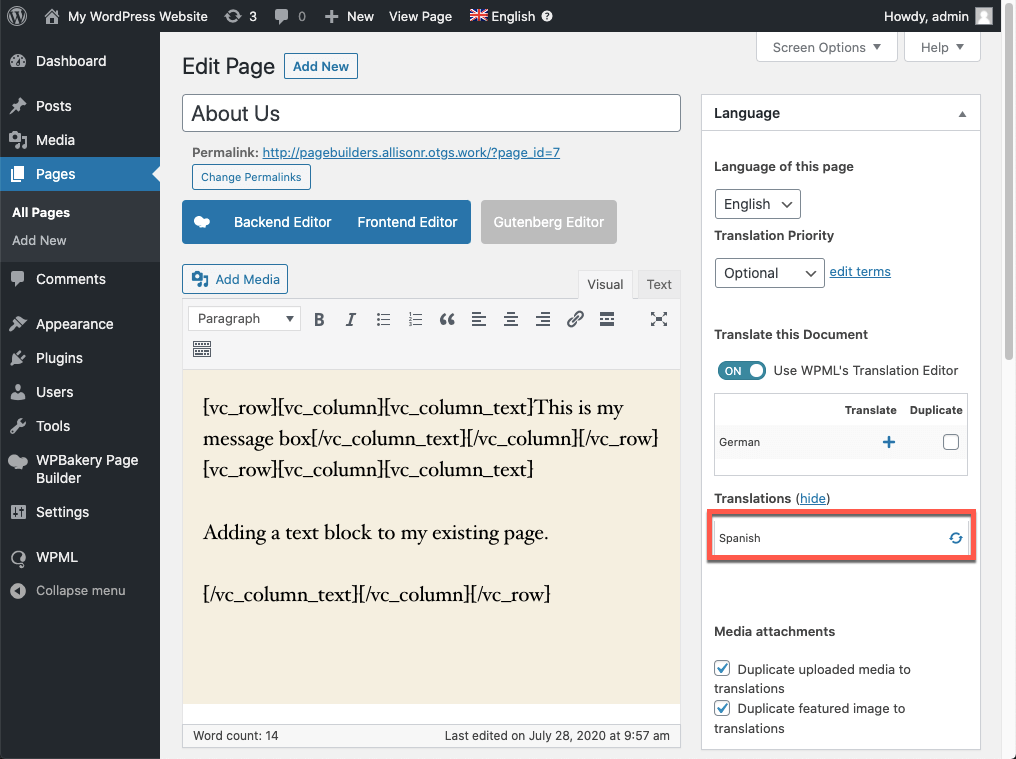 When the translation job opens in the Advanced Translation Editor, you will see that the previous translations are still in place, and there is a new field that need to be translated.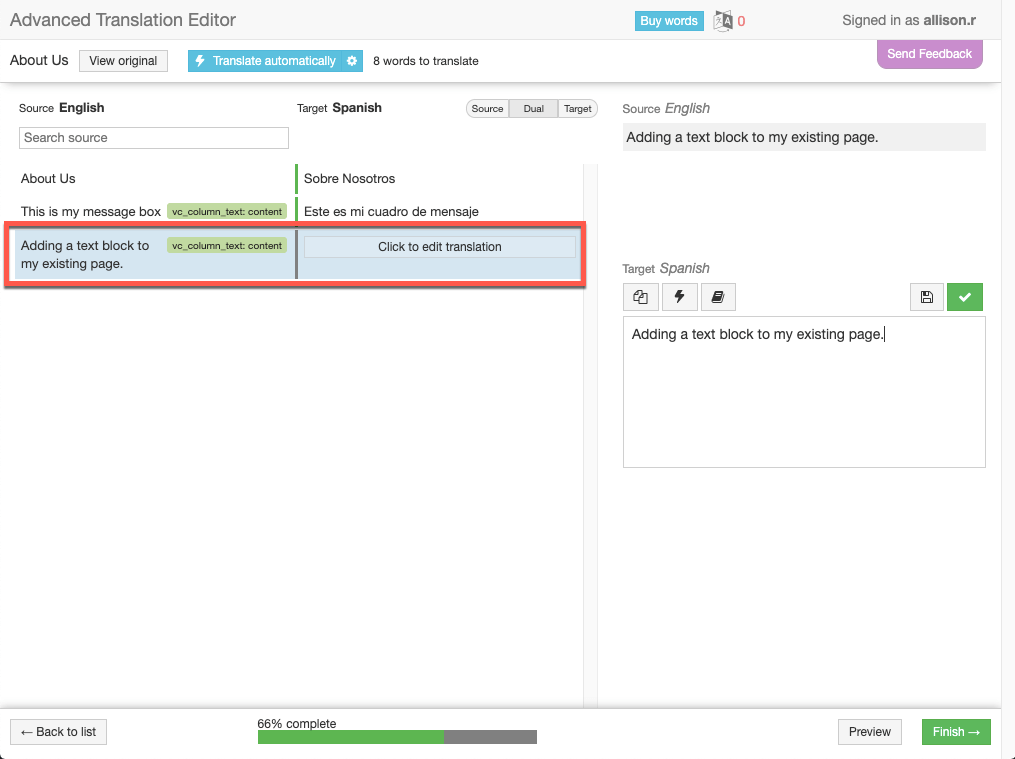 Translate, mark the translations as complete, and then Finish and Close.
Translating Toolset templates designed using page builders
Toolset plugins allow you to design Content Templates for displaying single posts of any post type. Usually, you use one template for all languages and translate only the texts inside, for example, labels or headings.
Alternatively, you can select to create separate Content Templates for each of your site's languages. In this case, you should not send such templates for translation. Instead, you should edit the template in each language separately and translate them like that.
Toolset allows you to design Content Templates using the following page builders:
Elementor
WPBakery Page Builder
Oxygen
Beaver Builder
If you use a page builder to design your Content Templates, you have to translate your templates. To enable the translation of a specific Content Template:
Go to the WPML → Settings page
On the Multilingual Content Setup tab find the Post Types Translation section
Mark your Content Template as translatable
Now you can send your Content Template for translation.
However, if you have previously selected to use different Content template for each language you cannot use this workflow. Instead, you have to use your page builder to individually add content to each language's Content template.
To check the status of the Create different Content Templates for each language option, go to the Toolset → Settings page and click the WPML integration tab.