Astra is a fast, highly customizable, and lightweight multipurpose WordPress theme that suits any niche website you are building. Its compatibility with page builder plugins, such as Elementor and Beaver Builder, allows you to build beautifully designed pages in no time. Let's see how you can translate websites built with Astra using WPML.
Content
Getting started
If you are a website owner working with a developer, please ask the developer to go over these settings for you.
Are you setting up WPML yourself?
If so, follow these steps:
Set up WPML from the WPML -> Languages. See our WPML Getting Started Guide for a complete reference. The initial, simple three-step setup is self-explanatory, asking you to choose your default language, a set of active languages, and a language selector. (For starters, choose the footer language selector; you can change this later.)
Next, install and activate the core WPML plugins (WPML Multilingual CMS, WPML String Translation, WPML Translation Management) followed by other WPML plugins that may depend on them.
Install the Astra theme and activate it. Astra's documentation will provide all the information needed to set it up.
Activate the WPMLTranslation Editor. Go to the WPML -> Settings page. There, check the Use the translation editor option under the How to translate posts and pages section and click Save.
For this tutorial, we imported some demo content using the Astra Sites plugin. See more details on how to import Astra's demo content. This is how the home page looks after importing the demo content.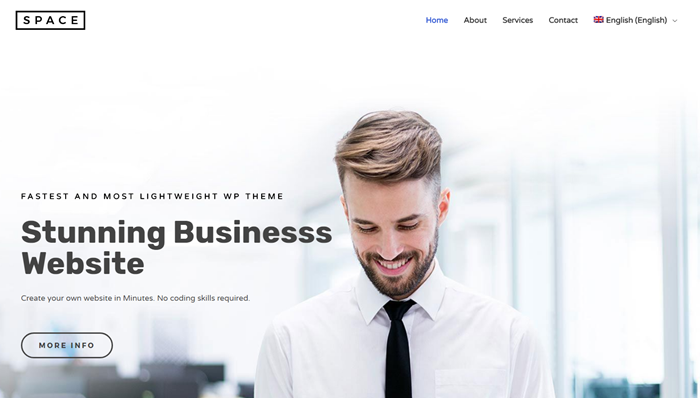 Translating pages
With WPML, you can translate any type of content on your site, including pages and posts. For an easy start, read our Getting Started Guide.
We imported the Agency demo content built with the Elementor plugin. To translate the'Home' page or any page built with Elementor, follow the steps below:
From your WordPress dashboard, navigate to Pages -> All Pages and click on the plus icon to translate the Home page.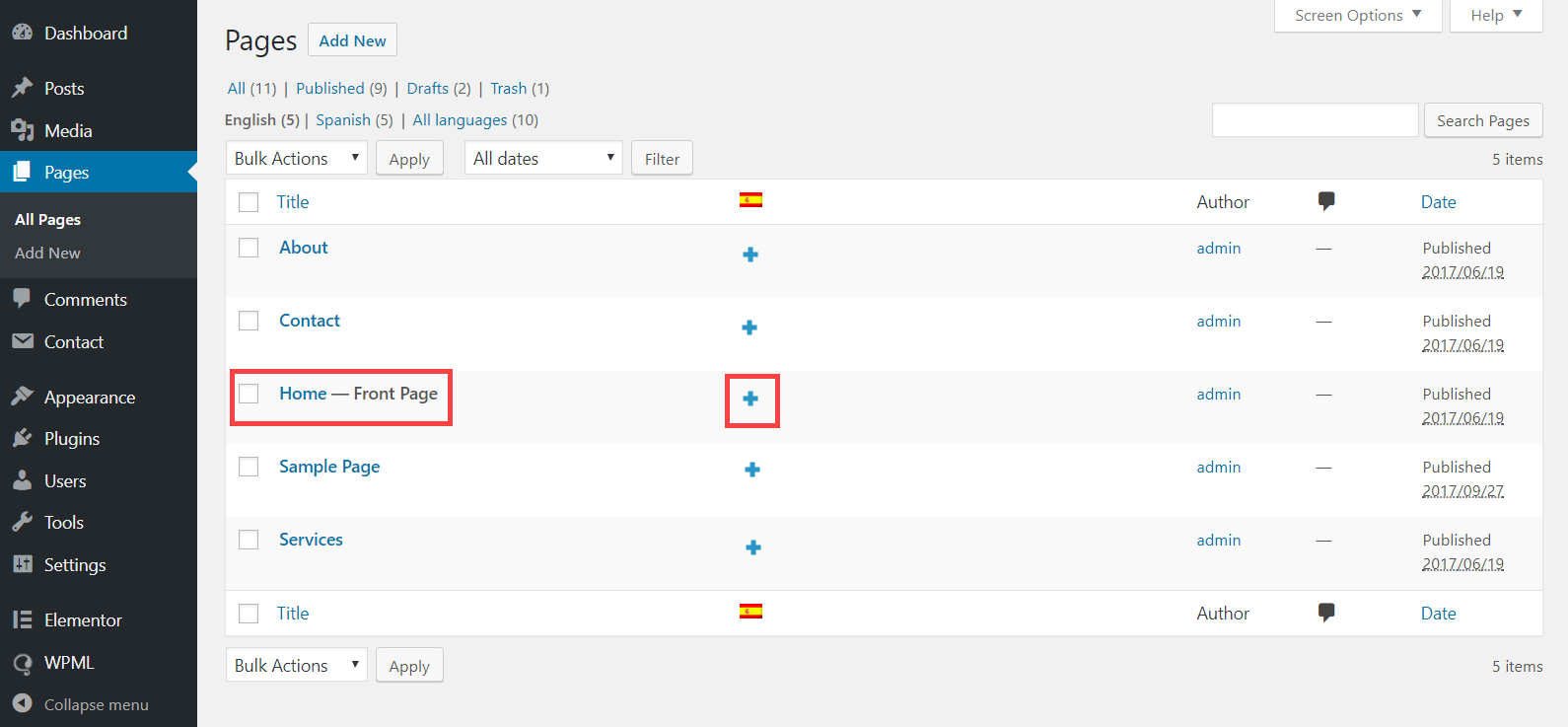 The Translation Editor page loads. Add the translated text to the fields and mark them as Translation is complete.
Click on the Save & Close button.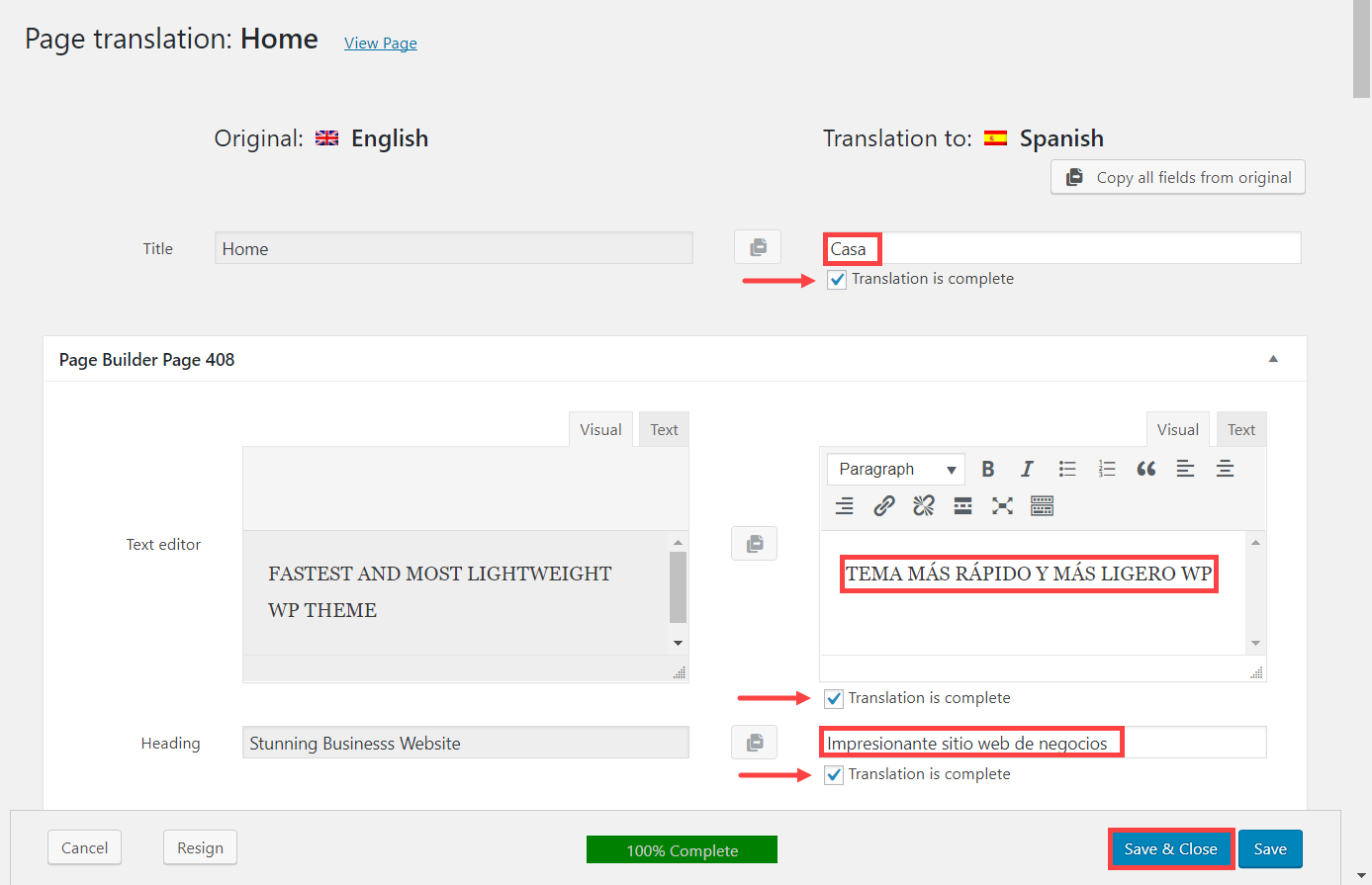 This is how the translated page looks on the front-end: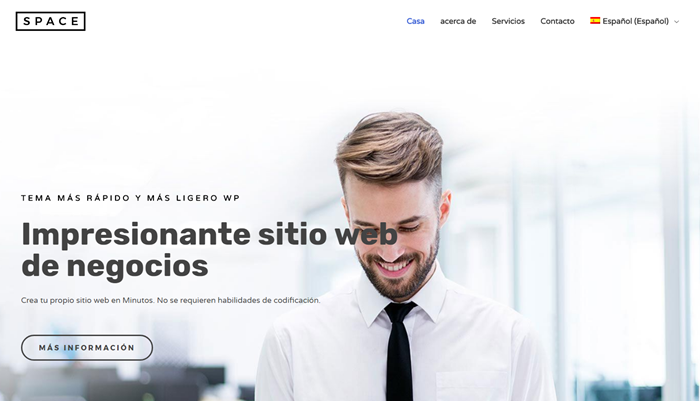 See our detailed tutorial on translating pages built with Elementor.
Astra offers sample content built using Beaver Builder and Ultimate Addons for Beaver Builder plugins. Because both plugins are WPML compatible, you can translate the page using the steps described above.
See our detailed tutorial on translating pages built with Beaver Builder
Translating categories and tags
In this example, we demonstrate how to translate post categories. Note that you can translate any post type category using the same method.
Navigate to WPML -> Taxonomy Translation.
From the Select the taxonomy to translate drop-down menu, choose Categories.
Click on the plus icon to translate a specific category.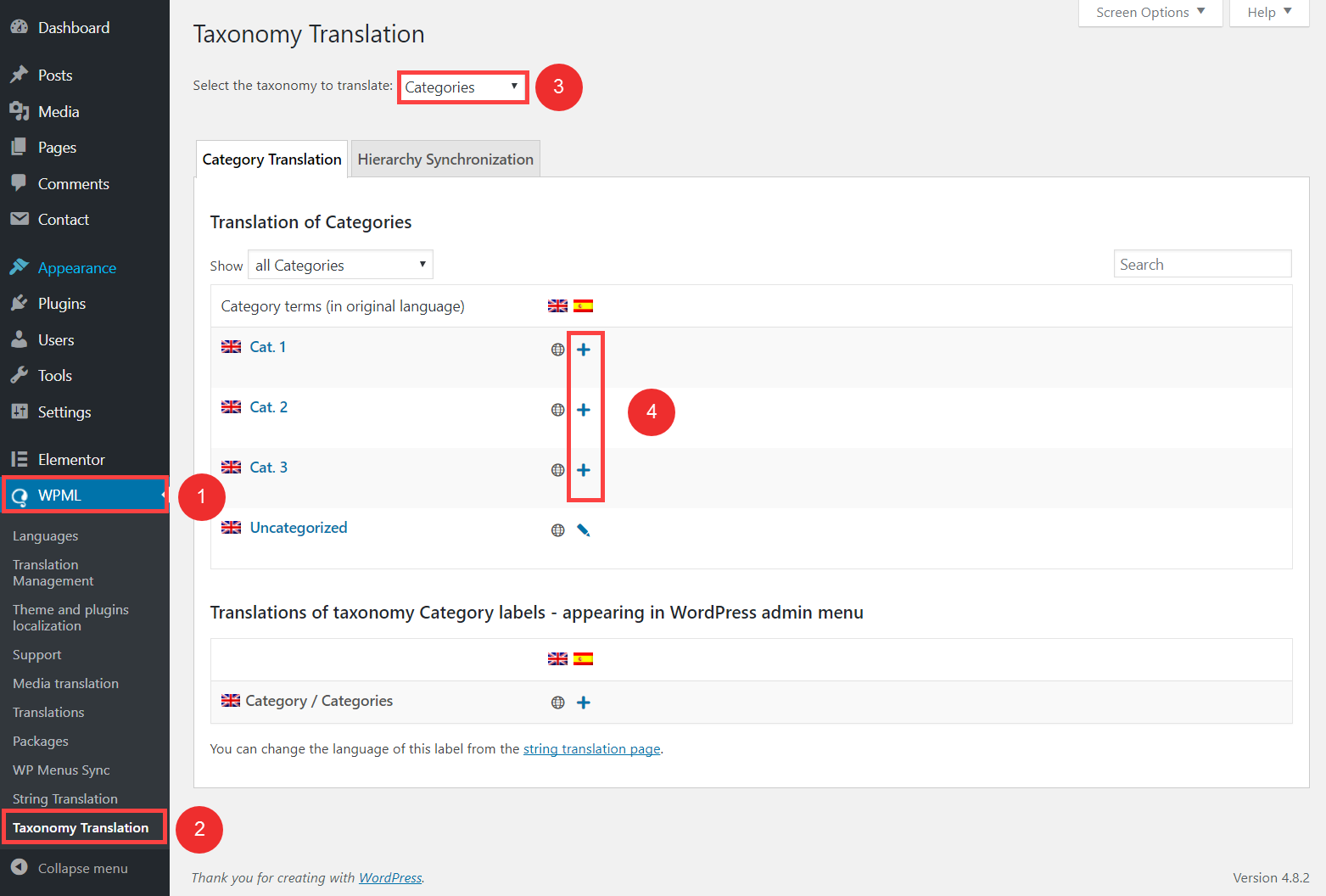 Add the translated text and click on the save button.

See our detailed documentation on translating taxonomies.
Translating texts from the Astra theme, plugins, and other places
Besides contents coming from posts and pages on your site, there are usually some texts coming from other places. Most common examples are themes and plugins.
To learn how to translate these texts, read our documentation page about translating strings.
Translating menus
With WPML, you can easily synchronize your language menus. For more information, please see our complete menus translation tutorial.
Translating WooCommerce elements using WCML
Astra theme is compatible with WooCommerce. To translate everything that WooCommerce offers, download the WooCommerce Multilingual plugin (WCML) from your WPML account. Visit our dedicated WCML documentation to learn how to setup a multilingual store and translate your products, categories, variations, shipping classes, and more.
Getting help
Experts in our support forum are available six days a week to assist you. They are trained in using WPML with Astra.
If you are working with a developer on your site, please use our Translation support forum to obtain help in translating your site's content.
If you are setting up the site and WPML by yourself, please use our Technical support forum.