Yoast SEO plugin makes it easy to optimize your site for search engines. Together with WPML, you can use it to tune multilingual WordPress sites.
We use Yoast SEO on all our sites, to quickly and easily optimize for search engines. It lets us control the meta attributes that Google reads and add vital SEO information to all pages.
WPML and Yoast SEO teams work together to ensure complete compatibility, letting you optimize your multilingual sites in a simple way.
If you are new to SEO, you might be interested in our introduction article on multilingual SEO.
What you will need
A recent version of WPML (version 3.3.7 or above), including the String Translation add-on.
Yoast SEO (version 3.1.1 or above).
Getting started and what to check
Make sure that the Yoast SEO plugin is activated.
Make sure that the WPML Multilingual CMS and WPML String Translation plugins are activated.
Please note that the
Strip the category base
option does not work with WPML. You can read more about this, including the suggested workaround, on the
dedicated page about this issue
.
Translating global SEO texts
Yoast SEO lets you enter texts that apply to the homepage and also as templates for the entire site.
Translating the SEO texts
Now, you can go to the SEO -> Search Appearance page and click the General tab. There, set the texts for the Title template and Meta description template.
Keep in mind that if you have selected a static homepage on the Settings -> Reading page, you can set the title and description for the front page by editing it.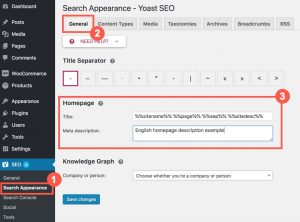 After you enter the title and meta description, go to the WPML -> String Translation page to translate them. The String Translation page includes all the texts that do not belong to a specific post or page but are coming from different theme and plugin texts.
To display all of Yoast SEO admin texts, select admin_texts_wpseo_titles in the Select strings within domain dropdown.
Click on the Translation link next to the texts that you want to translate, enter the translation and select the Translation is complete checkbox. Finally, click Save.
Following the same steps, you can find all the translatable strings for the rest of the SEO attribute templates.
Translation of page SEO attributes
Yoast SEO adds a meta box to the content editor. There, you can control the page title, meta description, and focus keywords for each page separately.
Since WPML uses different pages for each language, they naturally have their own respective SEO attributes.
Let's create a page, add some SEO attributes to it and translate it.
As you can see, we've entered the SEO title, meta description, slug, and focus keyword for this page. This is an English page, so we've entered the SEO attributes in English.
To translate this page, we click on the "+" icon (add translation) icon in the Language box.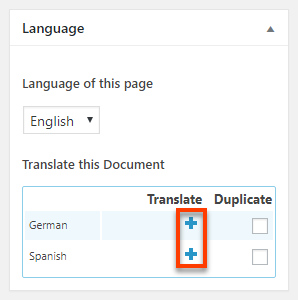 The newly added Spanish translation has its own page. As a new page, it has its own title and contents. The SEO attributes are "just another set of custom contents", as far as WPML is concerned.
WPML knows how to handle the different SEO attributes when you translate content.
To save you work, WPML will automatically synchronize the "non-text" fields and let you translate the textual fields. Here are the SEO attributes for the Spanish translation of our page.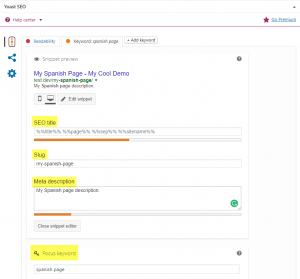 The Spanish page lets us enter the SEO title, meta description, slug and focus keyword independently of the English content.
If you dig deeper, you will notice that the non-textual settings are synchronized between the translations.
This means that if you change these settings in the default language, they are immediately applied to all translations. You don't need to bother going through various languages and make the same changes.
Translation of breadcrumbs
Once breadcrumbs are enabled in advanced settings (SEO->Search Appearance->Breadcrumbs tab), then the page titles added to breadcrumbs will automatically appear in the appropriate language.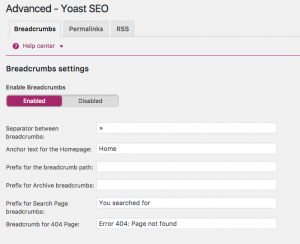 The only exception is the anchor text for the homepage. You need to translate it in the WPML String Translation panel.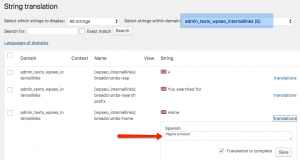 How SEO Sitemaps work with WPML
A sitemap is an XML file that lists all the pages on your site for search engines like Google.
Usually, there should be a sitemap for each domain and this is exactly what happens when using the A different domain per language option located on the WPML -> Languages page, together with the Yoast SEO plugin.
For example, when you have en.mydomain.com for the English site's versions and es.mydomain.com for the Spanish site's version, you will end up with two different XML files for each language version. Both versions will be listing the correct pages for their respective language.
You can find the default language sitemap, by going to yourdomain/sitemap_index.xml. For the sitemap in the secondary language, go to your-secondary-language-domain/sitemap_index.xml.
Conclusion
Improving the ranking and having more visitors is one of the important goals for any website. Yoast SEO plugin by Yoast is a great plugin to improve your site's SEO and its integration with WPML allows you to have your multilingual search engine optimized with ease.
Getting help from our support
We have supporters in our forum who are ready six days a week to help you. They are trained in how to use WPML with Yoast SEO. If you are working with a developer for your site, please use our Translation support forum to get help with translating your site's content.
If you are setting up the site and WPML yourself, please use our Technical support forum.